MFC Div 2 Final: Vincents/Curraha tops in see-saw thriller
November 01, 2016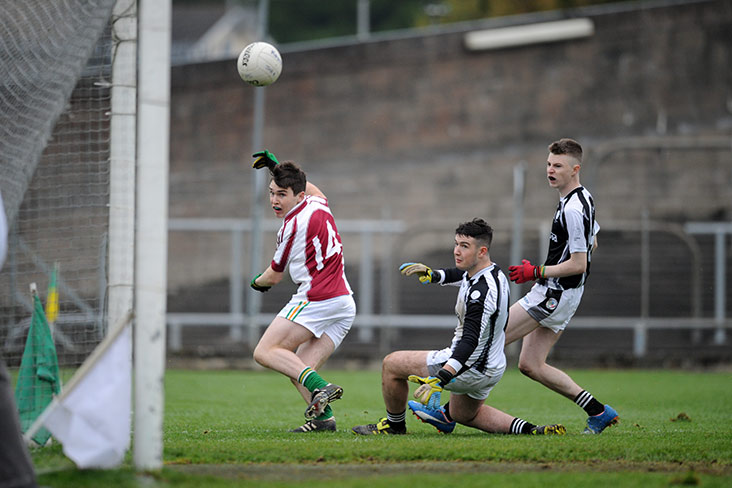 St.Vincents Curraha's Conor Moriarty watches as his shot comes back of the post. Dylan Scully and Darren Gibney (St Olivers) keep their eye on the rebound.
MFC Div 2 Final: Vincents/Curraha tops in see saw thriller
St Vincents/Curraha made amends for their loss in the Division 2 league final earlier this year when producing a brilliant second half come back to see off St Olivers in the third game of the day, the LMFM Division 2 football championship final at Pairc Tailteann.
St Vincents Curraha 2-13 St. Olivers 2-11
In what was a great advertisement for Meath minor football Vincents Curraha got the best possible starts and were 1-2 to no score up after seven minutes. Centre back and captain Ryan Hand, who had won a Junior B championship medal two weeks previous, had the ball in there Olivers net after a minute. Conor Moriarty and Conor O'Farrell added points before Joe Blake steadied the North Meath amalgamation with a point. Midfielders Sean Reilly and Kevin Gilsenan got in on the scoring act and when Blake sent over twice there was only 2 in it, 1-4 to 0-5. Vincents Curraha finished the half the stronger and points from Jack O'Connor, Andrew Battersby and Brian Joyce gave them a 1-7 to 0-5 interval lead. 
St Vincents/Curraha celebrate
What ever was said in the Olivers dressing room at half time really had the desired effect. The team in Black and White came out with all guns blazing and rocked Vincents Curraha with 2-2 in the opening 10 minutes. TJ Tully got the ball rolling when he found the net after 30 seconds, Blake added his fourth point before Kevin Gilsenan sailed through the Vincents Curraha defence to score one of the goals of the year. Blake added his 5th before Vincents Curraha had influential defender Andrew McEntee black carded. 
Olivers were not finished their scoring spree just yet and by the 47th minute had extended their lead to 2-10 to 1-8. Vincents Curraha needed a score and captain Hand duly obliged find the Olivers net for the second time and igniting his team challenge. Now all the pressure was on the North Meath team defence. Joyce and Sean Keogh had found extra energy in the middle of the park and the scores followed. Nigy Hand and Joyce levelled the game after 53 minutes. Dylan Tighe put St Olivers back in front but Jack O'Connor and Joyce replied for Vincents Curraha.. Tighe had a glorious chance of a goal at the other end but his shot went inches wide. O'Connor added the insurance point just before Liam O'Brien blew the final whistle in this absorbing game of football.
Alfie Toland presents the Liam Toland Cup to St Vincents/Curraha captain Ryan Hand. Also in picture are Peter and Teresa Toland, John Kavanagh Minor Board Chairman and Brendan Cummins LMFM (sponsors)
After the game Alfie Toland presented the Liam Toland Cup to St Vincent Curraha captain Ryan Hand.
St Vincents/Curraha: Evan Connor, Conor Harford, Niall Murphy, Andrew Moriarty, Andrew McEntee, Ryan Hand 2-0, Mark Phelan, Brian Joyce 0-3, Sean Keogh, Jack O'Connor 0-3, Conor O'Farrell 0-1, Andrew Battersby 0-1, Niall McLarnon, Conor Moriarty 0-4, Nigy Hand 0-1. Subs: Ian Battersby,  David Morgan
St Olivers: Dylan Skully, Conan Smyth, Darren Gibney 0-1, Conor Fleming, Jack Doyle, Eoghan McCabe, Shane Gibney, Kevin Gilsenan 1-1, Sean Reilly 0-1, TJ Tully 1-0, Jack Blake, Matthew Corrigan, Josh Lynch, Joseph Blake 0-8, Darragh Moore. Subs: Darragh Caffrey, Dylan Tighe
Referee Liam O'Brien
Most Read Stories