IFC Prem Quarter Final: Curraha advance
September 19, 2016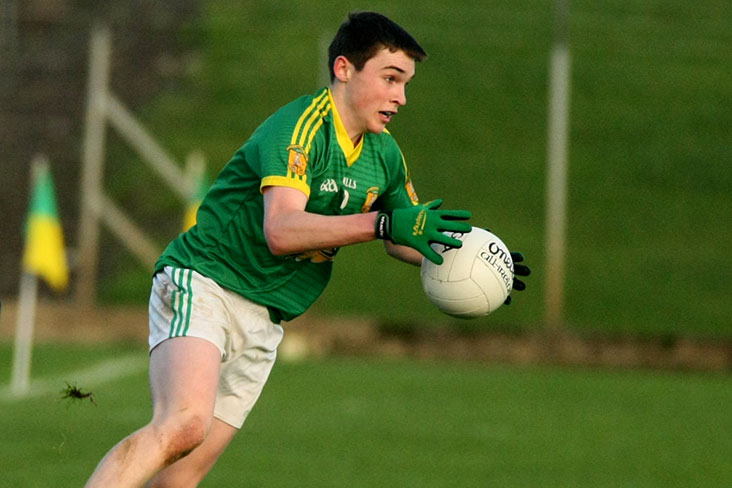 Conor Moriarty - St Vincent's/Curraha
Curraha 2-15 Oldcastle 1-15
Curraha reached the quarter final of the Intermediate championship after an extra time victory over Oldcastle in the preliminary knock out game. In a tight opening five minutes Curraha opened the scoring thanks to a point from Conor Moriarty and this was doubled soon after when James McEntee added another point. Oldcatsle got off the mark on the ten minute mark from a placed ball but a well worked Curraha move saw Ciaran O'Hanrahan slot his side's third point over which was unlucky not to be a goal. Oldcastle pulled one back at the half way stage of the opening half but Curraha started to become dominant which saw them score three unanswered points thanks to a brace from Moriarty and one from McEntee. Oldcastle dug deep to score the next two scores but the first of Curraha's goals came next with Brian Murphy finishing a fantastic move to the Oldcastle net. The influential David Toner added a point from the resulting kick out and despite Oldcastle scoring the final point of the half they trailed Curraha by 0-05 to 1-07.
Curraha were very sluggish in the opening minutes of the second half and Oldcastle took full advantage of this as they scored four unanswered points inside the opening five minutes of the half. A Moriarty free on the 16th minute mark steadied Curraha but again Oldcastle were not giving in that easily and raised their own green flag with ten minutes remaining. Two further points gave them a three point lead with eight minutes remaining but a free from Moriarty gave Curraha hope but this was cancelled out from another Oldcastle point. Like the Junior A Semi-final last year Curraha never gave up and they finished out the remaining minutes of the game very strong with Moriarty, Toner and Neil Shortall adding points to bring the game level going into injury time. All the momentum was with Curraha and they could have won the game in injury time only for some missed chances. Extra time was on the cards and Oldcastle started the brighter with two points in as many minutes but the work rate and determination of the Curraha side saw them get on top and two long range points from Shortall saw them draw level before the crucial score of the game came next. O'Hanrahan was fouled inside the box and Moriarty coolly finished the resulting penalty low and hard to the net. O'Hanrahan added another point to give his side a five point lead at half time. Oldcastle were not going to give in that easily and they scored a free early in the second half but that was to be the last score from either side as both teams fought very hard for each ball with Currahas heart and work rate being the decisive factor in the end.
Curraha: L. McCarthy, S. Hogan, N. Murphy, M. Jackson, E. McGovern, S. McDermott, S. O'Hanrahan, B. Murphy 1-00, D. Toner 0-02, B. Joyce, N. Shortall 0-03, P. Dowling, C. O'Hanrahan 0-02, C. Moriarty 1-06, J. McEntee 0-02. Subs: P. O'Hanrahan for Joyce, G. Coyle for McGovern, D. Coyle for Jackson, S. Keogh for S. O'Hanrahan, B. Joyce for Coyle. 
Oldcastle Report
Curraha 2-15 Oldcastle 1-15
A disappointing end to a terrific game of football as Oldcastle exit the championship. From the beginning this game was set up to be a hard fought battle for both sides.
It was Curragha who got off to the better start having an unanswered two points ten minutes into the game. Rahill added his first to the score sheet after a converted free. Curragha answered back with one from play as we entered. With Rupee Pakenham dominating Oldcastle's defence, his interception allowed Ronan Maguire to add another for Oldcastle. Curragha hit over the next three scores but Oldcastle never gave up and kept plucking away to make sure this game wasn't lost without a fight. With Peter Monaghan winning the kickout and working with Rahill up the field, Rory McHugh finished leaving three points between the sides after 20 Minutes. With great work from Conor McHugh in the goals, Curragha's goal chance was driven wide and the turnover resulted in a Jason Scully point. Curragha had only goals on their mind and this came for them with three minutes to the break. The sides traded scored just before the break to leave Curragha 1-07 to 0-5 points the better heading into the second half.
The Oldcastle determination in the second half was evident as they did everything to reduce the deficit and challenge Curragha. Following great work from Pakenham and Paddy Gilsenan, Mangan sent over the first score of the half. Oldcastle dominated the opening minutes of the second half and epitomised good football as they added another two from play, one from Rahill and the second from Monaghan. Mangan sent over his second of the game and Oldcastle looked to be controlling the game at this stage. Curragha kept the pressure on, however and added another from play to keep the minimal between the sides. Monaghan added another to the score sheet, just minutes before a Jason Scully goal came following great work from Mangan and Conor Delaney. Paddy Gilsenan added another following a super run from Oran O'Reilly from defence. This was cancelled out by a Curragha point from play. Stephen Tierney added his first to leave Oldcastle 3 points clear entering the last five minutes of the game but Curragha weren't leaving without a fight and sent over three in a row to bring the game into extra time.
With both teams not willing to leave this behind, extra time looked set to be a battling 20 minutes. Oldcastle were first off the mark as Mangan sent over his third. Tierney then added his second and Oldcastle looked to be going well. Curragha, had different ideas and pushed on, scoring 1-03 in the first ten minutes. Oldcastle found it hard to get on top in the second half and were only able to add another point from a Rahill free in the closing stages. This leaving them a goal short at the final whistle.
A great game of football played by both sides with Oldcastle providing great performances all over the field. Excellent displays by Rupee Pakenham, Oran O'Reilly and Paddy Gilsenan as they showed great dominance and determination on the pitch.
Oldcastle: C.McHugh, E.Gilsenan, B.Curran, M.Taggart, O.O'Reilly, R.Pakenham, Cj Healy, P.Monaghan (0-2), R.McHugh (0-1), G.Reidy, N.Mangan (0-3), P.Rahill (0-3), J.Scully (1-02), P.Gilsenan (0-1), R.Maguire (0-1).
Subs: S.Tierney (0-2) for G.Reidy (HT) C.Delaney for R.Maguire (45 Minutes) G.Reidy for R.McHugh (ET) S.Maxwell for J.Scully (ET) S.Maguire for E.Gilsenan. C.Curran, E.Feeney, R.Cadden, P.Monaghan, P.Higgins.  
Most Read Stories