IFC: Donaghmore Ashbourne finish top
September 03, 2016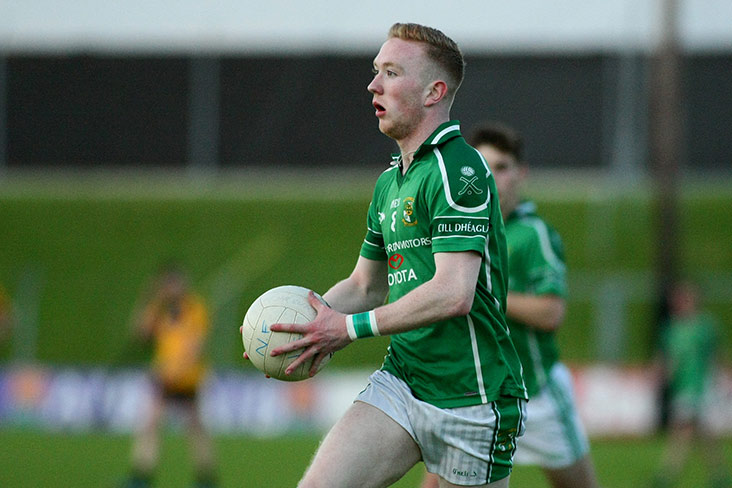 Leo Reilly - Donaghmore Ashbourne
Ashbourne 4-7 Curraha 0-11
Donaghmore/Ashbourne finished top of Group C in the Intermediate Football Championship by virtue of this eight point win over neighboures Curraha in the last Group game at Skryne on Friday evening. 
The winners got off to a perfect start scoring two goals in the first five minutes courtesy of John Brodrick and Sam Benville, Curraha then settled into the game and by the twenty fifth minute had drawn level scoring six points without reply. John Brodrick edged Don/Ash ahead with a point which was cancelled out by a Curraha free to leave the teams tied at half time 2-1 to 7 points.
Don/Ash dominated the first twenty minutes of the second half scoring 1-5 without reply, Leo Reilly who replaced black carded Sam Benville scored two points, goalkeeper Andy Colgan converted a 45, John Brodrick got his second goal while Ciaran Bierne and Kevin Fenton chipped in with a point each. John Brodrick brought his tally to 2 - 2 with a point in the fifty eight minute and Leo Reilly finished the scoring with a fine goal after good approach play from John Wilson.
Andy Colgan was very steady throughout in goals and made one spectacular save in the first half, Tadgh Kelly , Iarlath O'Donnell and Jack McCarney were rock solid in defense while Ciaran Bierne, Kevin Fenton, top scorer John Brodrick and Leo Reilly all enjoyed fine games up front.
Donaghmore Ashbourne: Andy Colgan 0-1 (45), Jack Giles, Tadgh Kelly, Iarlath O'Donnell, Dathi Murtagh, Jack McCarney, Martin Lynch, Rory O'Connor, David Carey, Sam Benville 1-0, Ciaran Bierne 0 -1, Kevin Fenton 0-1, David Dowd, John Brodrick 2-2, Eric Callaghan
Subs: Leo Reilly 1-2 for Sam Benville (black card), Garth Deery for Dathi Murtagh, Kevin Lanigan for Martin Lynch, Shane Rae for David Dowd, John Wilson for Eric Callaghan (black card)
Most Read Stories