MFC Div 4 Final: Callaghan seals it for Ballivor Boardsmill
November 01, 2015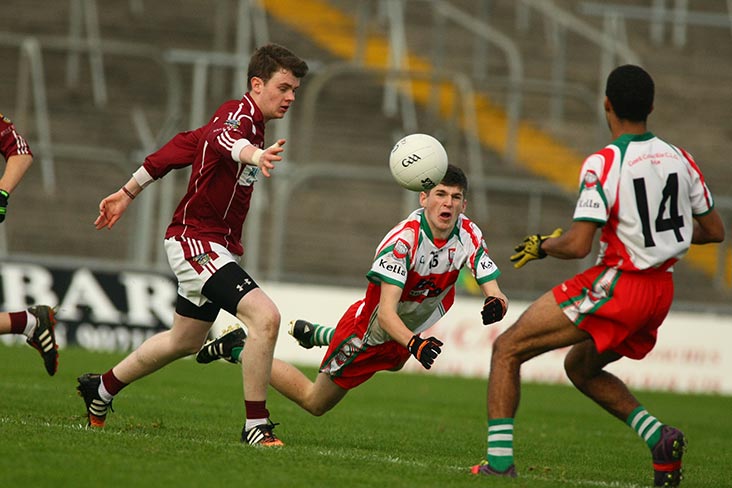 Gaeil Colmcille's Cormac Mattimoe gets in his pass as Ballivor's Dylan Heavey closes in during the Meath MFC Division 4 Final at Pairc Tailteann
A last minute point from centre back Morgan Callaghan sealed victory for Ballivor Boardsmill over Gaeil Colmcille in this highly entertaining Minor Football Championship Division 4 final at Pairc Tailteann.
Ballivor Boardsmill 3-11 Gaeil Colmcille 3-10
Gaeil Colmcille started off at a whirl wind pace and raced in to 3 point lead after seven minutes. Shane Freeman opened the scoring, Conal Courtney followed suit and Freeman send over his second to put the Kells men in charge.
Ballivor's Aaron Byass responded in fine style with the corner forward pointing twice to cut the lead to one.
But Gaeil Colmcille had other ideas. Shane Freeman's shot hit off the amalgamations corner back James Kelly and ended up in the back of the net. Kells number 2 Brian Byrne send over a fine point and when Cormac Mattimoe got his first score the lead was out to 1-5 to 0-2 after 18 minutes.
It was Ballivor's turn to respond and they did it in fine style. Aaron Brennan netted. Points from Byas and Niall Durkin cut the lead to one.
Gaeil Colmcille finished the half the stronger. Jonathan Hogg got their second goal and Mattimoe added his second point to sent the Town team in at the break 2-6 to 1-4 ahead.
Freeman extended that lead with the opening point of the second half.
Yet again Ballivopr responded. Morgan Callaghan raced through from centre back to find the back of the Kells net and Brendan McKeon quickly followed with a point.
Midway through the half substitute Nicky Potterton goaled and Ballivor were ahead 3-8 to 2-9. That lead didn't last long. Within a minute Gaeil Colmcille replied with their third goal courtesy of Micheal Brown.
Byass and Mattimoe exchanged points and Gaeil Colmcille lead by the minimum as the game entered the last five minutes.
Ballivor were awarded a 45 and keeper Conor Smith stepped forward to send the ball over that bar to level matters.
As the game entered injury time a draw looked on the cards but Callaghan had other ideas. Again racing forward from his defensive position to send over the winner.
Ballivor Boardsmill: Conor Smyth 0-1, Dylan Heavey, Jordan Doyle, James Kelly, Jamie Smith, Morgan Callaghan 1-1, Ryan Sheridan, Niall Durkin 0-1, Fintan McLoughlin 0-1, Daniel Lynch, Brendan McKeon 0-1, Dean McClair, Aaron Byass 0-5, Aaron Brennan 1-0, Adam Chesser 0-1. Subs: Nicky Potterton 1-0, Stephen Murray, James Mitchell.
Gaeil Colmcille: Michael Gilligan Edwards, Brian Byrne 0-1, Sean King, Adam Muldoon, Peter Smith, Jordan Muldoon, Ahmed Lawal, Shane Bennett, Cian Doogan, Niall Williams, Conal Courtney 0-1, Eoin Doogan, Jonathan Hogg 1-0, Shane Freeman 1-4, Cormac Mattimoe 0-4. Subs: Micheal Brown 1-0, Cian Mcmanus, Oisin Smith.
Referee Andrew Lenehan
Most Read Stories