IFC: Nobber win battle of neighbours
September 07, 2015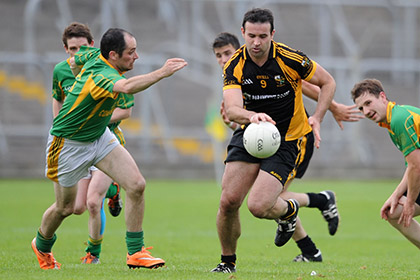 Castletown's Kenny Smith with Gavin Farrelly Nobber
Nobber  2-18  Castletown  2-10 
Despite losing two of their original fifteen Conor Halpin and Gavin Farrelly to black cards Nobber turned in a blistering first half performance to lay the basis for this quarter final victory over a highly rated Castletown outfit at Drumconrath on Saturday evening.
From Colin Clarke got them on the scoreboard in the 3rd minute Nobber were never headed and took control winning most of the onfield battles and in the process scored a further 1.10 courtesy of Sean Meade 1.02 Niall Farrell 0.02 Jamie Owens 0.02 Karl Casserly 0.02 with 1 each from Brian and Alan Farrell to lead 1.11 to 0.03 at the break.
On the restart Niall Farrell sent over in the 32nd minute to stretch Nobbers lead but shortly afterwards Niall was to become the 3rd Nobber victim of the black card disease, Castletown had a player sent off later in the game.
After Nialls point Castletown put up a spirited resistance and by the 56th minute had reduced Nobbers lead to 5 by the 56th minute ;but Nobber again took the initative and pushed on with a Brian Farrell goal to add to earlier scores from Karl Casserly 2, Jamie Owens Alan Farrell, Sean and sub Paul Meade to run out 2.18 to 2.10 winners.
This was another good team performance from a well prepared Nobber side and they can approach the semi final with confidence
Sean Meade 1-3, Brian Farrell 1-1, Karl Casserly 0-4, Niall Farrell 0-3, Jamie Owens. 0-3, Alan Farrell 0-2, Colin Clarke 0-1, Paul Meade 0-1
Nobber: C O'Reilly, P Weldon, B Meade, B Cassidy, B Heffernan, R Shields, C Halpin, A Farrell, G Farrelly, C Clarke, B Farrell, N Farrell, K Casserly, J Owens, S Meade.
Subs: Fiachra McEntee for Halpin (Blackcard), Gerard Campbell for Farrelly (Blackcard), Paul Meade for Niall Farrell (Blackcard), Gordon Weldon for Heffernan
Castletown Report
Nobber  2-18  Castletown  2-10
Castletown bowed out of this years intermediate championship as they were no match for Nobber at a resplendent Drumcondrath. This game was billed as a clash between 2 teams holding genuine plans of lifting the Mattie McDonnell cup however it was the men in the amber who would live up to the billing.
Right from the off it was looking like a bridge too far for the Castletown men, they lacked the bite that put away the likes of Dunderry & Syddan. Nobber raced into an early 2 point lead before Kevin Ross pointed for Castletown on the 10th minute. From there Nobber took over, rattling off 6 unanswered points in as many minutes before Tommy Smith stemmed the tied with a point on 16.
Nobber's first goal came as a sucker punch a couple of minutes before half time. Castletown were hoping to get to the break still alive but some sloppy play saw Nobber break up the field put the first dagger in the heart of Castletown's season. The half time score was Nobber 1-11 Castletown 0-3.
One of the main talking points on the night were the 5 black cards doled out over the hour, Nobber received 3, Castletown 2. The letter of the law was applied and there can be no qualms other than a call for consistency over the course of the season. Castletown's first black was probably the most costly of all 5 as it followed an earlier yellow for Robbie Hoey therefore no replacement could be brought on. it left Castletown with a bigger mountain to climb for a large portion of the 2nd half.
The second half performance however was an improvement on the first as Castletown began what looked like a fight back mid way through the half. Always a good man for a goal Damian Ginnitty would bag two on the evening. The margin was down to 5 at one point aided by 3 points from Darren Finney and one from Kenny Smith however Nobber were able to keep the scoreboard ticking over and just enough distance between the sides for their liking. Ginnitty's 2nd goal on 27 minutes was a cracker, shooting low with the left peg from 21 yards. It wasn't enough however as Brian Farrell rounded off a great night for the Nobber men with a well taken goal on 32 minutes.
With the final whistle comes the stark reality that Castletown will go into their 40th season without  championship silverware next year. As Johnny Logan once sang, What's another year.
Castletown- J. Ginnitty, J. Carry, J. Metry, R. Blaney, N. Smyth, K. Smith (0-1), J. McMahon, R. Hoey, G. Farrelly, D. Finney (0-4), D. Ginnitty(2-0), S.Hoey,  J. Finnerty, K. Ross (0-3), T. Smith (0-2)
Subs used  F. Hoey. W.Donegan
Most Read Stories