IFC: Castletown's season rolls on
August 31, 2015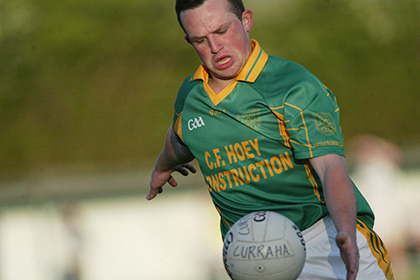 Castletown's Kevin Ross
Castletown 0-15 Syddan 0-9
The season rolls on for Castletown as they put neighbours Syddan to the sword booking a place in the intermediate quarter final. Meath Hill was the venue on a day that was perfect for football. Both teams served up some high-end football however it was Castletown's hunger and big game experience that won the day.
The opening period was a tense affair as it took 7 minutes to open the scoring. It was Kevin Ross who came to the fore with Castletown's opening points. At the other end Syddan were feeding off scraps, keeping in touch with some fine points from Daire Rowe. Tommy Smith, fresh off his 2-3 last weekend was the subject of some extra special attention however he was able to register 3 points on the day, his opening coming on 21 minutes.
At that stage Castletown were a point down. The switch of Johnny Metry & Joey Carry seemed to stem the influence Rowe was having on the encounter as both Castletown players went on to put in top class performances. It's possible to put an argument across that the final 10 minutes of the half were the winning of the game for Castletown. 4 points from Tommy, Barry Smith, Jamie McMahon and Kevin Ross turned the game in their favour sending them in at half time 8 points to 5 up.
Although Syddan opened the second half with a point in the first minute they wouldn't bother the scoreboard again until the 15th. Before that point Kenny Smith took over, scoring 3 inspiring points. Playing at centre half back he covered every blade of grass. At midfield the pairing of Robbie Hoey and Gerry Farrelly did all they wanted, winning clean ball and generally upsetting the much vaunted Syddan midfield.
The game could have been over as a contest when Barry Smith did everything except find the net as he rounded the Syddan goalkeeper and shot, only for some last gasp defending to ruin the moment. Castletown would endure a similar scare a minute later as the ball was cleared off the line by Jonny Metry.
Normal service was resumed as Ross and Tommy Smith kicked for home. With a couple of minutes to go it was time for Jonathan Ginnitty to pull off his now customary save of the week as Syddan went looking for a life line. The final Castletown blow was administered by Darren Finney who sent over from close range.
On Castletown go to a quarter final encounter with some more neighbours, his time Nobber. They will be hoping its 3rd time a charm after 2 losses so far this year, including the Corn an Boinne final which went to extra time. Momentum is a beautiful thing in championship football, Castletown will be hoping its the case this time.
Castletown- J. Ginnitty, J. Carry, J. Metry, R. Blaney, N. Smyth, K. Smith (0-3), J. McMahon (0-1), R. Hoey, G. Farrelly, D. Finney (0-2), J. Finnerty (0-1), D. Ginnitty, K. Ross (0-4), B. Smith (0-1), T. Smith (0-3)
Subs used S. Hoey, F. Hoey.
Syddan Report
CASTLETOWN 0-15 SYDDAN 0-9
FIVE points in a seven minute spell in the second quarter set Castletown up for victory over their near neighbours in this IFC preliminary quarter final at Meath Hill.
With Daire Rowe contributing four points, including three from play, Syddan opened up a 0-5 to 0-3 lead by the 21st minute. However Castletown took control of the game from there to half-time and five successive points left them leading 0-8 to 0-5 at the break.
Tommy Smith kick-started Castletown's spell of dominance with a point from a Darren Finney pass. James Finnerty, Barry Smith, Jamie McMahon and Kevin Ross then added further scores as Donal Curtis' side pressed home their advantage.
Rowe converted a free to reduce the deficit to two within a minute of the restart but a much more focussed and determined Castletown added further points from Kenny Smith (two) and Tommy Smith to open up a 0-11 to 0-6 advantage.
Two Ian Curran points helped reduce the deficit to four but a much slicker Castletown found it easier to get scores and with centre back Kenny Smith adding a third point and Kevin Ross also on the mark they re-established their five point advantage.
Darren Finney almost found the net for Castletown on 52 minutes but Kevin Garland somehow got back to boot the ball off the line to safety.
Tommy Smith and Darren Finney had the games' final scores as Syddan's campaign came to a disappointing end.
Castletown now meet Nobber in the quarter final at Drumconrath on Saturday evening.
CASTLETOWN - Jonathan Ginnity; Joey Carry, Jonathan Metry, Ross Blaney; Noel Smyth, Kenny Smith 0-3, Jamie McMahon 0-1; Gerard Farrelly, Robert Hoey; Darren Finney 0-1, James Finnerty 0-1, Damien Ginnity; Kevin Ross 0-5 (2f), Barry Smith 0-1, Tommy Smith 0-3. Subs - Shane Hoey for Finnerty (28), Francis Hoey for B Smith (52), Finnerty for D Ginnity (57).
SYDDAN - Ciaran Farrelly; Kevin Garland, Cormac Rowe, Ronan Mooney; Kevin Traynor, Sean Malone, Mark Fedigan; Stephen Dillon 0-1, Sean Clare; Graham Garland, Paddy Farrelly, Andrew Garland; Ian Curran 0-3 (1f), Daire Rowe 0-5 (2f), Luke Halpenny. Subs - Gary Farrelly for G Garland (h-t), Michael Fedigan for Halpenny (50), Peter Sheehy for Malone (50), Ben Bashford for A Garland (58).
REF - Martin Griffin (Simonstown)
Most Read Stories