SFC: Goals do the trick for Dunshaughlin against neighbours
August 24, 2015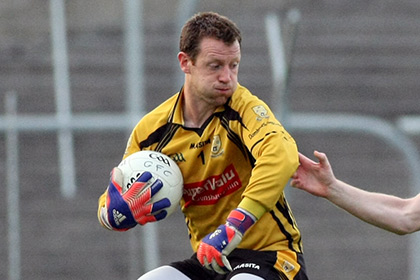 Dunshaughlin keeper Mick Ahern
Dunshaughlin 3-12 Blackhall Gaels 0-12
The penultimate round of the Meath SFC seen Dunshaughlin in an unfavourable position of not being in charge of their own destiny and were praying to the gods that other results would go their way but a victory was still required to stand any chance of reaching a quarter final playoff with their neighbour s from the Batterstown/Kilcloon parish their opponents in a match played in perfect conditions in Moynalvey on Saturday evening.
It did not take the black and amber long  to get off the mark with Shane Gallogly raising the white flag from an acute angle with the BHG response being swift 1 minute later to level the game. A fine Fergus Toolan point on 8 mins was backed up 2 mins later with Mark Devaney scoring a great point from range that came from some lovely fielding from David Dunne that started the move. A Donnacha Tobin score on 16 mins  pulled a point back for Blachhall before another Shane Gallogly special put Dunshaughlin up by two again with special credit gong to Fergus Toolan who worked extremely hard to make the score a possibility.
A converted Tadhg Brosnan 45 had just 1 point between the teams after 20 mins with very little between the teams up to this and the game needed a goal to spark it into life and thankfully for Dunshaughlin a fortuitous pass fell to Cathal O'Dwyer  with O'Dwyer making no mistake to coolly bury the ball into the back of the net after 21 mins to now have a goal between the teams. Blackhall did respond to this courtesy of a long range Tadhg Brosnan point and a point a minute later looked to be going over the bar but Dunshaughlin will have to thank their goalkeeper Mick Ahern who showed great agility and athleticism to somehow stop the ball going over the bar. A fantastic Danny Quinn point for Dunshaughlin on 28 mins following some good work from Shane Gallogly again put a goal between the teams while Dunshaughlin goalkeeper Mick Ahern once again somehow managed to prevent another almost certain Blackhall Gaels point by once again showing great agility but there was little Ahern could do to prevent the last score of the half with Tadhg Brosnan's converted free going over the bar on 31 mins as Pat Clarke blew for time. 
The second half resumed with Tadhg Brosnan converting a Blackhall free to once again have 1 point between the teams with Cathal O'Dwyer raising the white flag for Dunshaughlin on 35 mins to put two between the teams with Joe O'Brien now starting to come into the game and have a say on matters in the middle of the field.  Blackhall Gaels were not going anywhere and as the intensity increased they were to hit a purple match with them getting 3 unanswered points to now lead by a point after 40 mins with Dunshaughlin badly in need of a score. Thankfully for Dunshaughlin Cathal O'Dwyer showed great composure and all his experience to get Dunshaughlin back into the game with Joe O'Brien and Shane Gallogly playing a big part in a very important score that was to get the black and amber back on track.
Ferghal Delaney is well known in Dunshaughlin for his rambling and gambling and if people in Dunshaughlin  were not aware of his tasty footwork they are now with Delaney ducking and diving like Muhammad Ali in the rumble in the jungle to get the score of game that seemed to inspire his team and roar them into life after 45 mins to put them up by two points. Blachall Gaels were showing great tenacity and did manage a point a minute later but they say goals win games and thankfully for Dunshaughlin  they got their second of the game with Danny Quinn who was making his first SFC start for Dunshaughlin finding the back of the Blackhall net  after 49 mins and looks a real star for the future to put Dunshaughlin  up by four points. Maynooth graduate Niall Murphy who is having his finest year in a Dunshaughlin jersey put Dunshaughlin up 5 after 50 mins with Dunshaughlin now starting to dominate with Danny Quinns goal after now changing the complexion of the match.
Joe O'Brien was now fully dominating affairs in the middle of the field and his pass found Shane Gallogly on 52 mins before Trevor Dowd added another point on 57 mins to raise the white flag for Dunshaughlin following some nice passing from Australia bound Tommy Johnson. With Blackhall now down to 14 men it was now all Dunshaughlin with a beautiful Denis Kealy pass combined with some smart build up play from Cathal O'Dwyer seen the magician that is Trevor Dowd find the back of the Blackhall net to now have the contest in no doubt as Dunshaughlin were up by 5 points with time up. Trevor Dowd was not finished yet with the veteran forward who is playing the football of his life score the final score of the net to have Dunshaughlin run out 9 point winners with a quarter final playoff to now look forward too.
This was a superb Dunshaughlin performance with every man giving 100% for the cause with Fearghal Delaney, Ben Duggan, M.Ahern, Trevor Dowd, Cathal O'Dywer and Fergus Toolan outstanding for Dunshaughlin.
Dunshaughlin- M.Ahern, A.Doyle, D.Kealy, F.Delaney (0-01), D.Ormsby, C.King, D.Dunne, N.Murphy (0-01), B.Duggan, D.Quinn (1-01), T.Dowd, (1-02), M.Devaney (0-01), S.Gallogly (0-03), F.Toolan (0-01), C.O'Dwyer (1-02)
Subs - J.O'Brien for D.Dunne, S.Duffy for M.Devaney,T.johnson for S.Gallogly
Most Read Stories