IFC: Castletown defy the odds
August 24, 2015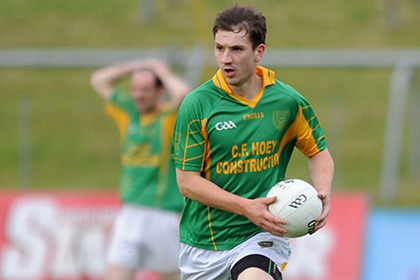 Castletown's Tommy Smith
Castletown 3-9 Dunderry 0-9
It was a night to savour for Castletown as they defied all the odds to progress in the intermediate championship. Needing to win by 9 points or more they did just that. Looking at the conditions it seemed as though the Gods had conspired against them, sending weather akin to days when Noah was gathering up his livestock. Not a night for free flowing football where scores would be plenty.
Castletown races into an early lead, notching up 1-3 before Dunderry got off the mark. The goal came as a result of a long ball delivered by Damian Ginnitty into the square where Kevin Ross was on hand to make the most of the breaking ball to fire home from close range. Tommy Smith, Barry Smith and Darren Finney were the Castletown forwards to register the early points. Dunderry then raced back into the game with the help of a couple of frees and some finely taken points from range. Darren Finney closed out Castletowns scoring in the first half with his second of 4 points.
The half hack line of Noel Smyth, Kenny Smith and Jamie McMahon were cleaning up lots of ball while the midfield pairing of Gerrard Farrelly and Robert Hoey were getting on top in the aerial battles. There were some concerns for Castletown in the first half, the in-form James Finnerty had to leave the field with a leg injury and was replaced by Shane Hoey. He then made a Lazarus like recovery at the interval and went on to be instrumental in the victory. The score at half time was Castletown 1-4 Dunderry 0-5.
The men in green got off to the perfect re-start when Tommy Smith found himself in behind the Dunderry defense and struck low and true to the corner of the net after 5 minutes. He quickly slotted over a point to send Castletown on their way to a famous victory.   That Dunderry could only manage 2 points in the second half, after 7 and 11 minutes was a testament to Castletowns defensive structure and never say die attitude. Darren Finney sent over a free from 35 yards before Tommy Smith did the damage again with his second goal, coolness personified under immense pressure. Points in the final 10 minutes from Barry Smith, Darren Finney and Tommy Smith put the seal on the victory. Dunderry tried to break Castletown hearts as they went searching for a goal. Johnny Ginnitty pulled off the save of the year, diving high to send the ball off the bar and out of danger. A couple more attacks from Dunderry couldn't get past the Castletown defense where Johnny Metry, Joey Carry and Ross Blaney were defiant.
Castletown march on to a preliminary quarter final outing with neighbours Syddan.
Castletown team -J. Ginnitty,  J. Carry, J. Metry , R. Blaney, N. Smyth, K.Smith, J. McMahon, G.Farrelly, R.Hoey, D. Ginnitty, J. Finnerty, D, Finney (0-4), K. Ross (1-0), B. Smith (0-2), T. Smith (2-3)
Sub used- S.Hoey
Most Read Stories