IFC: Ratoath march on
August 24, 2015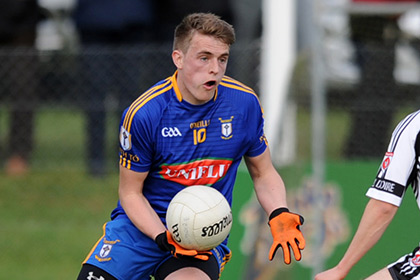 Ratoath's Conor Rooney
Ratoath 3-8 St Ultan's 0-6
Ratoath  secured a solid win in this round 5 championship fixture played in difficult wet conditions  in Kilmessan on Sunday. The first half was evenly contested with both defences on top resulting in both teams struggling to get scores. Having said that Conor Rooney,(2) Emmet Boyle and Cian O'Brien all got on the scoresheet thereby ensuring Ratoath took the lead at half time( 0-4 to 0-2).
The second half saw Fergal Power's charges open up with goal from O'Brien in the 4th minute the catalyst as his side went on to control the rest of the game. While Shane Duffy was making some excellent saves and marshalling the defence at one end Ratoath , at the other end,through Rooney in particular with 2 further goals in the 13th and 25th minute pulled away from St Ultans as the second half wore on. The Ratoath men, who had already qualified for the quarter finals, eventually ran out 11 point winners in what was a workmanlike performance in overcoming St Ultans.
Best for Ratoath were Conor Rooney, Cian O'Brien, Gavin McGowan, Paul Flaherty and Shane Duffy.
Foireann Ráth Tó: S Duffy, B Daly, G McGowan (0-1), P Flaherty. B O'Connor, C McGill, D McGill, C o'Brien (1-1), K. McCabe, G Rooney, B Power, E Boyle (0-2), C Rooney (2-3), Bobby O'Brien, B McMahon ( 0-1) subs: F Coyne for Boyle, L Browne for G Rooney, G Eiffe for D McGill, R Lombard for C O'Brien
Most Read Stories