IFC: Trim power in to quarter final
August 24, 2015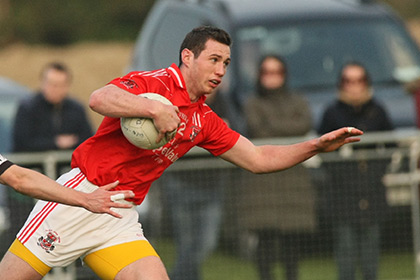 Trim's James Toher
Trim 2-10, Ballivor 1-11
There was everything to loose and everything to gain as both Trim and Ballivor battled it out for a quarter final spot in the Intermediate football championship in a wet Athboy on Sunday evening last. The losers would go home licking their wounds and have to wait for another year to prove their worth in the championship. Needless to say there was a lot of expectation and tension coming into the game.

There was little between the sides in the first nine minutes as both sides went at it hammer and thongs with Trim on four points and Ballivor on three. The Reds opened in the first minute with a fine Alan Douglas point after they moved the ball through various hands up the length of the left wing. This was followed with a second point one minute later when mid fielder Frankie Murphy sent a long pass in to corner forward Neill Heffernan who made no mistake close to goal. Ballivor opened their account when they fired over one minute later. Both sides swapped points in the fifth. Trim's effort resulted in left half forward Eoin O'Connor running on to a long ball down the left wing. He deftly flicked it to the on running James Toher who worked his way towards goal and fisted over. Points were swapped again in the ninth minute with Toher doing the honours for the Town when he took a quick free to Robert Bourke, received to return pass and planted a neat point from forty meters. From then on to the twentieth minute Trim took control of the game and went into a significant six point lead. It commenced with a Neilly Heffernan goal in the tenth when he shook the rain off the roof of the roof of the net with a rocket.
After receiving a long ball from centre forward Alan Douglas he had a lot of work to do to weasel through a tight defence but he did and took his opportunity with great aplomb. James Toher followed up with two pointed frees in the thirteenth and sixteenth minute to open a six point gap entering the second quarter. Ballivor, who had took a pounding if the first quarter and seemed at odds with the game to their credit composed themselves and recovered to nail three points between the twentieth and twenty third minute to reduce the gap to three and but for three wides in that period could have been back on even terms. With just a few minutes left on the clock before the long whistle Trim hit two points to Ballivor's one to leave the teams going in at half time on a scoreline of 1-8 to 0-7.   Trim's final score was a fine effort when Right half back Shane Downes raced through the opposition defence after taking a flick pass to fire over without breaking stride.  

Within two minutes of the restart Trim's James Toher rattled the Ballivor net to put his side seven points up after Ciaran Joyce found Neil Heffernan in the right hand corner with a pin point pass. Heffernan's progress was arrested by the sticky defence but he managed to dispatch to the in running Toher who nailed the goal in dramatic form. Ballivor replied one minute later with a point. From then to the twenty fourth minute the scores were sparse with Ballivor hitting a sole point in the fourteenth. It was a period where thirteen wides were hit, seven from Trim and six from Ballivor. The inaccuracy could be pointed towards the incessant rain making conditions for good football very difficult and tired limbs after a frenetic first half. It was also a period where both defences dominated, The Trim full back line of Robert Brennan, Colm O'Flaherty and Eoin Kelly were in mean mood with nothing relinquished and goal keeper James Andrews with safe hands propping them up. They were fronted by a hard working half back line of Rory McGrath, Ciaran Joyce and Shan Downes who, to a man, all defended well and attacked at any oportunity.
The Town side broke the scoring duck in the twenty fourth minute when Owen McGrath hit the target after fine foraging and support work from right half forward Shane O'Connor. The latter put in a man of the match performance with his non-stop support work throughout. He popped everywhere the help out and bravely won many breaking balls in the middle of the field. Midfielder Robert Bourke put seven points between the sides in the twenty seventh minute when he took the ball off the shoulder to race through and nail the point. With two minutes of normal time left and a score difference of seven points it looked like game over. But the resilient Maroons tore up the script and brought the game back to a two point difference with a goal and two points and were still pressing a stretched Trim defence when the final whistle was blown three minutes into injury time.

Final score Trim 2-10, Ballivor 1-11.        
Trim scorers: James Toher 1-5 (Three frees), Neil Heffernan 1-1,  Owen McGrath 0-1, Alan Douglas 0-1, Robert Bourke 0-1, Shane Downes 0-1
The Trim team was: James Andrews, Colm O'Flaherty, Robert Brennan, Eoin Kelly, Shane Downes, Ciaran Joyce, Rory McGrath Frankie Murphy, Robert Bourke, Shane O'Connor, Alan Douglas, Eoin O'Connor, James Toher, Neil Heffernan, Owen McGrath.
Subs were: Ciaran O'Rourke, James Cullen, Robbie Kenny, Ciaran Giblin, Cian Downes, Peter Farrell, Michael Cullen, Richie Murphy, Conal McGrenra, Peter Farrell.
Most Read Stories