SFC Group A: Summerhill success secures second spot
August 24, 2015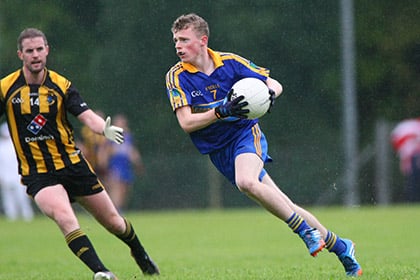 Summerhill's Eamon McDonnell with Sean McGarrell Dunboyne during the hoganstand.com Meath SFC game at Dunsany.
Summerhill ...... 2-10
Dunboyne ......... 0-7
With a decisive win over Dunboyne at Dunsany, Summerhill secured second spot in Group A of the hoganstand.com SFC
With this deserved win comes a quarter-final clash with holders O'Mahonys, a repeat of 2013 when Summerhill unseated the Brews Hill outfit at the same stage en route to lifting the Keegan Cup.
A win here was a greater imperative for Summerhill as Dunboyne had already secured top spot on the back of four straight group wins.
Conditions were difficult, though first-half rain lightened to second-half drizzle. Underfoot conditions led to more slipping and sliding than usual.
Gerry Gallagher with Padraig Jennings
Those difficulties may have been reflected in the wide count, 15 to Summerhill and nine to Dunboyne.
Summerhill had a greater spread of scorers, seven to Dunboyne's two. Donal Lenihan accounted for all bar one of Dunboyne's points. Shane Comiskey registered the other.
Summerhill broke from the blocks with pace and were 1-2 to 0-0 ahead inside five minutes. They were never reeled in though Dunboyne rallied when playing towards the road goal.
A great block from Padraig Jennings on a Stephen Moran shot
Wing-back Stephen Husband opened the scoring at the pavillion end. Sean Dalton added the second and was central to the goal though it did appear to cross the line off a Dunboyne defender.
Donal Lenihan's accuracy from play and placed balls lifted Dunboyne. By the midpoint of the half they were just two points off the pace, 0-3 to 1-2.
Summerhill ended a 15-minute barren spell with a Barry Dardis pointed free. Their final score of the half was Kevin Ryan's 26th minute effort following a great Micheal Byrne catch.
Kevin Ryan gains possession ahead of  David Gallagher and Shane McEntee.
A great Lenihan effort from play was followed Comiskey's score. It halved the deficit and left the board reading 1-4 to 0-5 at the break.
Summerhill kicked-on and within 10 minutes of the restart were eight points clear. Ross Ryan's goal left it 2-7 to 0-5.
Thereafter the event flatlined with Dunboyne managing just two more scores, a Lenihan free and later a 45. At the other end Barry Dardis posted Summerhill's final three scores (including one free).
Summerhill - Tony McDonnell; Padraig Jennings, Caolan Young, Willie Ryan (0-1); Stephen Husband (0-1), Davy Dalton, Eamon McDonnell; Padraig Geraghty, Micheal Byrne; David Larkin (0-1), Kevin Ryan (0-1), Ross Ryan (1-1); Paul Rispin, Barry Dardis (0-4, 2fs), Sean Dalton (1-1). Sub - Ronan Ryan for E McDonnell (60).
Dunboyne - Johnny O'Connor; Jordan McLoughlin, Jack Scannall, Seamus Lavin; Colin Clarke, Cathal Finn, Conor Doran; David Gallagher, Gerry Gallagher; Gavin McCoy, Donal Lenihan (0-6, 3fs, 1 45), Shane Cumiskey (0-1); Shane McEntee, Sean McGarrell, Stephen Moran. Subs - Damien Sweeney for Lavin (4), Michael Dunne for McGarrell (ht), Tommy O'Connor for G Gallagher (ht), David Clarke for Moran (36), Ger Robinson for Cumiskey (50).
Referee - Cormac Reilly (St Mary's)
Paul Rispin has Shane Comiskey and Gavin McCoy for company at Dunsany
Summerhill report:
Senior Championship Round 5
Summerhill qualified for the Senior Championship with a nine point win against St Peters Dunboyne in a game played in very difficult conditions at a rain soaked Dunsany on Sunday evening.
Summerhill got off to a great start, scoring 1-2 in the first five minutes of the game. An excellent Stephen Husband point was followed by one from Sean Dalton before Summerhill struck for their first goal. A loose ball around midfield that was picked up by Ross Ryan was worked in to Sean Dalton who  fired to the back of the net.
St Peters finally got off the mark with three unanswered points, two frees and a point from play all from Ciaran Lenihan. Summerhill responded with a pointed free from Barry Dardis following a foul on Sean Dalton and a Kevin Ryan point following a great catch and lay off by Michael Byrne. St Peters closed out the scoring in the half with two more points from play to leave the half-time score 1-4  to 0-5 in favour of Summerhill.
With the rain continuing to fall Summerhill started the second half well with points from David Larkin, Ross Ryan and Willie Ryan to stretch their lead. In the 10th minute Summerhill struck for their second goal which effectively ended the game as a contest. Ross Ryan caught  the ball with his back to goal then turned and heading for goal before firing to the net.
Between then and end of the game St Peters only managed to add two more pointed frees while Summerhill added a further three points all from Barry Dardis, two from play and one from a free to run out winners on a score line of 2-10 to 0-7. Summerhill will now meet O'Mahonys in the quarter finals in a few weeks time.
Full-time Score:
Summerhill 2-10 St Peter's Dunboyne 0-7
Date of Match:
Sunday, August 23, 2015
Half-time Score:
Summerhill 1-4 St Peter's Dunboyne 0-5
Team:
Tony McDonnell, Padraig Jennings, Caolan Young, Willie Ryan (0-1), Stephen Husband (0-1) , David Dalton, Eamonn McDonnell,  Padraig Geraghty, Michael Byrne , David Larkin (0-1), Kevin Ryan (0-1), Ross Ryan (1-1), Paul Rispin,  Barry Dardis (0-4,  0-2f), Sean Dalton (1-1).
Substitutes:
Brian Ennis for Paul Rispin
Ronan Ryan for Eamonn McDonnell
Most Read Stories