SFC: Gaeil Colmcille close to knockout stage
August 07, 2015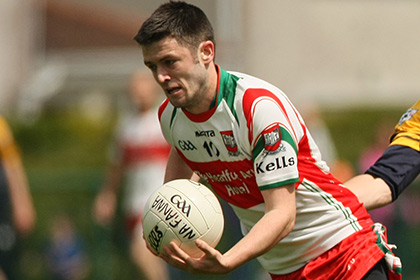 Seamus Mattimoe Gaeil Colmcille
Gaeil Colmcille 1-15 Blackhall Gaels 1-11
Gaeil Colmcille moved closer to the business end of the hoganstand.com SFC with a well-earned win over Blackhall Gaels in this Group C Round 4 clash at Walterstown on Thursday evening.
This proved to be a cracking contest as Gaeil Colmcille made most of the running and Blackhall Gaels displayed commendable resilience as they battled to extract something from this fixture
Having opened the scoring with Stephen McManus' third minute goal, Lar Wall's men were never reeled in but had to dig deep to fend off the 'Gaels.
Gaeil Colmcille had the wherewithal to respond positively when their lead was threatened. This had a big bearing on the outcome.
Picking off some eyecatching scores, Gaeil Colmcille moved six points clear, 1-6 to 0-3, after 23 minutes with Seamus Mattimoe and Brian Hanlon registering impressively.
Six first-half wides and two fine saves by Blackhall Gaels' 'keeper Thomas Dalton suggested the Kells-men should have been more than four points ahead at the break, 1-9 to 1-5.
Blackhall Gaels were boosted in first-half stoppage time when midfielder Paddy O'Brien fired home a reviving goal. Around this time Gaeil Colmcille lost corner-forward Oisin Reilly to injury. Moments earlier the number 13 had a goal attempt stopped by Dalton.
Playing into the clubhouse end, where incidentally most of the wides were registered, Blackhall took the game to Gaeil Colmcille from the restart. A Tadhg Brosnan point offered hope.
Gaeil Colmcille's response saw them move seven points, 1-13 to 1-6, clear by the 43rd minute. The introduction of Graham Dillon heralded another Blackhall rally.
Paddy Snee's men posted five consecutive points between the 44th and 53rd minute to leave just two in it. Two interceptions followed that had a bearing on the outcome. Gaeil goalscorer McManus won possesson on his own 20-metre line with just three points between the teams.
Full-back Robbie Flanagan made an important fetch on his goal line in the 54th minute with just two points separating the sides. With Paddy O'Brien and Donnacha Tobin giving the Batterstown-Kilcloon outfit a strong presence at midfield, it seemed the Gaels - with just two points from four fixtures - might not leave empty-handed.
Hanlon's 59th minute point ended a 16-minute barren spell for Gaeil Colmcille. Lar Wall's charges sealed their third win of the campaign when corner-back Cormac Ferguson completed the scoring in stoppage time with assistance from Keith Reilly.
Next up for Gaeil Colmcille is a meeting with Walterstown while Blackhall Gaels - who wore tee-shirts in their warm-up wishing clubmate Aaron O'Dowd well in his battle with cancer - face neighbours Dunshaughlin.
Gaeil Colmcille - Justin Carry Lynch; Cormac Ferguson (0-1), Robbie Flanagan, Liam Ferguson; Paul Tormay, Barry Smith (0-1), Barry Tormay; Seanie Curran, Keith Reilly (0-2); Seamus Mattimoe (0-3), Martin Barrett, Mickey Foley; Oisin Reilly (0-2), Brian Hanlon (0-4, 1 45), Stephen McManus (1-1). Subs - Ryan Farnham (0-1) for O Reilly (30), Stephen Reddy for Foley (57).
Blackhall Gaels - Thomas Dalton; James Kelly, Colum McElligott, Tom Murphy; Kevin O'Keane, John M Kelly, Hugh Smith (0-1); Paddy O'Brien (1-0), Donnacha Tobin); Alan Nestor (0-2), John J Kelly (0-2), Tom Delaney; Stephen Morris, Tadhg Brosnan (0-6, 3fs), Paul Kelly. Subs - Graham Dillon for Delaney (39), Conor Stenson for McElligott (42).
Referee - Jack Gordon (Walterstown)
Blackhall Gaels report:
Competition: SFC rnd 4
Date: 6th August 2015
Venue: Walterstown
Score: Blackhall Gaels 1-11 Gaeil Colmcille 1-15
Blackhall head to Walterstown on Wednesday in the hope of kick
starting their Championship campaign. After last week's relegation
Blackhall needed a boost. However, the Kells men were coming off an
impressive Feis Cup win and had their sights set on holding their top
spot.
Kells quickly made their mark on the game, with a goal coming off
nearly the first play of the match. This followed by 2 unanswered
points saw the North Meath men 5 points up in as many minutes. Tadhg
Brosnan opened the scoring for Blackhall but Kells looked very
confident. Tommy Dalton pulled off two incredible saves in the first
half, he was probably one of the best men on the field for Blackhall.
An injury for Kells allowed Blackhall time to regroup and focus on
narrowing the gap between the teams. Hugh Smith scored a mighty point
in his Senior Championship debut as did Alan Nestor and John Kelly but
the Blackhall score of the half, if not the game, came from a rather
unlikely position. Patsy O'Brien and Donnacha Tobin gelled well in
Midfield, which proved crucial for the goal. Winning kick-outs is key
but the sweeper role is just as important. O'Brien found himself
playing that role in this instance and with a daring run up the field
he got the one two and slotted the ball safely, strongly, unbelievably
into the back of the Kells net! Blackhall's supporters were finally
seeing the team they came for and although the were 4 down at the
break, hope was in the air. Half time score was Blackhall 1-5, Gaeil
Colmcilles 1-9.
At the reset Blackhall looked set to continue their dominant period,
with an early score form Brosnan. Kells, naturally, had other ideas. 4
unanswered Kells points saw the gap reach 7 and even the most upbeat
of Blackhall people felt hope was lost. To their credit, the men on
the field never gave up and got 5 points on the trot themselves,
bringing it back to a gut wrenching 2 points. The whole of Walterstown
knew a goal was needed and Kells were not about to let that happen.
Two late scores saw Kells run out winners in what turned into a
brilliant contest. Final score Gaeil Colmcille 1-15 Blackhall Gaels
1-11. Tobin was by far the best for Blackhall, and probably the best
on the field. His work in the air around the middle with O'Brien was
incredibly influential to gaining scores while his defensive plays
were unbelievable.
Blackhall now face a similar position to their league campaign. If
Blackhall don't win their next match they will be relying on other
results to see them through. Although the lads left Walterstown
dejected and disheartened there are plenty of positives from last
Wednesday's game. Boys like James Kelly, Hugh Smith, John Kelly and
Paul Kelly are becoming good senior men, having stepped up when needed
for A League, and again last night. There is potential in this
Blackhall team that has not been tapped into yet and surely, when it
comes down to it, this potential will show for the final few games.
Having players like Stephen Morris, Conor Stenson and Tom Delaney back
on the senior panel gives Blackhall a larger pool to work with,
especially as each of those players are playing their hearts out for
their spots. Blackhall now play Dunshaughlin in a must win game for
both teams. Blackhall to remain senior and Dunshuaghlin to reach the
final 8.
Team: Tommy Dalton, James Kelly, Colum McElligott (Y), Tom Murphy,
Kevin O'Keane, John Kelly (Y), Hugh Smith (0-1), Patrick O'Brien
(1-0), Donnacha Tobin, Alan Nestor (0-2), John Kelly (0-2), Tommy
Delaney, Stephen Morris, Tadhg Brosnan (Y)(0-6(2F)), Paul Kelly
Subs: Graham Dillon, Conor Stenson
Most Read Stories