Death of Meath legend Micheal O Brien
May 15, 2015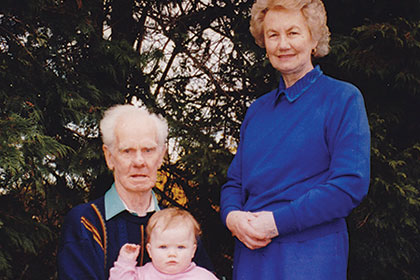 Micheal pictured in 1999 with his wife Patricia and granddaughhter Caoimhe
Sad to report the death of  Meath legend Micheal O Brien, rated by many as the greatest corner back to play Gaelic football.
Meath had a fine team during the late forties and early fifties, backboned by a splendid full back line of Micheal at number two, Team of the Century full back Paddy 'Hands' O Brien on the edge of the square and Kevin McConnell in the other corner.
Paddy O Brien was the top full back of the century but old timers are quick to tell you that despite the brilliance of Paddy 'Hands' his cousin and Skryne team mate made him look even better.
Courageous and quick, Micheal was a brilliant reader of the game and always there to mop up anything that Paddy O Brien and his fellow defenders let slip.
A talented hurler Micheal O Brien, amongst a host of honours, collected coveted Celtic Crosses in 1949 and 1954.
We re print an interview included in the Meath GAA Yearbook, Royal County 2013:
A LIVING LEGEND
Legend is a term often used loosely but in the case of Micheal O'Brien it can said without fear of contradiction.
A vital cog in the history-making Meath All-Ireland winning team of 1949, by the time the curtain came down on his intercounty career in 1955, the Skryne man had accumulated 2 All-Ireland SFC, 4 Leinster SFC, 4 Railway Cup, 1 All-Ireland JHC and 6 county championship medals.
Along with his cousin, Paddy 'Hands' O'Brien, and Kevin McConnell, he formed one third of a full-back line that has gone down in GAA folklore.
Nowadays, Micheal resides with this daughter Aine in Stamullen following the passing of his beloved wife Patricia in 2011.
Aine's husband is former Ardee and Louth footballer Bartle Landy and their two sons, Donal and Shane, line out with St Pat's and have followed in their grandfather's footsteps by representing the Royal County at underage level.
Micheal turned 90 back in June and while the passing of time may have dimmed his memory somewhat, he still has fond recollections of the year that the Royal County made the long-awaited breakthrough on the senior intercounty stage.
The '49ers', as they have become affectionately known, made history by overcoming neighbours Cavan on a scoreline of 1-10 to 1-6 in front of an attendance of 79,460 at Croke Park.
Micheal first pulled on the green and gold senior jersey in 1942, in a game versus Louth, and his versatility saw him line out all over the pitch.
For the first round of the 1949 campaign against Kildare for example he was picked at right corner-forward. He was switched to midfield during the course of the game and was retained there for the next match against Wexford.
In the three-match Leinster final saga against Louth, Micheal was again selected at midfield but had the misfortune of being sent off along with the Wee County's Stephen White in the second game.
By the time the All-Ireland semi-final against Mayo came around, the selection committee decided to position him at right corner-back and it turned out to be an inspired move on the selectors' behalf as he would go on to make the number two jersey his own.
'The Meath Chronicle' match report of the final was glowing in its praise of Micheal's performance: 'Mick's fielding was of the classic stamp. His courage and tackling was of the highest order. He outplayed the brilliant Mullagh boy, Edwin Carolan, and, in short, played the best game of his grand football career'.
64 years later, Micheal tells us his football philosophy was simple but effective: "Make sure your man didn't score, that was it. Make sure he didn't hinder anyone else. I was always a great believer in looking after your own man," he said.
The 26 year old O'Brien fulfilled his end of the bargain in the final against the Breffni County by holding Carolan scoreless.
"Edwin was a pretty good player but he didn't score so that was the main thing.
"Cavan were favourites going into the final, they were chasing a three-in-a-row and had a great team but we had a good record against Cavan. We played them quite a lot around that time and we were confident enough that we could beat them on the day if we played as good as we were capable of playing.
"The first All-Ireland was hard won. We needed three games to get over Louth in the Leinster final. We were lucky to win them. We went into collective training before the final against Cavan and we had a great time down in Gibbstown. The weather was great."
Five years later, Micheal added a second Celtic Cross souvenir to his collection when Kerry were defeated in the decider on a scoreline of 1-13 to1-7 and it made up for the disappointment of losing the 1951 and '52 deciders to Mayo and Cavan.
"How did that happen!" he joked when the subject of the loss to Mayo was raised in light of the Connacht County's present day trials and tribulations.
Their famine stretches into a 63rd year but, as regards the six-point victory over the Kingdom, Micheal said: "I think we caught Kerry by surprise. They probably took us for granted. They came back the following year and won it. They didn't think that we were any good, they thought we were a spent force."
His understanding with his full-back line colleagues, cousin Paddy 'Hands' and Kevin McConnell, is the stuff of legend and if it was good enough for Meath, it was good enough for Leinster. The trio played together on three Railway Cup winning teams from 1953-'55.
"Paddy was a giant at full-back, he was a great man to catch the high ball but sometimes he'd get stranded. We'd have to be on our toes, ready to help him out and he had to help us out of course. McConnell wasn't half bad either. We didn't get in each other's way too much."
Micheal won four Railway Cup medals in total and he laments the demise of the interprovincial competition.
"It was a great honour to be selected on the Leinster team but it has died out since. It was a big deal during my time."
Micheal skillfully sidestepped the question: who he rated as the best players on the '49 team, answering it would be impossible to name names, but  he had no hesitation in answering the question: who was the best Meath player never to win an All-Ireland senior football medal?
"Tony (Donnelly) was one of the best players ever with Meath. He was the best player I ever saw who never won an All-Ireland, without a doubt. In my time playing he was the best player in the county, I don't care what anyone says."
In 1948, Micheal and Tony helped the Royal County to All-Ireland JHC glory. "We had some great hurlers, Tony and Pat (Donnelly), Joe Loughran. It was a big deal. Tony was a great bit of stuff, he missed out on an All-Ireland football unfortunately in '49. He shouldn't have.
"The football would come first, with Skryne it did anyway. We had a hurling team in Oberstown and I played with Kilmessan then."
Micheal, Tony Donnelly and Paddy 'Hands' also shared great days together in the colours of Skryne but there were disappointments too.
"I lost a lot of games with Skryne that pained me a lot. I think I played in 14 finals, someone told me that anyway, and we lost eight. We won six though so I can't complain, it wasn't bad!"
Gaelic football has undergone a dramatic transformation in the years since Micheal excelled at it but his interest in the fortunes of Skryne and Meath has never waned and he's glued to the television anytime there's a game on.
"I like looking at it, there's a lot more passing, hand ball in it than there used to be. I was looking at a game on the television there recently and I just passed the remark that the teams kept going backwards, the ball wasn't being kicked at all.
"I noticed that particularly one day. It's football, there should be more kicking in it but that's the way it's gone."
In the early 1990s, Micheal's family home in Abbeylands, Navan was burgled and his vast array of medals was stolen. One thing the heartless thieves couldn't take away from him was his memories of a remarkable gaelic football and hurling career, the great friends he made and his status as a bona fide Meath GAA legend.
Micheal's funeral details are:
Reposing at his daughter Áine Landy's residence Herberstown, Stamullen on Saturday, 16th May, from 1pm with removal at 7.15pm to St. Colmcilles Church, Skryne arriving at 8pm. Funeral Mass on Sunday morning at 11am with burial afterwards in the adjoining cemetery.
Most Read Stories