IFC: Kilmainham and Michael's draw
April 26, 2015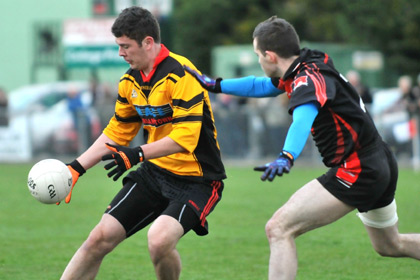 Jamie Farrelly St Michaels with Kilmainhams Ros Mooney during the Meath IFC game at Moynalty
St. Michaels 0-15, Kilmainham 2-9.
A pointed free in the 3rd minute of injury time from the boot of Michael Newman earned his side a share of the spoils in this hotly contested and absorbing Intermediate match in Moynalty on Friday night. This was a magnificent contest from start to finish and although St. Michaels will feel aggrieved that they didn't seal a victory with virtually the last kick of the ball, in truth a draw was the fairest result.
Kilmainham made a dream start when ace marksman Michael Newman's shot on goal was parried onto the line by Paul McCormack however the ball was adjudged by the umpires to have crossed the line for their opening goal after only 40 seconds. The St. Michaels response was impressive though, and in the following five minutes of play Ronan Lynch, his brother Ciaran, Jamie Farrelly and a fisted effort from Johnny Reilly put St. Michaels into a one point lead. An exquisite effort from Newman from a line ball near the end line sailed high between the posts a minute later to level the match for the second time. That point spurned his side on to better things and in the following 8 minutes they fired over 3 unanswered points.
The hard working Oran Meehan stopped the rot for St. Michaels when he fired over at the end of the first quarter, this was followed by a great effort from Ciaran Lynch to leave just the minimum between the sides 1-4 to 0-6. Kilmainham replied and made it a two point game on 19 minutes, then a minute later Paul McCormack was picking the ball from the back of the onion sack after a pile-driver from Michael Newman gave him no chance and put 5 points between the sides. This was a serious test of St. Michaels mettle now and their response was admirable, led brilliantly from the middle third by the O'Reilly brothers J.B. and Felim, Peter O'Connell and David Lynch, they hunted in packs for the remaining 10 minutes of the half, pumping high ball into the the two Lynch brothers and danger man Jamie Farrelly and Johnny Reilly on the full forward line and they got their just rewards with points from Ciaran Lynch 0-2 and one apiece from Meehan and Davy Lynch to put a much healthier look on the scoreboard trailing by just a single point 0-10 to 2-5 as the teams trooped off to the dressing rooms for the half time team talks. 
The opening 15 minutes of the second half was broken up with injury stoppages and lacked the same urgency as that of the first half with only two points registered on the scoreboard, both going Kilmainham's way which put them into a 2-7 to 0-10 lead, however the game broke open in the final quarter when between the 46th and 48th minute Ciaran Lynch, David Lynch and J.B. O'Reilly fired over a point apiece to level the match for the third time, Kilmainham replied immediately to go one ahead again, but by the 52nd minute Oran Meehan had the teams on level pegs once more. The exchanges were tough for the remaining 10 minutes with neither side giving an inch, however a David Lynch point put his side in the driving seat as the game entered injury time, Kilmainham held their nerve and set up attack after attack all of which involved Michael Newman however his attempted shot on goal was bravely blocked by Peter O'Connell, shortly afterwards the excellent Jamie Reilly dispossessed Newman as he was about to pull the trigger on goal, eventually Newman won a foul and he made no mistake from the resultant free to level the match for the fifth time. St. Michaels won their own kick-out and set up another attack which was illegally halted on route to goal, there were few candidates for the resultant pressure free kick, and it was the hard working Peter O'Connell who took on the responsibility, however his effort sailed wide of the posts much to the relief of the Kilmainham contingent.
Credit must go to both sets of players for the brilliant exhibition of football they served up in Moynalty last evening, good honest to God football with plenty of scores several of which were top notch from open play, neither team deserved to lose.
St. Michaels team & scorers:
Paul McCormack, Ronan Cassidy, Jamie Reilly, Matthew Halpin, Mark Stafford, Peter O'Connell, Sam Briody, J.B. O'Reilly 0-1, Felim O'Reilly, David Lynch 0-3, Ciaran Lynch 0-5, Oran Meehan 0-3, Johnny Reilly 0-1, Jamie Farrelly 0-1, Ronan Lynch 0-1.
Subs: Christopher Drew for Johnny Reilly 55 minutes, Kevin Cassidy for Ciaran Lynch 56 minutes.
Report: Pascal Reilly.
Referee: Marcus Quinn.
Kilmainham Report
Kilmainham 2-9
St Michaels 0-15
This game was played at rapid speed with both defences showing their worth.

St michaels will rue two missed frees in the later stage of the game  as will Kilmainham with missed chances of goals. So it was a fitting and fair
result as neither team deserved to lose.

Michael Newman began and finished the first half with goals even-though the first one was some what fortuitous. the second goal was one of supreme play coming from a ball won at mid field by Michael Newman quickly passed to Gerard Morgan he picked out shane morgan who broke through the st michaels defence drew the men and he passed to michael newman who had continued his run from mid field and he fired to the back of the net. Michael newman added 3points one side line ball, one free and one from play while his brothers mark and harry also pointed a point each.
Kilmainham were first to get off the mark in the second half with a fine pt from barry lynch, another two frees from michael newman and Freddie newman also pointed.

Those who played well for kilmainham were ros mooney harry newman barry lynch freddie newman michael newman and shane morgan.
Kilmainham -  declan nelson ros mooney richie brady denis newman paul farrelly seanie mahon harry newman (0-01) barry lynch (0-01) gerard morgan dean peppard pat o sullivan freddie newman(0-01) mark newman (0-01) michael newman (2-05)(3frees 1 side line ball rest from play) shane morgan. Subs conor kilgallen for paul farrelly(injured), kevin jordan for declan nelson (injured)
Most Read Stories