IFC: Clann caught out by Don/Ash
April 20, 2015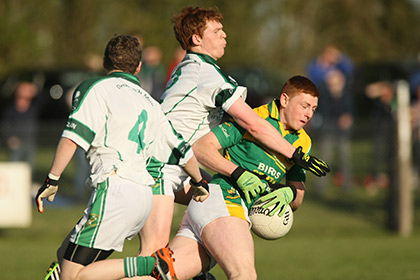 Donaghmore Ashbourne's Gareth Deery with Caoimhin Griffin Clann Na nGael during the Meath IFC at Walterstown.
Donaghamore/Ashbourne 1-6
Clann na nGael 1-4

The concession of a goal after 2 minutes for the second week running ment that Donaghamore/Ashbourne lead from start to finish and never looked in danger of losing this second round Intermediate clash played in Walterstown Sunday.

Clann na nGael were deprived of two of last weeks starting team through injury and suspension and lost Oran Fitzpatrick and Darragh Griffin either side of half time to injury also.
Both teams deployed a sweeper but it was the Donaghamore/Ashbourne lads who played it better ,breaking up Clann attacks and breaking at speed and led 1-3 to 0-3 at half time.

A dour second half saw only 5 scores with the Clann na nGael goal coming at near full time. When Clann na nGael did get the goal ,a scrambled Caoimhin Griffin effort they had two good chances afterwards to score points but both chances went wide. Donaghamore/Ashbourne were forced to hang on for the last 3 minutes as Clann na nGael tried in vain to get a goal that would have given them the win.

Clann na nGael: Gary Hanley, Paddy Tiernan, Oran Fitzpartick, Brian Duffy, Darren Kelly, Ciaran Smith, Luke Swaine, Jamie Shaw, Eamon O Donnachada, Aarron Ennis, Ciaran Fitzsimons, Anthony Farrell, Darragh Griffen, Caoimhin Griffin. Subs - Darragh Brogan, Colie Griffin, Damien Tuite

Donaghmore Ashbourne's Intermediates get off the mark
Date: 19th April 2015
Venue: Walterstown
Referee: Pat Clarke
Full Time: Donaghmore Ashbourne 1-06 Clann na nGael 1-04
Half Time: Donaghmore Ashbourne 1-03 Clann na nGael 0-03
Donaghmore Ashbourne's Intermediate team produced a great team effort to capture their first win of the campaign with a deserving win over Clann na nGael in Walterstown on Sunday.  The Ashbourne lads were the better side throughout the hour and never looked in trouble but the concession of a late injury time goal and a bit of panic setting in resulted in their followers having a very uncomfortable 6 minutes of injury time.

David Morgan opened the  scoring with a well taken point in the  first minute but Clann na  nGael  replied on 4 minutes to  bring the  sides level. The Moors saw three further attempts fail, with two wides and an effort drop short before Sam Benville finished off a great team move with a rifle of a shot to the back of the net on 8 minutes. To their credit the Athboy side replied with a point a minute later. Donaghmore Ashbourne had the better of the remainder of the half and with the aid of the breeze they created chance after chance. Apart from Tadg Kelly raising the white flag on 13 minutes from play and Morgan converting a free on 18 minutes they failed to convert this possession into scores and registered six wides and two short attempts.

Knowing they had to increase their effort in the second period to account for the breeze Donaghmore Ashbourne showed great heart and determination and battled for every ball. David Morgan pointed on 34 minutes from a free and got his second of the half on 37 minutes when he finished off a great team score that started in the opposite square. Sam Benville completed the scoring for Donaghmore Ashbourne on 48 minutes with a well taken point.  With the Donaghmore Ashbourne defence in a mean mood for the afternoon it took Clann na nGael till the 51st minute to get their first score of the second half.

Approaching full time Donaghmore Ashbourne looked home and dry but the concession of a goal in the 61st minute only put two between the teams. Clann na nGael had two further opportunities to get a draw but they hit wides on 63 and 64 minutes while going for the killer goal.
Overall Donaghmore Ashbourne were deserving winners and played some good football throughout. While it was a great overall team performance there was notable contributions from Daryl Lawlor, Rory O'Connor and David Morgan.
Donaghmore Ashbourne: P. Durkan; G. Deery , J. Mc Carney, D. Lawlor; M. Quinn, I. O'Donnell, D. Brady; R. O'Connor, C. Brady, , C. Field T. Kelly(0-1), D. Murtagh; S. Benville(1-1), D. Morgan(0-4), (2f), K. Fenton. Subs: S. Kavanagh for Benville (50 mins), I. Byrne for Field (56 mins), T. Morgan for Kelly (56 mins), N. Kavanagh for Quinn (58 Mins)
Most Read Stories