IFC: Ultan's pipped by Castletown
April 20, 2015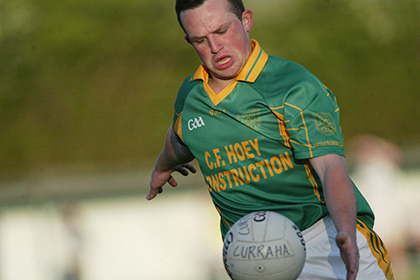 Castletown's Kevin Ross
Castletown 0-10 St Ultans 0-8
On a perfect evening for championship football these two teams served up an encounter that never lacked passion, commitment and effort. Both sides went into the game showing poor league form, hoping this would be the much needed spark their season required.
The opening 20 minutes could only be described as dire from a Castletown perspective as they allowed St. Ultans race into a 7 points to 1 lead. Castletowns opening score coming from the boot of Tommy Smith mid way through that period. It could have been much different as Kevin Ross had a goal-bound shot cleared off the line right at the start of the game as he tore the opposition to shreds with a blistering run. What looked like a promising start faded with the evening light as the Ultans took over and reduced Castletown to shooting from very wide positions. At this stage all breaking ball was mopped up by St. Ultans as Castletown struggled to get a foothold around the middle of the park.
The referee was in ultra vigilant form as he dished out yellow cards. Wayne Donegan, lining out in the half forward was industrious throughout as he took up a free role and went looking for ball at every opportunity.
It was Gerard Farrelly who sparked the Castletown comeback with a point from way out coming on the stroke of half time. They went into the break down 7 points to 4. The game was very much in the melting pot with plenty of action to come.

Castletown continued the game in the same fashion in the second half as they saw their opportunity to kick on. The switch of Gerard Farrelly and Francis Hoey at half time immediately paid dividends as they took control of the centre field area. Kevin Ross was tormenting his multiple markers as he carried the game to the opposition. It wasn't all plain sailing for the victors as a couple of missed frees and bad wides signaled some choppy waters. The positive from that was the lack of panic shown as Kevin Ross and Robbie Hoey steadied the ship with fine scores.
The games big talking points came 10 minutes into the second half as the referee send 2 Ultans men off in quick succession. In reality, Castletown looked like they were in control but this in no doubt helped. Wayne Donegan & Noel Smyth were assigned the jobs of free men and did a great job of identifying the gaps and plugging them with efficient ease. The game opened up and Castletown took advantage knocking over the points to win the day.
Next up for Castletown in a date with Ratoath in Trim.

Castletown - P. Smith, J. Metry, J. Carry, N. Smyth, K. Smith (0-1), F. Hoey, R. Blaney,  G. Farrelly(0-1), R. Hoey(0-2), W. Donegan, J. Finnerty (0-1),D. Ginnitty, D, Finney,K. Ross(0-4), T. Smith(0-1). Subs used- B. Smith for D. Ginnitty
St Ultans Report
St Ultans 0.08 Castletown 0.10
St Ultans started their intermediate championship campaign against Castletown in Simonstown Friday last.
They started strongly and dominated the first 25 minutes leading 0-7 to 0-1 with scores from Cian Rennick (3), Mark Allen (2), Darren Mallon and Gearoid Rennicks.  Castletown scored three points at end of first half and gave them a lifeline and they kicked on from these scores.

Castletown opened the second half the stronger and Ultans will be very disappointed with their display in this half and the indiscipline of having two players sent of in the 40th and 41st minutes. To the rest of team's credit, they battled hard and stuck with Castletown, who eventually went on to win.

The whole full back line for Ultans played very well throughout along with midfielder Kevin Galligan. They now need to dust themselves down quickly and prepare for second round this week V Ballivor.
St Ultans - Robert Daly, Martin Dolan, Sean O 'Hoibheard, Jason Bennett, Ronan Breslin, Declan Galligan, Ronan Galligan, Kevin Galligan, Conor Smyth, , Mark Allen, Darren Mallon, Gearoid Rennicks, Gary Gorman, Cian Rennicks, Tony Smyth. Subs - Stephen Quirke for Gary Gorman, Paul Murray for Tony Smyth, Sean Power for Darren Mallon
St Ultans Scorers - Cian Rennicks 0.03, Mark Allen 0.03, Gearoid Rennicks 0.01, Darren Mallon 0.01.
Most Read Stories