MFC Div 2: Goals seal victory for Trim
November 24, 2014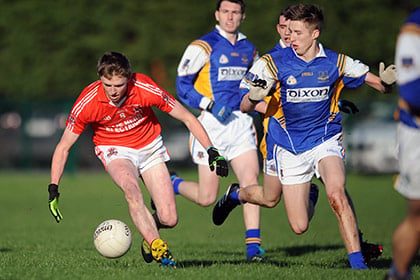 Trim claimed the MFC Division 2 title at Seneschalstown's expense in Skryne.
Seneschalstown 1-06 Trim 5-08
With the prize of the Liam Tolan Memorial Cup up for grabs the minor footballers of Seneschalstown and Trim faced off in Skryne on Sunday morning in the Meath Minor Championship Division 2 Final.  With the playing surface glistening under the low November sunshine as both sides emerged onto the field of play Seneschalstown were relieved that the players who were forced off injured in their semi-final replay victory were declared fit to play. 
The opening exchanges of the match were tight as both sides looked to gain a foothold.  During this spell Seneschalstown had plenty of possession but were struggling to convert this into scores as they missed a couple of opportunities while having difficulties breaking down the very well organised Trim defence. 
Indeed when the opening score of the match did arrive it came for Trim when they pointed in the thirteenth minute.  Buoyed by this score they stretched their advantage two minutes later when netting a goal which was of the scrappy variety and one which the Seneschalstown defence would be disappointed with conceding.  Having experienced a blank opening quarter Seneschalstown eventually managed to register their opening score of the match when Ronan Conneely clipped over a well taken left foot point.  Daniel O'Reilly had won possession back in his half back line before laying off to Sean Noonan who drove a long ball in towards Eoin Finnegan in the full forward position.  Finnegan, unable to catch the ball, managed to break it down into Connelly's path before he pointed. 
A goal almost came soon after but the Trim goalkeeper who had a fine match pulled off a very good save from a rasping Niall Hickey shot.  Seneschalstown were beginning to get a foothold in proceedings once more and reduced the deficit to two points when Noonan tapped over a short range free.  The margin then became one as Darragh Keogh rampaged through the heart of the Trim defence before rifling a shot over the crossbar.  This score coming after some good work out the field from substitute Conor Cantwell. 
This good work was suddenly wiped out though when Trim picked off their second goal of the match before they kicked three points on the run in towards half time to leave themselves with a commanding 2-04 to 0-03 advantage when Patrick Neilis sounded the half time whistle.  Seneschalstown had also lost the services of influential centre back Darren Johnson during the first half when he limped off with a knee injury. 
When the two sides came out to start the second half Seneschalstown would have been looking to make a lightning quick start but it was Trim who were first to register when they notched a thirty third minute free.  Daire Geraghty managed to cancel this effort out when he landed a thirty five metre free of his own three minutes later but Trim then hit a goal and two points between the forty first and forty fourth minutes.  Mark Fox pulled a point back before Noonan struck over a free following a free on fifteen year old substitute Robert Wogan.  
Any hopes of these two points somehow sparking a comeback were soon extinguished though when Ruairí McDonagh was beaten by a brilliant strike for goal which went in off the left hand post.  To their credit though Seneschalstown kept plugging away and gained some reward for their efforts when after Ryan O'Dowd was pulled down for a penalty Noonan calmly spotted the ball into the corner. 
As was in the nature of the game however Trim closed out the scoring with another goal and point to comfortably end the match as fourteen point victors. 
On a day when Seneschalstown were out battled by a physically bigger and stronger Trim who were also far more clinical in front of goal side there were still some positives to be taken from their performance.  In the first half in particular Daniel O'Reilly turned in a powerful performance while Noonan, despite having to forage further out from goal than ideal kept working hard.  Their best performer though was undoubtedly midfielder Darragh Keogh who turned in a superb performance which certainly marks him out as a player with a bright future ahead of him. 
While they ended up with no silverware this has still been a good year for the team with many of them making a positive impression with the Junior B and D sides while forming the backbone of the U-21 team.  Many more were on the victorious U-17 outfit while Noonan made his mark on the senior side. 
As three time Olympic gold medallist Wilma Rudolph once said:
"Winning is great, sure, but if you are really going to do something in life, the secret is learning how to lose. Nobody goes undefeated all the time. If you can pick up after a crushing defeat, and go on to win again, you are going to be a champion someday."
Seneschalstown Scorers:  Sean Noonan 1-02, Ronan Conneely 0-01, Darragh Keogh 0-01, Mark Fox 0-01, Daire Geraghty 0-01.
Seneschalstown:  Ruairí McDonagh, Cormac Mullen, David Fox, Peter Tierney, Daniel O'Reilly, Darren Johnson, Adam Carey, Darragh Keogh, Mark Fox (C), Ronan Conneely, Daire Geraghty, Ryan O'Dowd, Eoin Finnegan, Sean Noonan, Niall Hickey.
Seneschalstown Substitutions:  Conor Cantwell for Darren Johnson (inj), Ruairí Keogh for Niall Hickey (blood sub), Ruairí Keogh for P. Tierney, Robert Wogan for C. Cantwell, David Gordon for R. O'Dowd, Shane Mulvany for E. Finnegan. 
Most Read Stories