Leinster club IFC: Ballinlough survive Raheen test
November 02, 2014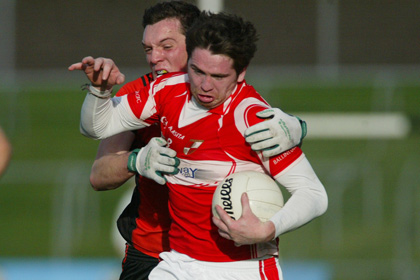 Ballinlough's Peadar Byrne with Declan Byrne (Raheen) during the Leinster Club IFC quarter final game at Pairc Tailteann.
Meath champions Ballinlough overcame a stern test form Offaly winners Raheen today at Pairc Tailteann to quailfy for the Leinster Club intermediate football championship semi final.
Ballinlough (Meath) 0-12
Raheen (Offaly) 0-10
Raheen played for 40 minutes with 14 men. Midfielder Declan Byrne was sent to the line for 2 yellow card offences. The Offaly winners also lost corner back Brian Corcoran early in the opening half to a black card.
Once again former county player Peadar Byrne was Ballinlough's scorer in chief. The midfielder finished with six points. Byrne kicked the games opening point from a free. Corner back Benji Smith doubled their lead soon after.
But Raheen, after a few bad wides, levelled matters with points from Ben Ridgeway and Paddy Rigney. Between the 10th and 20th minute Ballinlough opened up a four point gap with scores from Mark McCulen (2), James Baugh and another Byrne pointed free to go 0-6 to 0-2 up.
Raheen were reduced to 14 players following Byrne's dismissal and looked in trouble. But two pointed frees from John Crombie and Rigney gave them hope going in  at the break 0-7 to 0-4 in arrears.
The visitors came out a more determined side in the second half. As in the first half Byrne opened the scoring. The Raheen fowards were beginning to find more space and 3 points from Richie Reynolds sparked them into life. The introduction of Dylan Hyland had the desired effect. The young attacker kicked two fine points to tie the game up at 0-9 each.
The Ballinlough defence looked out of sorts and the North Meath outfit could have found themselves in arrears but for a fantastic save from goalkeeper Keith McGuinness to deny Raheen a certain goal.
This save sparked the North Meath club back to life. Byrne steadied the ship with a point from a 45 and followed this up with another from a free. Danny McEvoy got his first score of the game to narrow the gap to a point with five minutes left.
Referee Noel Hand issued a second black card this time to the influential Byrne. But this didn't unsettle 'The Reds'. Some fine defending kept Raheen at bay and Jack Tunney, on as substitute, kicked the insurance point in the final minute to seal another memorable win for Tom Shine's men.
Ballinlough will now play St James of Wexford in the semi final while Sean O'Mahonys of Louth, who defeated Dublin's Castleknock will play Eadestown (Kildare). The semi finals are fixed for 16th November with venues to be announced.
Ballinlough: Keith McGuinness, Benji Smith 0-1, Padraig Muldoon, Robbie Farrell, Lorcan Maguire, Colm Mallen, Johnnie Reilly, Peadar Byrne 0-6, James Baugh 0-1, Mark McCullen 0-2, Sean Geraghty, Cian Mallen, Ronan McGuinness. Tommy McCullen 0-1, Simon Deevey.
Subs: Kevin Devine, Jack Tunney 0-1, Kenneth Rothwell, Emmet Smith. Tommy McCullen for Byrne (Black Card)
Raheen: James Boland, Brian Corcoran, Liam Boland, James Lalor, Brian Crombie, Mick McManamon, Chris Floody, Padraig Bracken, Declan Byrne, Ben Ridgeway 0-1, Brian Kehoe, John Crombie 0-1, Paddy Rigney 0-2, Danny McEvoy 0-1, Richie Reynolds 0-3.
Subs: Dylan Hyland 0-2, Niall Dempsey, Mikey Keogh for Byrne (Black Card).
Referee: Noel Hand Louth.
Most Read Stories