MFC Div 5 Final: Nobber sink Blackwater
October 27, 2014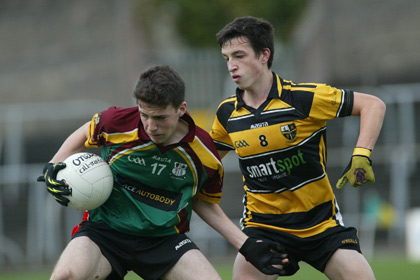 James Hennigan Blackwater Gaels with Nobber's Sean Meade during the MFC Division 5 final at Pairc Tailteann.
Nobber claimed the first minor football championship title of the year with two point win over Blackwater Gaels in the Division 5 decider at Pairc Tailteann.
Nobber 3-13
Blackwater Gaels 3-11
Aidan Shields and Sean Meade posted the games first two scores for Nobber. Further points from Dean Halpin (2) and Ryan Smith Hughes gave Larry McEntee's charges a 0-5 to 0-2 after 15 minutes. Blackwater (Kilmainham, Drumbaragh and Carnaross) bounced back with a fine goal from Stephen Meegan. The combination side were dealt a blow with ten minutes remaining when losing midfielder Cian O'Reilly to injury. The teams were level at this stage 1-5 to 0-8. Dara Cassidy was fouled in the Gaels square and Sam Ogungbe netted the resulting penalty. Three minutes later Sean Meade raced through the Blackwater defence to blast home their second goal. Gaels corner back Ciaran McDonagh got the last score of the half as Nobber went to the dressing rooms 2-8 to 1-6 ahead. The Gaels also lost influential full foward Frank Reilly to injury on the stroke of half time.
Blackwater were on top for the opening ten minutes of the second half. Points for Meegan, Conor Kilgallon (2) and a stunning goal from McDonagh narrowed to the lead to 2-10 to 2-9. Nobber responded with their third goal from Ben Sheridan. But Blackwater refused to surrender. Kilgallon pointed and when James Hennigan netted the teams were level, 3-11 each, with five minutes remaining. Dean Halpin send over a free to steady Nobber and Sean Meade got the insurance point to seal a memorable win.
After the game Meath Minor Board Chairman John Kavanagh presented the MFC Division 5 Cup to Nobber captain Sean Meade.
Nobber: Michael Bradley, Tony McEntee, Thomas Murtagh, Jack Vaughan, Ryan Smith Hughes, Dara Cassidy 0-3, Sam Ogungbe 1-0, Sean Meade 1-2, Cormac Clarke, Dean Halpin 0-5, Ben Sheridan 1-0, Aidan Shields 0-3, Dylan Shannon Smith.
Sub: Jack Condra
Blackwater Gaels: Jack Yore, Ciaran McDonagh 1-1, Eamonn McGee, Matthew Mullen, Liam Ward, Jamie Carry, Conor Kilgallon 0-5, Cian O'Reilly, Stephen Meegan 1-2, James Hennigan 1-0, Luke Fagan, Frank Reilly 0-3, Kieran Needle.
Subs: Paul Farrelly, Alex Carry
Referee Pat Clarke Seneschalstown
Most Read Stories