Camogie: Intermediate title for Kildalkey
October 06, 2014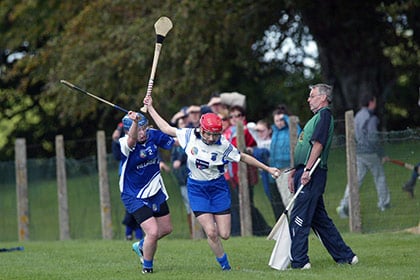 Close shave for the linesman as Kildalkey's Shona Kerrigan gives chase to Katie Hackett Boardsmill during the Meath Intermediate Camogie final at Longwood.
Kildalkey claimed the Meath Intermediate Camogie title with a five point win over neighbours Boardsmill. The game was played in ideal conditions at Longwood.
Kildalkey 3-11 Boardsmill 3-6
The winners were on the scoreboard first with an Una Leonard point. A brace of points from Katie Hackett put Boardsmill ahead after ten minutes. The sides were level at three points each before the impressive Aine Keogh got in for a Kildalkey goal. Almost immediately Boardsmill replied with a goal of their own from Danni O'Sullivan. As the first half entered stoppage time the winners had a comfortable 1-8 to 1-4 lead but Linda Ryall cut that lead to a point with Boardsmill's second goal. Half time Kildalkey 1-8 Boardsmill 2-4
Kildalkey inspired by the Keoghs, Maire and Aine along with midfielder Lauren McMahon dominated the opening twenty minutes of the second half. Hackett pointed for Boardsmill to level the game but from there on it was all Kildalkey. McMahon hit 1-1, points from Caoimhe Bird and Aine Keogh along with their third goal courtesy of Una Leonard opened up a nine point gap. Boardsmill finished with a flourish. Half back Michaela Stellini pointed and Susie Kennedy raised a green flag to narrow the gap but time ran out for the 'Mill' girls and Kildalkey were crowned champions.
Kildalkey: Mary O'Halloran, Shona Kerrigan, Suzanne Hayes, Ashley McBride, Maire Keogh, Leah Kelly, Lauren McMahon 1-3, Chloe McMahon 0-2, Aine Keogh 1-3, Blathnaid Keogh, Coaimhe Bird 0-2, Racheal Browne, Una Leonard 1-1, Niamh Seoige.
Subs: Susanne Reill, Helen Carroll
Boardsmill: Trish Guy, Carroll Nevin, Carolanna Foley, Susie Kennedy 1-0, Michaela Stellini 0-3, Niamh McEvoy, Sarah Bagnall, Laura Bagnall, Katie Hackett 0-3, Rhiannon Hoey, Danni O'Sullivan 1-0, Allannah Hannon, Linda Ryall 1-0, Deirdre Hoey, Susan Kealy.
Sub: Katie McGowan
Referee Mary Burke
Most Read Stories