IFC: Bracks stun Ballivor
September 16, 2014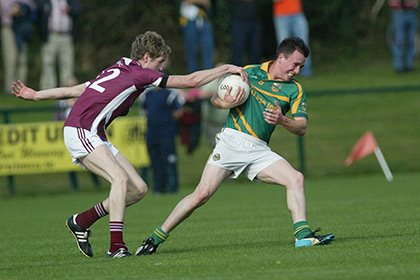 Ballinabrackey's Dara Kennedy with Steffan Kelly Ballivor during the Meath IFC quarter final clash at Lomans Park Trim.
Ballinabrackey 2-13
Ballivor 0-08

The Bracks turned the intermediate championship on its head in Trim on Saturday evening when they defied the odds and defeated favourites Ballivor in the quarter final.

Both team were nervous in the opening quarter with both hitting some bad wides yet Ballivor struck and went in to a 0-02 to 0-01 lead and were dominating round the middle. The Bracks then awoke from their slumber and with excellent fielding by Carroll and his winding run through the Ballivor defence the ball went through O'Connor to Trevor Bannon who lay off the pass for Andrew Munnelly who fired to the net leaving the Bracks ahead 1-01 to 0-03. Scores were traded coming towards half time with minutes to go they Bracks held a one point lead until again with some direct passing and pace the ball ended up fired to the roof of the net by Munnelly who was causing serious problems for the Ballivor defence. One more point apiece left the half time score Bracks 2-04 Ballivor 0-06.

They second half started and the Bracks pushed on taking the first point through Danny Quinn and it was looking good for the win even with over twenty five minutes to go. Referee Patrick Neilis was adamant throughout that no back chat to him would be taken however Ballivor centre back Martin Doran found it hard not to voice his opinion and was dismissed on a second yellow giving his team mates a mountain to climb heading into the final quarter. With Micheal Kearney keeping tabs on Adam Gannon in the corner the Ballivor attack had to work hard to get any scores and found themselves pushed back on numerous ocaasions. Nicky Judge was instrumental at centre back and his pace left many a player behind as he got on the score sheet also with a fine point making it 2-10 to 0-07. Were it not for some mistakes going foward Ballinabrackey could have finished ahead by a lot more than the final eleven point margin suggests. However, plenty of work to do ahead of Sundays clash with Ratoath. Final score Ballinabrackey 2-13 Ballivor 0-08. On a final note just to mention that it was great to see the respect both team showed for each other on the field with the final whistle blown as the Ballivor team congratulated each and every player.

Ballinabrackey team: G Crehan, M Kearney, D Flynn, K Darby, D Kennedy, N Judge, P Loftice, D Carroll, C O'Connor, S Curry, A Munnelly, T Bannon, E Daly, D Quinn, V Mooney. Subs R Kearney for E Daly, F Bannon, K Coyne, J Bannon, B Byrne, N Brazil, A Quinn, K Swords,   A Dalton, D Cooney, A Gannon, G Bannon. 
Referee: Patrick Nelis, Kilmainham
Most Read Stories