IFC: Nobber edge out Carnaross
September 15, 2014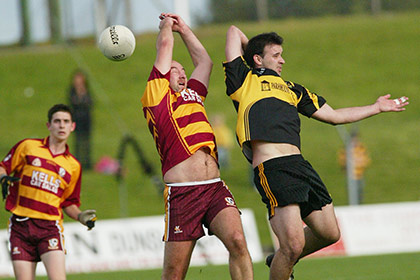 Brian Comaskey Carnaross with Nobber's Gavin Farrelly during the 2010 Meath IFC decider at Pairc Tailteann.
Nobber 0-14
Carnaross 0-13
Nobber had a point to spare over Carnaross in the IFC relegation round 2 battle at Drumbaragh.
This was the first meeting between sides since the 2010 Intermediate Final, a game which Nobber won convincingly by a fourteen point margin. However, this was a much tighter affair played in perfect conditions in front of a large crowd in Drumbaragh.
Nobber and Carnaross served up a thriller in this hard fought relegation playoff. Courtesy of a 61st minute Brian Farrell point from play Nobber took the spoils and still retain their hopes  of survival in the intermediate grade.
Carnaross had the best of matters in the opening half and led by 2 at the break. On the restart Nobber showed greater determination and with Gavin Farrelly getting a grip at midfield and Brian Farrell continuing his good point kicking form Nobber assumed the upper hand and in a tight finish deserved their victory.
Best for the winners were Brian Farrell, Gavin Farrelly, Richard Shields, Niall Farrell, Fiachra McEntee, Jamie Owens, Brendan Heffernan
Nobber Scorers: Brain Farrell 0-7, Niall Farrell 0-3, Sean Meade 0-2, Brendan heffernan and Andrew O'Brien 0-1 each
Nobber: C. O'Reilly, S. O'Brien, B. O'Reilly, P. Weldon, B. Heffernan,  R. Shields, N. Farrell, B. Farrell, G. Farrelly, D. Larkin, J. Owens, F. McEntee, S. Meade, A. O'Brien, K.Casserly.
Sub: G Campbell for Larkin
CARNAROSS REPORT
Carnaross 0-13
Nobber 0-14

Intermediate Championship (Relegation Playoff)
Played in Drumbaragh - 14/9/2014

Carnaross now find themselves with one last shot at Intermediate survival after Nobber edged an exciting clash by a single point late in stoppage time.
Nobber, who had to avoid defeat to stay up, started well and took an early lead with two points in the opening five minutes. Carnaross got their opening point from Dermot McGee and pushed on to take the lead with points from Patrick Nugent and McGee again in the ninth minute. Two points in a row had Nobber back in front three minutes later but another point from Dermot McGee levelled matters midway through the half. Over the next ten minutes Carnaross dominated and opened up a four point lead with unanswered points from Peter Carpenter, Dermot McGee (2) and Liam Brogan. Nobber responded well and three points reduced the margin before a point from Patrick Nugent was the last score of an entertaining opening half, leaving Carnaross two points in front, 0-9 to 0-7.

Nobber reduced the margin to one with the first score of the second-half but two points from Dermot McGee left Carnaross three points to the good six minutes in. Carnaross were dealt a blow when they lost midfielder Brian Comaskey to injury and this resulted in Nobber gaining a foothold in this area. They went on to score four points in a row to take a one point lead with ten minutes remaining. A point from Liam Brogan left the sides level again and with both sides giving everything we were in for a tight finish. Nobber edged in front once more but a point from Patrick Nugent with one minute remaining left the sides level once again. However, it was Nobber who had the final say with the winning score two minutes into stoppage time to claim the vital two points. Carnaross now have to face neighbours Kilmainham in the final round.

Carnaross: Shane McNiffe; Tomás Plunkett, Eamonn Comaskey, Ian Donoghue; Liam Brogan (0-2), Thomas Nugent, Pierce Fleming; Brian Comaskey, Charles Brogan; Peter Carpenter (0-1), Patrick Nugent (0-3), Shane Casserly; Dermot McGee (0-7), John L McGee, John Plunkett; Subs: Peter S. Farrelly for Eamonn Comaskey (BC); Ollie Murphy for Brian Comaskey; Cian Gillic for Ollie Murphy (BC); Niall McDonnell for Peter S Farrelly; Cillian Comaskey for Charles Brogan;
Most Read Stories