SFC quarter-final: Flying start sees O'Mahonys outscore Skryne
September 14, 2014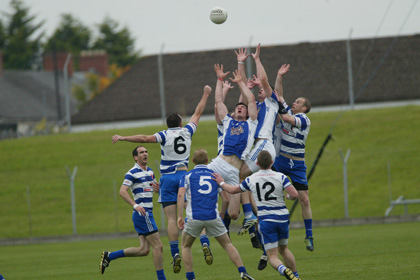 Should Skryne beat O'Mahonys and Ballinlough win, the 2014 Keegan Cup winners are out.
An opening quarter surge boosted O'Mahonys to a decisive hoganstand.com SFC quarter-final win over Skryne at Pairc Tailteann on Sunday
O'Mahonys 3-14
Skryne 2-11
In ideal overcast conditions, the outcome was effectively decided in the opening 18 minutes as O'Mahonys posted 1-9 without reply
Thereafter Skryne outscored O'Mahonys by 2-11 to 2-5 in a spirited effort to improve the complexion of the scoreline. The Brews HIl side face Wolfe Tones at the semi-final stage.
In the end O'Mahonys needed second-half goals from Jake Regan and Stephen Bray to cushion them against a Skryne rally that yielded 2-9 at the break.
While Jake Regan scored 1-6 from play, Stephen Bray's goal was one of the scores of the game, a soccer-style finish that left it 3-12 to 1-6 after 45 minutes.
All O'Mahonys' scores came from play while Skyrne conjured up some top-drawer scores after the break. Ciaran Lenehan - who moved to midfield for the second-half - netted with a 43rd minute daisy cutter.
Mark Battersby's 38th minute point from acute angle was noteworthy. Against that Paddy O'Rourke passed up a gilt-edged scoring chance within minutes of the restart when firing wide under pressure from close range.
The county 'keeper bagged Skryne's second goal, from a 57th minute goal from a penalty for a foul on Brian Davis by O'Mahonys' sub Brian Dillon.
A ten-point deficit was down to seven and it was left to Lenehan to complete the scoring in stoppage time.
With the breeze blowing from their own club house end, O'Mahonys took the game to Skryne from the off. Within 10 minutes they had scored six points with Jake Regan registering the first three and the sixth.
Stephen Bray and Alan Forde also got off the mark in that time. Forde provided the final assist for wing-back Gary O'Brien for the next score. The 12th minute hadn't passed when Shane Crosby placed David Bray for the goal that left it 1-7 to 0-0.
O'Mahonys only outscored Skryne by 0-3 to 0-2 over the remainder of the half. Some of the Tara-men's approach play was impressive O'Mahonys' keeper Marcas Brennan did well to smother Mark Battersby's close range 19th minute effort.
Effective approach play led to Donie Ryan registering Skryne's first point in the 21st minute. Battersby notched Skryne's second point before sub Brian Dillon ended a 13-minute scoring blank for O'Mahonys who led by 1-10 to 0-2 at the break.
O'Mahonys - Marcas Brennan; Stephen O'Toole, Niall McKeigue, Ian Matthews; James O'Reilly, Shane Crosby (0-1), Gary O'Brien (0-1); Darragh Smyth, Damien Moran; Ruairi O Coileain, Stephen Bray (1-2), Alan Forde (0-3); Shane Gillespie, David Bray (1-0), Jake Regan (1-6). Subs - Brian Dillon (0-1) for O'Toole (28), Henry Finnegan for Gillespie (30), Stephen MacGabhann for O Coileain (46), Ross Geraghty for Smyth (56), Smyth for Dillon (black card 58).
Skryne - Felim O'Rourke; NIall Lenehan, Ciaran Lenehan (1-1), Declan Morley; Paddy Fox, Mark Jordan (0-1), Stephen O'Brien; Aidan Tuite, Harry Rooney; David McGoldrick, Brian Davis (0-2), Donie Ryan (0-1); Conor O'Brien (0-1), Paddy O'Rourke (1-3, 1-0 pen, 0-3fs), Mark Battersby (0-2). Subs - Martin Mulvany for D Morley (12), Ronan McCabe for O'Brien (ht), John Morley for McGoldrick (41), Mark Harrington for Ryan (41).
Referee - David Gough (Slane)
****
Skryne report:
Skryne Bow out to Strong Navan O'Mahony's side
Skryne's ambitions it the Senior Football Championship for 2014 came to an end at the hands of old rivals Navan O'Mahony's in Páirc Tailteann on Sunday afternoon.  By the time the eleventh minute had elapsed this match was effectively over as the Navan men had a commanding lead over Skryne when they were ahead by a goal and seven points to no score.  In fact it took until the sixteenth minute before Donie Ryan registered Skryne's first score.  This was immediately cancelled out by the Navan men who posted a further two before half time to leave the score at the break Navan O'Mahony's 1 - 7; Skryne 0 - 2.  Skryne's other score came from Mark Battersby.
On the resumption the Navan side resumed where they left off with another minor on thirty three minutes.  Paddy O'Rourke and Brian Davis scored a point each on thirty four and thirty five minutes which was followed by another point from O'Mahony's.  Mark Battersby and Brian Davis gave Skryne further hope with two more minors on thirty seven and thirty eight minutes bringing the score to Navan O'Mahony's 1 - 12, Skryne 0 - 6.  However disaster then struck for the Tara men on thirty nine minutes when they conceded another goal.  Just a minute later, Ciaran Lenehan, who by now had moved outfield from his starting position at full back, carried the ball well before unleashing an unstoppable shot which beat the Navan custodian and settle in the corner of the net. However celebrations were short lived as O'Mahony's again found the Skryne net on forty four minutes.
At this stage Skryne might have been struggling but in that great traditional spirit that they have, they refused to throw in the towel.  Paddy O'Rourke, Mark Jordan and Conor O'Brien each posted points between the forty fifth and fiftieth minute.  O'Mahony's scored two more before the end intersected by another point from O'Rourke.  With four minutes of normal time left to play Skryne were awarded a penalty which O'Rourke dually dispatched to the net.  Ciaran Lenehan finished the scoring with another point to leave just two goals of a difference at the end.  Skryne did have a number of further goal chances but were unable to capitalise on them. Final score Navan O'Mahony's 3 - 14: Skryne 2 - 11.
Skryne F. O' Rourke, N. Lenehan, C. Lenehan(1), D. Morley, P. Fox, M. Battersby, S O'Brian(1), A. Tuite, H. Rooney (1), D McGoldrick(1), B. Davis(1-1), D. Ryan (1), C.O'Brien(1), P. O'Rourke (6. 1-45), M Battersby
Subs: M. Mulvany for Morley (12), R. McCabe for O'Brien(H/T), M Harrington for Ryan (41), J Morley for McGoldrick (41)
Most Read Stories