SFC: Summerhil have ten to spare over 'Town
September 08, 2014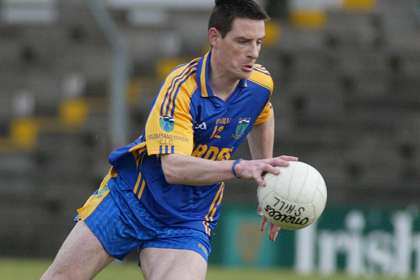 Summerhill's Adrian Kenny
Hoganstand.com Meath Senior Football Championship Preliminary Quarter Final
Summerhill 0-17
Seneschalstown 0-07
For the second time in just over twenty four hours Seneschalstown and Summerhill teams emerged onto the immaculate playing surface in the Donaghmore Ashbourne grounds.  On the Saturday it was agony for Summerhill as their Ladies team were beaten in the Intermediate Championship Final whereas there was ecstasy for the Seneschalstown Ladies as they continues their dominance of the Senior Championship.  What a difference a day makes though as on Sunday evening it was agony for Seneschalstown as their quest to win the Keegan Cup for only a fifth time was quashed by the reigning champions who were fully deserving of their victory. 
From the outset on Sunday evening Summerhill were the slicker team and they kicked two points in the fourth minute to immediately gain the upper hand.  The first of these scores came from Brian Ennis when he slotted over a free following a foul by Gerry Sheridan when he was deemed to pull his opponents jersey.  Adrian Kenny added to this point almost immediately afterwards when he punished Seneschalstown for giving the ball away.  A couple of minutes later and the early advantage was out to three when Ennis kicked his second free of the game. 
After managing the Seneschalstown Ladies to their success the previous day Joe Sheridan sought to give leadership to the men's team in his role as captain and it was he who registered their opening score of the match in the seventh minute.  When a high ball was delivered into the full forward line by Brian Sheridan after Ciaran Macken had recycled the ball back to him Joe did superbly to field it and when he steadied himself upon landing kicked between the uprights. 
Ennis though continued his bright start less than a minute later when kicking his first point from play of the match before county panellist David Larkin added his name to the scoresheet.  By now Summerhill were dominating proceedings and this was underlined when Kenny kicked his second of the half from out on the left hand side. 
Just after this score Seneschalstown were dealt a body blow when their influential left half back James Byrne was shown a black card by David Gough after an off the ball incident was brought to the referees attention by Brendan Darby who was running the line along the stand.  Barry Dardis, absent when the sides met in the Feis Cup semi-final then extended his sides lead to six points when pointing from play.  By now the Seneschalstown team were in trouble and in bad need of a score.  When a Summerhill free kick out of their defence was slightly misplaced Niall Groome, now operating at wing back, reacted quickest and after galloping forward kicked over a great point. 
Summerhill though responded in fine fashion with another Barry Dardis point before the2007 and 2009 champions rallied in the lead up to half time.  In the twenty seventh minute Macken took a quick free to Gary Conlon who then passed on to Brian Sheridan to point before a minute later Robert Ruddy flicked a David Lyons goal kick down in to Mark Carey's path.  One of Carey's greatest attributes has been soloing the ball forward and kicking over the bar from thirty to forty metres out and once he got in position he made no mistake to kick his side's fourth point of the match. 
Seneschalstown now had a little bit of momentum and with half time approaching they were awarded a free when Joe Sheridan was fouled.  Brian Sheridan, taking the free taking duties over from Bryan Clarke saw his effort dip just over the bar.  Sheridan then had an opportunity to reduce the deficit even further when he stood over a free out on the right in stoppage time but he saw his effort drift across the face of goal. 
Having not played particularly well in the first half Seneschalstown would not have been overly disappointed to be only three points in arrears at half time and after scoring the final three points of the period would have been confident of getting a good start after the resumption. 
Summerhill though obviously had a different scriptwriter and it was they who got off to the brighter start.  With only thirty seconds elapsed they had the opening score on the board when Kenny pointed.  Five minutes later they were awarded a thirteen metre free out to the left of the posts and when disagreement with the awarding of the free was voiced referee Gough brought it straight in front of the posts to leave Brian Ennis with the simplest of tasks to slot over.  Less than sixty seconds after this score they had another when following a free won in their defence after Damien Sheridan was forced into over carrying the ball David Larkin set sail down the right wing before kicking a brilliant point. 
With the gap between the sides now back to six Seneschalstown once more found themselves looking to get a foothold in proceedings and Bryan Clarke kicked over a simple free which was awarded following a foul on Brian Sheridan.  Adrian Kenny though had tormented the Seneschalstown defence throughout and he cancelled Clarke's effort out in the forty second minute. 
Seneschalstown sought to reshuffle the pack and introduced Andrew Collins, Cormac Noonan and Niall Lyons in place of Gerry Sheridan, Robert Ruddy and James Meade as they looked to claw their way back into proceedings.  Kenny though was in imperious form and kicked his fifth from play of the evening at the end of the third quarter.  Substitute Collins had an integral role in the next score of the match.  Damien Sheridan, gathering possession in the middle of the field spotted Collins in space out to his left.  Collins carried the ball forward before laying off to Groome who ran at the 'hill defence.  After being forced away from goal he returned the ball to Collins who drove through two attempted tackles before finding Joe Sheridan with a pass.  Receiving the ball on the edge of the square Sheridan swivelled and pointed off his left.  As well worked as this score was it ultimately to prove to be Seneschalstown's final one of the 2014 championship season. 
Four minutes later Summerhill capitalised on a misplaced David Lyons goal kick as David Larkin pointed.  Dardis then kicked two points either side of one from one of the Summerhill substitutes as the reigning champions ran out comfortable ten point winners. 
Seneschalstown scorers:  Joe Sheridan 0-02, Brian Sheridan 0-02 (0-01 Free), Niall Groome 0-01, Mark Carey 0-01, Bryan Clarke 0-01 (0-01 Free).
Seneschalstown:  David Lyons, Gerry Sheridan, Joe Cowley, Niall Groome, Mark Carey, Paul Carey, James Byrne, Damien Sheridan, Robert Ruddy, James Meade, Brian Sheridan, Gary Conlon, Ciaran Macken, Joe Sheridan, Bryan Clarke.
Seneschalstown Substitutions:  Sean McCabe for J. Byrne (black card), Andrew Collins for G. Sheridan, Cormac Noonan for R. Ruddy, Niall Lyons for J. Meade, Ross Howard for G. Conlon, Sean Noonan for C. Macken.
Most Read Stories