IFC Rel: Newman shoots down Nobber
September 08, 2014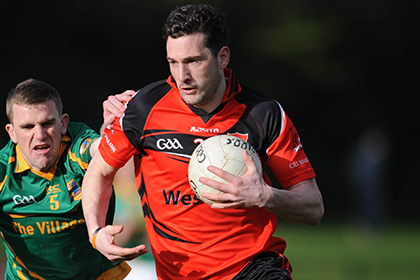 Kilmainham's Michael Newman.
A magnificent return of 2-9 for county footballer Michael Newman saw Kilmainham ease their Intermediate Championship relegation worries with a one point win over Nobber in Simonstown.
Kilmainham 3-12
Nobber 2-14
The winners got off to a blistering start and had 1-2 on the scoreboard before Niall Farrell netted for Nobber. The teams went in at the break level Kilmainham 2-3 to Nobber's 1-6.
Kilmainham had much the better of the exchanges in the first 20 minutes of the second half and led by 7 points entering the last eight minutes. Nobber rallied and with points from the Farrell brothers a Karl Casserly goal and further points from Larkin and Meade made for a grandstand finish but try as they did they could not find the equaliser.
Declan Nelson was outstanding in the Kilmainham goal, Richie Brady, Harry Newman, Shane Butler and Shane Morgan had fine games in defence. Barry Lynch dominated in the middle of the park, while Newman got great assistance from Pat O'Sullivan, Ger Morgan and Gavin Butler in attack.
Nobber must now regroup and hope for a better result against Carnaross.
Kilmainham: Declan Nelson, Harry Newman, Richie Brady, Matthew Mullen, Shane Butler, Seanie Mahon, Shane Morgan 0-1, Barry Lynch, Michael Newman 2-9, Trevor Lynch, Pat O'Sullivan, Denis Newman, Gerard Morgan 1-2, Gavin Butler, Mark Newman.
Subs: mark Fallon for M. Mullen, Dean Peppard for T. Lynch
Nobber scorers: Brian Farrell 0-5, Niall Farrell 1-1, Dale Larkin 0-4, Karl cassidy 1-0, Sean Meade 0-3, Fiachra McEntee 0-1.
Nobber: C. O'Reilly, S. O'Brien, B. O'Reilly, C. Halpin, P. Meade, F. McEntee, N. Farrell, R. Shields, G. Farrelly, B. Kelly, B. Farrell, D. Larkin, S. Meade, A. O Brien, K. Casserly.
Subs: J. Owens for O'Brien, G. Campbell for Halpin
Most Read Stories