IFC: Dunderry maintain 100% record at Michaels expense
September 01, 2014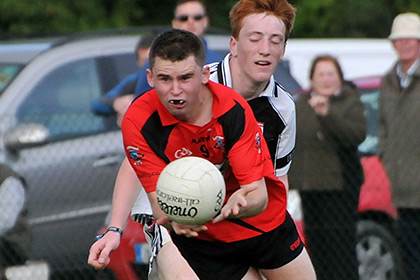 St Michaels Sam Briody with Luke Martyn Dunerry during the IFC game at Kilmainham.
All that was on offer in sunny Kilmainham on Saturday evening last for St. Michaels was pride and even that couldn't help them to register a victory over an already qualified Dunderry side.
Dunderry maintain 100% St. Michaels made the better start and took the game to Dunderry who didn't register their first score until the game entered its 10th minute when they found the back of the net for the only goal of the match. St. Michaels dominated the possession in that opening quarter but they couldn't make it count on the score board. Ronan Lynch sent over their first point on 4 minutes, Ciaran Lynch added a further two to level the match on thirteen minutes but a point two minutes later put Dunderry back in the lead and they never looked back from that point forward as they cruised into a 1-9 to 0-4 half time lead. Jamie Reilly fired over St. Michaels final score of the half on the stroke of half time.
Dunderry added another point straight from the throw-in but the runaway train was halted in its tracks in the third quarter by a gutsy St. Michaels resistance as they fired over the next 5 points on the trot from Ronan Lynch 0-2, Jamie Reilly 0-2 and one from Ciaran Lynch to reduce the deficit to 4 points, and had they registered two clear cut goal chances which were blasted wide from close range in that same period there may have been an altogether better look on the St. Michaels score card. Dunderry began to find the target once more in the final quarter and both sides finished off the half exchanging points with Oran Meehan 0-2 and Ciaran Lynch 0-1 finding the target for St. Michaels.
Along with the scorers David Lynch, Daithi Reilly, Sam Briody, Paddy Clarke and Peter O'Connell were others who put in a good hours work for the losers.
St. Michaels team and scorers:
Paul McCormack, Mark Stafford, Jamie Reilly 0-3, Daithi Reilly, Robbie Briody, Philip Rogers, Paddy Clarke, David Lynch, Sam Briody, Ronan Cassidy, Ciaran Lynch 0-4, Peter O'Connell, Oran Meehan 0-2, Ronan Lynch 0-3, Kevin Cassidy.
Referee: Peter Mooney
Report and photo Pascal Reilly.
Most Read Stories