IFC: Points Difference see Ballinlough Qualify
September 01, 2014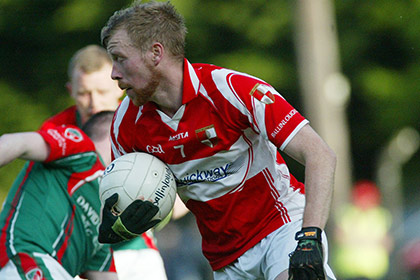 Ballinlough's Colm Mallon
Points Difference see Ballinlough Qualify
A nerve wrecking final few minutes to this pulsating contest between Ballinlough and Syddan saw the Reds qualify for the preliminary quarter final by the finest of margins, as they finished ahead of Trim in the standings by a single point on score difference.
Ballinlough 1-18
Syddan 2-06
News had filtered through in the closing stages of the match that Trim had claimed a four point victory over Nobber, meaning the North Meath men needed a nine point winning margin to be sure of progress. Colm Mallen duly provided the final point necessary with almost the last kick of the game, sending the large contingent of supporters into mass celebration.
The 'Lough had really impressed in the opening half, opening up a fully deserved 0-9 to 0-2 lead at the change of ends. Peadar Byrne, who switched from midfield to full forward shortly after the throw-in, notched the games two opening scores, before Colm Mallen added a well taken free. Ronan Mooney replied for Syddan with their opening score in the fourteenth minute, but the Reds soon extended their lead.
Great work by Tommy McCullen around the middle of the park set up Byrne for his third. Another impressive run by McCullen saw him set up his younger brother Mark for a fine score.
Cian Mallen, who was diligently tracking back for every Syddan attack, added a graceful point to further extend his teams advantage, before Sean Geraghty opened his account with an expertly taken point. The hard working Tommy McCullen got his sides ninth point in the 24th minute, as the gulf between the sides was becoming more apparent.
Throughout this opening period, Syddan struggled to build any meaningful attack, as everytime they crossed the halfway line they were surrounded by a sea of red, with the Ballinlough defence achieving several turnovers of possession with some great tackling. As seen so many times this year, the solidity of this side is largely based around the mighty full back line of Robbie Farrell, Podge Muldoon and Benji Smith.
Syddan were also struggling to gain possession around the middle of the field, as Tommy McCullen and Derek Muldoon had too much strength for their opponents to deal with. Great credit must also be given to Keith McGuinness, who always seemed to find his target with his impressive kickouts.
Daire Rowe did manage to pick up his sides second score before halftime, with a well converted free kick in the 27th minute, leaving seven points between the teams, and a mountain for Syddan to climb in the second half.
The 'Lough again opened the scoring in the second period, as Johnny Reilly finished a well worked team move to put his side further ahead.
Syddan then seemed to find some composure for the first time in the match, and hit four unanswered points, before Reilly got Ballinlough back on track with another fine score from a tight angle.
Sean Geraghty soon picked up his second score of the evening, a highly impressive point from the young industrious corner forward, before Colm Mallen struck another sweet free with his left boot.
Geraghty struck again soon after, finishing off a move started by a powerful run from Lorcan Maguire at centre back. The experienced defender is taking no time to get back in to the swing of things after his recent injury lay off with a broken arm.
News had just filtered through to the sidelines that Trim had taken the lead in the other match, when Syddan scored the games first goal with a great finish by Daire Rowe. This seemed to leave Ballinlough's hopes of qualification dangling by a thread, but the men in red stuck to the task at hand, and young substitute Jack Tunney steadied the ship with a smartly taken point moments after been introduced.
The highly influential Mark McCullen, who was providing a masterclass in both his defensive and attacking duties, split the posts soon after to further improve the score difference, before Syddan were fortunate to pick up their second goal, from the boot of James Farrelly.
At this point, Ballinlough were winning by four points with five minutes remaining. The full time whistle had gone in the Trim game, and a rallying cry went up from the Ballinlough bench that more scores were needed.
The evergreen player/selector Ken Rothwell got things going with a nice point from distance. Byrne then produced a moment of magic, with a surging run from midfield and a powerful finish to the back of the net to the delight of the Ballinlough contingent.
Frustration began to get the better of Syddan at this stage, and shortly after a melee erupted, disrupting play for several minutes. The 'Lough remained focused after this though, and a great passing move up the field in the closing seconds saw Sean Geraghty tee up Colm Mallen to close the match in dramatic fashion.
Great credit must be given to the Ballinlough squad and management for the great way they responded to their poor start earlier in the championship, to turn things around so convincingly in the past few months. Tom Shine's charges put in another great team performance and will be delighted at the heart, talent and fitness on show across the field.
They will now face Clann na Gael in the preliminary quarter final next Monday, and few would bet against them on current form.
Ballinlough: K. McGuinness, B. Smith, P. Muldoon, R. Farrell, Colm Mallen (0-3), L. Maguire, Johnny Reilly (0-2), D. Muldoon, P. Byrne (1-3), M. McCullen (0-2), R. McGuinness, Cian Mallen (0-1), S. Geraghty (0-3), T. McCullen (0-1), K. Devine (0-1). Subs: K. Rothwell (0-1) for R. McGuinness, J. Tunney (0-1) for K. Devine, Junior O'Reilly for D. Muldoon.
Syddan: - C. Farrelly; B. McConnon, B. Bashford, M. Fedigan; J. Reid, K. Traynor, R. Mooney; T. Dillon, S. Dillon; I. Curran, P. Farrelly, D. Rowe; R. Farrelly, C. Rowe, J. Farrelly. Subs: S. Clare for S Dillon, S. Malone for R Farrelly, G. McManus for Curran.
SYDDAN REPORT
BALLINLOUGH 1-18
SYDDAN 2-6
Despite suffering their first loss of the campaign Syddan still went through to the knockout stages of the IFC as group winners following this bruising encounter at Carlanstown last Sunday.
Without the injured Brian Dillon and Luke Halpenny, Syddan suffered another blow within two minutes of the start when midfielder Stephen Dillon was forced off with a broken nose.
Ballinlough's nine point winning margin was enough for them to squeeze out Trim on score difference for a place in a preliminary quarter final and they started in much more determined fashion in their quest for that knockout spot.
They completely dominated the opening half and were full value for their 0-9 to 0-2 interval lead.
Peadar Byrne who switched from midfield to full forward shortly after the throw-in scored three of their opening four points. Syddan struggled in most areas of the field throughout the half with their only scores coming from Ronan Mooney, and Daire Rowe from a free.
The Syddan performance improved marginally after the break and successive points from James Farrelly, Daire Rowe, Sean Clare and Ian Curran reduced the deficit to four, 0-10 to 0-6, by the 44th minute.
Ballinlough pushed the lead back out to eight points before Daire Rowe gave Syddan a glimmer of hope with a 53rd minute goal.
Two further points for Ballinlough left seven between the sides before James Farrelly had Syddan's second goal. That was their last score however as Ballinlough improved their score difference with Byrne hitting a crucial late goal and Colm Mallon firing over their final point.
Syddan now meet Ratoath in a quarter final.
SCORERS - Ballinlough: P Byrne 1-3, C Mallon (2f), S Geraghty 0-3 each, J Reilly, M McCullen 0-2 each, S Mallon, T McCullen, K Devine (f), S Deevy, K Rothwell 0-1 each. Syddan: D Rowe 1-2 (0-2f), J Farrelly 1-1 (0-1 '45), R Mooney, I Curran, S Clare 0-1 each.
SYDDAN - Ciaran Farrelly; Barry McConnon, Ben Bashford, Mark Fedigan; Jack Reid, Kevin Traynor, Ronan Mooney; Thomas Dillon, Stephen Dillon; Ian Curran, Paddy Farrelly, Daire Rowe; Robbie Farrelly, Cormac Rowe, James Farrelly. Subs: Sean Clare for S Dillon, Sean Malone for R Farrelly, Gary McManus for Curran.
Most Read Stories