IFC: defeat for Don/Ash but status secure
September 01, 2014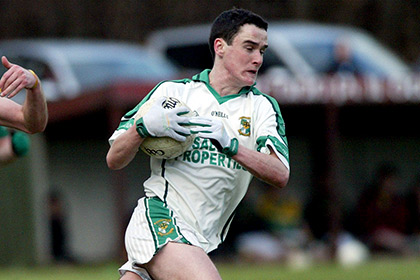 Donaghmore Ashbourne's Kevin Fenton
​Ballivor  0 - 10
Donaghmore Ashbourne 0 - 9
Despite this one point defeat against table toppers Ballivor the Donaghmore Ashbourne second team preserve their Intermediate status for next season.
In a very exciting game at Kilmessan Donaghmore Ashbourne came up just short against a fancied Ballivor team who had already qualified for the knock-out stages of the Championship.

Donaghmore Ashbourne played with great heart and there was a competitive edge to this game despite Ballivor having already made the next stages. Donaghmore Ashbourne played with great pride and many in attendance may be forgiven for thinking it was the Dublin border side who were headed towars the knockout stages.

There were strong performances from Cian O'Rourke, Martin Lynch, Tadgh Kelly, Jack Giles and Kevin Fenton. Many of these players will have caught the attention of Paul Clarke as the Donaghmore Ashbourne senior coach prepares for the quarter final of the senior championship.
Don/Ash: Padraig Durkan 0 - 1f, Cian O'Rourke, Jack McCarney, Garth Deery, Daryl Lawlor, Martin Lynch, Jack O'Connor, Tadgh Kelly, David Carey, Dylan Brady 0 - 1, Jamie Dwyer 0 - 1, Jack Giles, Sam Benville, David Dowd 0 - 1, Kevin Fenton 0 - 3f. Subs - Evan Rodgers 0 - 2 for Sam Benvill, RossaO'Donnell for Jack McCarney, Aidan O'Connor for Jamie Dwyer.
Most Read Stories