SFC: Simonstown hauled back by Dunshaughlin
August 30, 2014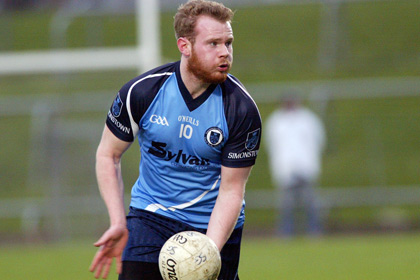 Simonstown's Sean Tobin
Simonstown Gaels 2-13
Dunshaughlin  3-10
Simonstown Gaels asserted early on in this final hoganstand.com SFC Group B encounter played in Ashbourne on Friday night.
A Padraig McKeever goal inside the first two minutes followed by another from full-forward Conor Sheridan afforded the Navan side a 2-4 to 0-0 lead after 10 minutes of play. Dunshaughlin got their first score after 15 minutes and rallied in the second quarter. Despite having played with the wind, they trailed Simonstown at half-time 2-5 to 0-5.
Dunshaughlin started the second half brightly and quickly reduced the deficit to four but Simonstown regained their foothold and lead 2-11 to 0-8 with 15 minutes remaining. However, Dunshaughlin dominated the closing quarter and a Caoimhín King goal and Shane Gallogly point in the closing stages earned Dunshaughlin an unlikely draw.
Seán Tobin, Padraig McKeever and Shane O'Rourke impressed for Simonstown Gaels.
Simonstown - Ronan Duffy, Stephen O'Reilly, Eanna Donoghue, Colin Wickham, Seamus Kenny (0-1), Joe Lyons, Niall Kane, Shane O'Rourke (0-1), Shane Barry, Seán Tobin (0-6, 3f), Padraig McKeever (1-3), Mark McCabe, Stephen Moran, Conor Sheridan (1-1), Andrew Kearney (0-1). Subs: Declan Gaffney for Barry, Nathan O'Brien for Kearney, Wayne McCarthy for O'Rourke, Mark Gardiner for McCabe (bc).
***
Dunshaughlin report:
Dunshaughlin 3-10

Simonstown 2-13

The penultimate round of the Meath SFC got underway last night in Ashbourne between Dunshaughlin and Simonstown  in a matched played in non ideal blustery conditions. Dunshaughlin's ever growing injury woe continued with Mark Devaney not feeling well with Ebola like symptoms, Stephen Ward still on the waiting list for an ankle transplant while Fergie Delaney who spent the better part of the last month rambling around the village on crutches was still not deemed fit enough to play after he diagnosed himself on the internet.  Despite playing into a very strong wind it was Simonstown who got off to a dream start with them scoring a Padraig McKeever goal after 2 minutes, a Sean Tobin trio of points and another Simonstown goal from full-forward Conor Sheridan gave the Navan side a 2-4 to 0-0 lead after 16 minutes of play to leave Dunshaughlin with a mammoth hill to climb if they were to get anything from this game. A fine score from substitute Conor Devereux after 19 minutes of play registered the first score of the game for the black and amber before another converted free from Sean Tobin left Simonstown in cruise control with 10 minutes to play in the first half. Two minutes later following a trademark powerful surge up the field from corner back Dan Ormsby who off-loaded to the in-form Eoin Hagarty who was on hand to get his first score of the game from long range. Conor Devereux was starting to come more into the game at this stage and his  hard work was rewarded when he got his second point of the night while Cathal O' Dwyer who was forced to come out the field in search of the ball also got on the scoreboard after 30 minutes with a fine effort. Dunshaughlin finished the half strongly with a beautiful Eoin Hagarty point from long range to now have the two goals between the sides as the first half came to a close. The second half resumed with Dunshaughlin picking up where they left off with converted Conor Devereux and Cathal o'Dwyer frees with any hopes of a revival being dashed by Simonstown duly responding with 2 points. Conor Devereux was on hand once more to convert a Dunshaughlin free but from here on it was all Simonstown as they went on a scoring rampage to now have 9 points between the teams with just under 15 minutes remaining. The say two things in life define you - your patience when you have nothing and your attitude when you have everything and it was the former that was very much in evidence as from here on Dunshaughlin went to a whole new level and against all the odds to try and get something from this game. The revival started in dramatic circumstances with a now trademark Eoin Hagarty wicked shot dipping and bending like a Zico free kick finding the back of the Simonstown net. With Castleknock bound midfielder Ray Maloney now starting to come into the game when it most mattered and Ciaran Hoary starting to get onto a lot of breaks the black and amber were now starting to get their hands on some vital possession.Fergus Toolan who had an eventful day up to now finally burst into life and his powerful run and long range score after 57 minutes had now 7  points between the teams with time running out for Dunshaughlin. With Dunshaughlin having emptied their bench with senior debutants Oisin Foley and Niall Byrne showing no fear they surged wave after wave of attack that seen substitute Shane Gallogly unleashed an unstoppable shot into the Simonstown net to now have 4 points between the teams with time now up.This match now had all the makings of a Meath v Dublin 1991 finale with Oisin Foley driving up the field like the Trim vet Kevin Foley while Niall Byrne was twisting and turning like Bernard Flynn while the unimaginable now happened with Caoimhin King of all people now finding the back of the Simonstown net deep into injury time to score a goal that he will surely never forget. All eyes were now on referee David Gough as to whether he was going to call time on this unbelievable comeback but thankfully for Dunshaughlin they looked as though they were going to get one for attack. With the momentum now in their favor Dunshaughlin drove forward showing some beautiful passing before super sub Shane Gallogly was once again on hand to put the ball over the bar to snatch a draw from the jaws of defeat in an exhilarating match. The exact location of Lazarus of Bethany is unknown but if he was anywhere he was most definitely in Ashbourne last night as Dunshaughlin rose from the dead to gain a valuable point to secure their senior status and leave hells bells ringing for another year. Best for Dunshaghlin were Ronan Gogan, Conor Devereux, Eoin Hagarty and Ciaran Hoary.

Dunshaughlin - R.Gogan, D.Ormsby, M.Ahern, A.Doyle, T. Johnson. N.Murphy, T.O'Duslaine, B.Duggan, R.Maloney, F.Toolan(0-01). T.Dowd, E.Hagarty(1-02), C.O'Dwyer(0-02), C.King(1-00), R.Geraghty

Subs - C.Devereux(0-04) for T.Johnson, D.Dunne for N.Murphy, C.Hoary for B.Duggan, S.Gallogly(1-01) for R.Geraghty, O.Foley for T.O'Dushlaine, N.Byrne for T.Dowd
Most Read Stories