SFC: Toolan tops for Dunshaughlin against Blacks
August 18, 2014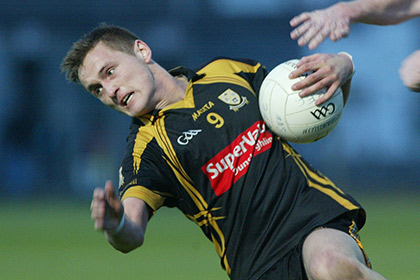 Dunshaughlin's Fergus Toolan
Dunshaughlin 3-09
Walterstown 0-14
The Dunshaughlin senior team found themselves right back where they started their 2014 SFC campaign in familiar territory in Skryne as Walterstown were their opponents as the Meath SFC resumed after a 2 month break. It did not take the blacks long to register the first score of the game with it coming from midfielder Albin Crosby after 2 minutes of play before Dunshaughlin centre back Niall Murphy opening Dunshaughlin's account with a fine point on the run following some good work from Ben Duggan.
A converted Fergus Toolan free along with a converted Walterstown free had things level after 8 minutes but Walterstown once more seized the initiative to go in front again with another point in this very evenly match contest. Dunshaughlin's Fergus Toolan though had other ideas and got his first of the game from play after 12 minutes after a fine catch from youngster Dan Ormsby who was starting to make some fine strides up the field.
Fergus Toolan seemed to get confidence from this fine point and his increased work rate and intensity seemed to seep into the Dunshaughlin team with the black and amber getting their just rewards after 20 minutes when that man Toolan seemed to hang in the air like Cristiano Ronaldo for an age before brilliantly punching the ball into the back of the Walterstown net to now have Dunshaughlin leading by 2 points. Things went from bad to worse for the blacks when Dunshaughlin were awarded a penalty after 23 minutes but were saved when their goalkeeper touched an Eoin Hagarty penalty onto the crossbar but there still was a dramatic twist to come when Hagarty found redemption when his thunderbolt shot found the roof of the Walterstown net 2 minutes later that will have the sunday game 'experts' in Lawlesses in Dunshaughlin no doubt debating his true intention of whether he meant it or not.
There was no more scoring in the first half with Dunshaughlin entering the break 5 points in front. A Trevor Dowd point further increased Dunshaughlin's advantage 3 minutes into the second half before 5 unanswered Walterstown points had the blacks right back in the game with everything all to play for. It looked as though the momentum was with Walterstown when Maynooth student Niall Murphy was sent off for receiving two yellow cards but as is what often the case is when a team is reduced to 14 men it seemed to work in Dunshaughlin's favour with them now getting back into the game when a Cathal o'Dwyer free, a Ray Maloney trademark score and the score of the game coming once again from Fergus Toolan after 50 minutes to leave Dunshaughlin now leading by two points.
Cathal O'Dwyer up to this stage was living off scraps and had not managed to score from play but this was all to change with the Trim resident scoring a magnificent score with his back to the goals with 39 minutes to play. The game at this point had reached boiling point level with both teams in contention for the two points with Walterstown tagging on 3 more points but thankfully for Dunshaughlin it came from teenager David Dunne who was making his full senior debut when after 56 minutes and at the third attempt lying on the ground he somehow manage to find the back of the Walterstown net when his first attempt was saved by the Walterstown goalie and his second came back off the post it was great to see a young lad with a great attitude score a goal that he will no doubt ever forget to now have Dunshaughlin looking good for their first win in this year's Meath SFC. A Fergus Toolan converted free in injury time secured the points for Dunshaughlin as Colm McManus blew full time with Dunshaughlin recording their first championship win over Walterstown in 9 years.
The six backs for Dunshaughlin can be very proud of their performance with Alastar Doyle and Mick Ahern leading the way while Ray Maloney as always had a big say in the middle of the field. Upfront Eoin Hagarty looked very dangerous and worked tirelessly while Cathal O'Dwyer showed well but tonight the man of the match award goes to Fergus Toolan who gave an exhibition on modern day half forward play packed with pace and power.
Dunshaughlin - R. Gogan, A.Doyle, M.Ahern, D.Ormsby, T.O'Dushlaine, N.Murphy(0-01), T.Johnson, R,Maloney(0-01), B. Duggan, F. Toolan (1-04), T. Dowd (0-01), E.Hagarty(1-00), S. Gallogly, R.Geraghty, C.O'Dwyer(0-02). Subs - D.Dunne(1-00) for D.Ormsby, M.Devaney for M.Devaney
Walterstown report
Walterstown went into this game knowing that a win would increase their chances of getting through to the quarter finals with results earlier in the day going their way.
Two points would have left them level with O'Mahony's in second place with a game against O'Mahonys still to come, however Dunshaughlin came out on top with their first win over the Blacks in the championship in 9 years.
The Blacks were the first to register a score from Alban Crosbie after 2 minutes, but Dunshaughlin soon equalized before going ahead minutes later from a converted free. Walterstown hit back with a free from R.O'Dowd before going in front again with a free from J.Coogan to leave the score 0-3 v 0-2 after 12 minutes. Dunshaughlin once again equalized before Walterstown regained the lead with another A. Crosbie free.
It looked like it was going to be a close game until Dunshaughlin got 2 goals before half time while also missing a penalty to leave them 5 points up at the break.
Dunshaughlin scored the first point of the 2nd half to leave them 6 points in front before Walterstown went on a scoring spree scoring 5 unanswered points to reduce the deficit to just one point. Dunshaughlin were also reduced to 14 men during this period and it seemed like the blacks would continue to control the game, however the blacks failed to take advantage of the extra man and it looked like at times that Dunshaughlin were playing with the extra man in the final quarter of the game with Dunshaughlin scoring 1-03 to Walterstown 0-1 to leave Dunshaughlin winning 3-09 to 0-14 recording their first win of the championship.
Walterstown will now have a lot of work to do in their final match v O'Mahony's to gain a win that will give them hope for qualifying into the next round.
Walterstown: J.Davis, E.O'Mahony, D.Reynolds, J. Geoghegan, C. Hennelly, D. Maguire, P.Reynolds, A. Crosbie, C.O'Sullivan, J. Coogan, C.Reynolds, M.Reynolds, P. Donnellan, R. O'Dowd, R. Reynolds. Subs: R.Barry for P. Donnellan, D. Donnellan for C. Reynolds, C. Reilly for J. Geoghegan(inj).
Walterstown Scorers A.Crosbie 0-5 (4 frees), R.O'Dowd 0-3, J. Coogan 0-2, C.Reynolds 0-2, R.Barry 0-1, P.Donnellan 0-1
www.walterstowngfc.com
Most Read Stories