IFC: Castletown lose by bare minimum
August 17, 2014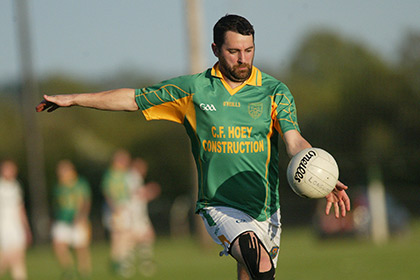 Castletown's Barry Smith
Dunderry 1-7
Castletown 0-9
Castletown had to endure a torrid evening at the hands of Dunderry in the Intermediate championship.
Things didn't go to plan from start to finish leaving the men in green frustrated. It was typical championship fare, no quarter asked or given.
Castletown elected to play against a significant breeze in the first half, and hoped to lay down the markers early. With plenty of the possession they we found guilty of some wayward shooting. Tommy Smith had an excellent goal chance well saved by the Dunderry net minder. Barry Smith too had a chance to raise the green flag only to see his shoot blaze wide. To their credit the forward unit continued look for openings but it wasn't to be in a game that would decide who would top group A.
At the other end Dunderry were ultra efficient. Without ever looking like a team that could cause terminal damage to the Castletown rearguard they kept the scoreboard ticking over. Joey Carry, assigned to the Dunderry dangerman, had a busy night eventually coming out on top in his individual tussle. Castletowns 2 wing backs Noel Smyth and 16 year old William Bellew were more than holding their own on their championship debuts.
Shane Farrelly eventually got Castletown off the mark with a 14 yard free mid way through the first half. Francis Hoey popped up from midfield to rattle off 2 fine points however the main talking points at half time was Castletown turnover and wide count. It was felt that if those areas could be addressed then the north Meath men would go on for the win. Dunderry led 5 points to 3 at the break.
The second half went much the same way as the first, Castletown pressing high up the pitch and Dunderry counter attacking at pace. You knew things were not going well for Castletown when the wind switched direction.
The winners goal came mid way through the half as a high ball broke kindly to the Dunderry corner forward who shot low to the left of Paul Smith. It was a body blow that Castletown could not recover from. Some more wides added to the frustration until finally Castletown began the comeback. Barry Smith found his range, hitting 3 points. James Finnerty and Kenny Smith also pointed. Shane Farrelly added a second free on the night for himself. As time was running out Castletown applied the full court press and were awarded a free from out wide.
Kenny Smith, never one to shirk a challenge, received the ball from Barry rounded his man and shot for the equalising point. Unfortunately for the men in green the ball dropped short and was cleared to the sound of the refs whistle and cheers from the Dunderry followers.
All this means that with 1 round of games to go Dunderry top group A and Castletown take second place.
Castletown team- Paul Smith, Joey Carry, Francis Bellew, Jonathan Metry, William Bellew, Shane Farrelly(0-2), Noel Smyth, Gerry Farrelly, Francis Hoey(0-2) , Paul Cribbin, James Finnerty(0-1), Kenny Smith(0-1), Darren Finney, Barry Smith(0-3), Tommy Smith. Subs used- Kevin Ross, Damien Ginnitty, Conor Price
Most Read Stories