IFC: Longwood stay in contention with Kilmainham win
August 17, 2014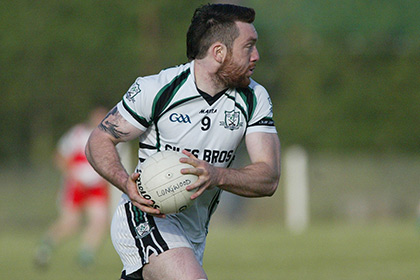 Mickey Burke and Longwood will be hoping to get back up to Division 3.
Longwood 0-14
Kilmainham 0-11
Longwood set up a winner-takes-all clash with Ballinabrackey in the final round of the intermediate championship after a difficult victory against Kilmainham in Trim on Saturday evening.
Longwood played against the wind in the first half and started very brightly with two early points from Damien Healy and Ryan Moore inside the first five minutes. Micky Newman opened the Kilmainham account with a free from distance off the ground. Great defensive work from Brendan Hanna, Anthony Healy and Eoin Lynch meant Kilmainham weren't able to capitalise on the wind in the opening half and further points from Micky Burke, Ryan Moore, Nathan O Neill and Anthony Healy left Longwood winning by 0-06 to 0-04 at the break with the aid of the wind to come in the second half.
Typically, the wind was of little benefit to the South Meath men. Longwood took their foot off the pedal in the second half and some mistakes allowed Kilmainham back into the game in the second half. Frees from Micky Newman and a brace from play meant Kilmainham were leading 0-11 to 0-10 with five minutes to play. A defensive error from Kilmainham could of ended up in the back of the net but resulted in a 45 instead which Rory Maguire converted to tie the game up going into injury time. Aaron Ennis then fisted a point from a tight angle and two long range frees from Micky Burke closed out the game for Longwood.
Manager Ray Doran will be happy with the result which sets up a local derby for a quarter final place in two weeks time. Seven different scorers from play for Longwood and a solid defensive display for the majority of the 60 minutes were most pleasing for the Longwood contingent.
Best for Longwood were Brendan Hanna, Eoin Lynch, Karl Ennis, Micky Burke and Nathan O Neill.
Longwood: Darragh Maguire, Brendan Hanna, Eoin Lynch, Chris Lynch, Ferghal O Hare, Karl Ennis, Joe Stenson, Mick Weir, Rory Maguire 0-3, Anthony Healy 0-1, Nathan O Neill 0-1, Damien Healy 0-1, Ryan Moore 0-3, Micky Burke 0-3, Aaron Ennis 0-2.
Subs: Ciaran Greene for Ferghal O Hare.
Best for Kilmainham were Richie Brady, Barry Lynch and Shane Morgan
Kilmainham: Brian Black, Matthew Mullen, Richie Brady, Mark Fallon, Shane Morgan, Seanie Mahon, Denis Newman, Barry Lynch, Trevor Lynch, Conor Kilgallon, Pat O'Sullivan, Gavin Butler 0-1, Gerard Morgan 0-2, Michael Newman 0-8, Harry Newman.
Subs: Mark Newman and Jonathan Quinlan.
Most Read Stories