IFC: Donaghmore Ashbourne lose out to St. Ultan's
August 17, 2014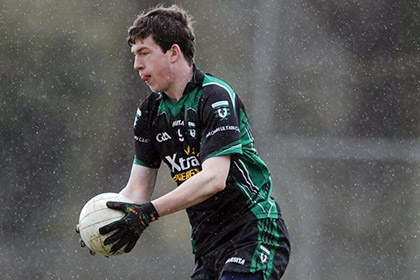 St Ultan's Conor Smyth
Donaghmore Ashbourne 0-08
St. Ultan's 0-11
St Ultans got their first championship win against Donaghmore Ashbourne played in Seneschalstown Saturday evening.
It was a close affair throughout and Ultans found it difficult to break the opposition rear guard. Ronan Breslin opened their score with a fine point from play. Further first half points were added from Mark Allen, Cian Rennicks, Conor Smyth & Paul Murray.
Ashbourne responded to most of Ultans scores and went in at half time one point ahead.
Despite going down a further point early in second half, Ultans began to take control of game.
A strong team performance in the last twenty minutes yielded 5 well worked scores for the winners. Gary"Gooch"Gorman, playing his first intermediate championship game in 5 years was particularly impressive scoring 2 points. Mark Allen was also excellent in this period and it was a flip of a coin between himself and the youthful Ronan Galligan for man of the match.
Ultans need to win last game in championship to avoid any concern of a relegation. They also has a division 3 final next Friday to look forward to and will go into this fixture with confidence of their first silverware since 2008.
St Ultans: Cian Farnan, Ciaran Timmons, Declan Gallligan, Sean O Hoireabard, Ronan Gallligan, Jason Bennett, Gearoid Rennicks, Conor Smyth, Kevin Gallligan, Mark Allen, Paul Murray, Sean Power, Ronan Breslin, Cian Rennicks, Gary Gorman
Subs: Emmet Costello for Gearoid Rennicks, Tony Smyth for Ronan Breslin
Scorers
Gary Gorman 0-3
Conor Smyth 0-2
Cian Rennicks 0-2
Ronan Breslin 0-1
Mark Allen 0-1
Paul Murray 0-1
Sean Power 0-1
DONAGHMORE ASHBOURNE REPORT
Donaghmore Ashbourne's second team suffered their third defeat of the Intermediate championship when they lost out to St. Ultan's in a game they should have won when the sides met in Seneschalstown on Saturday night.
Having needed a victory to have any chance of making the group stages of the competition the result firmly shuts the door on this possibility and moves the side over the relegation trap door.
The Donaghmore Ashbourne team lining out with six players of 18 years or younger competed well in the opening half. The combination of youth and experience played some nice football and looked to be in control of the game against a slight breeze.
Colm O Mealoid opening the scoring for Donaghmore Ashbourne within a minute of throw in and although St. Ultan's replied with a point on 5 minutes David Dowd regained the lead with a point on 7 minutes. Both sides registered a brace of wides each before the Bohermeen men pointed on 19 and 22 minutes to taken the lead but the sides were level again on 23 minutes when Dylan Brady pointed from the an acute angle on the left hand side. O'Mealoid converted another long range point on 24 minutes to push Donaghmore back into the lead but the advantage changed again with St. Ultan's drawing level on 25 minutes and moving back into the lead on 26 minutes.
The score of the evening came just before the interval when O'Mealoid caught a St. Ultan's clearance in the middle of the field and went on a solo run where he pulled off two dummies and split the posts with a great strike to draw the sides level again. David Dowd followed this inspirational score with a point just before the interval to give Donaghmore Ashbourne a 0-06 to 0-05 half time lead.
The second half was a disappointing affair from a Donaghmore Ashbourne perspective despite getting off a good start. David Carey gave long ball into David Dowd and he turned and slotted over to give Donaghmore Ashbourne a two point lead on 31 minutes. Unfortunately for Donaghmore Ashbourne this was their only score until late on in the game while St. Ultan's registered 4 unanswered points at the other end to go two points into the lead with minutes remaining. Dowd did score again on 57 minutes reduce the deficit to one point but the Bohermeen men finished strong with points on 58 and 59 minutes to run out 0-11 to 0-08 winners and record their first win of the campaign.
With things tight at the bottom of the table and with Donaghmore Ashbourne having to play table toppers Ballivor in the final round Timmy O'Regan's men need to turnaround results to avoid a relegation situation.
Donaghmore Ashbourne: P. Durkan; C. O'Rourke, J. Mc Carney, G. Deery; D. Lawlor, M. Lynch, J. Giles; T. Kelly, C. O'Mealoid(0-3); D. Brady(0-1), D. Carey, J. Dwyer; J. O'Connor, D. Dowd (0-4), K. Fenton. Subs: F. Smith for O'Connor, A. O'Connor for Fenton
Most Read Stories