IFC: Syddan impress in victory over Colmcille's
August 17, 2014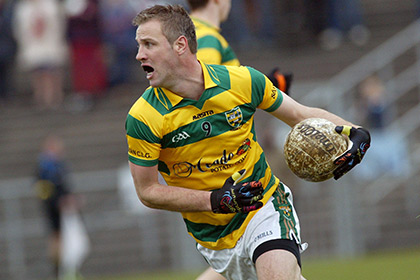 Syddan's Brian Dillon
SYDDAN 0-15
ST COLMCILLE'S 0-12
Syddan moved into pole position in Group B of the IFC and assured themselves of a knockout spot following this hard-earned win in Rathkenny.
The clash of these two unbeaten teams proved a lively affair with Syddan dominating throughout the opening half when assisted by the stiff breeze.
They built up a 0-13 to 0-4 lead by half-time but then had to withstand a second half onslaught by the Seasiders.
Inspired by county star Graham Reilly, the Cille's hit six successive points in the opening 17 minutes of the second half to reduce the deficit to three points.
The half was 24 minutes old before Brian Dillon ended Syddan's scoring drought and a minute later Daire Rowe converted a free to stretch the lead back to five points.
Ben Brennan, from a free, and Reilly, his fifth points, responded for the Cille's but time eventually ran out on them as Syddan held on for a deserved win.
Syddan had hit the ground running from the start and by the end of the opening quarter led 0-10 to 0-2.
Daire Rowe notched four points in that spell of dominance with James Farrelly getting three and Luke Halpenny and Cormac Rowe also on the mark.
Further points from Thomas and Brian Dillon gave Syddan a 10 point cushion by the 20th minute. The East Meath men enjoyed the better of the exchanges from that to half-time without making much impression on the scoreboard.
The dismissal of midfielder Thomas Dillon on receipt of a black card in the 37th minute didn't help Syddan's cause and they were forced to defend in numbers at times throughout the second half.
Substitute Sean Clare won some vital possession when introduced at midfield in the closing stages to help keep his sides' unbeaten run intact.
SCORERS - Syddan: D Rowe 0-5 (3f), J Farrelly 0-4 (1f), B Dillon (1f), L Halpenny 0-2 each, T Dillon, C Rowe 0-1 each. St Colmcille's: G Reilly 0-5, B Brennan 0-3 (2f), C Kelly 0-2 (1f), R McCloskey, R O'Grady 0-1 each.
SYDDAN: Ciaran Farrelly; Mark Fedigan, Ben Bashford, Barry McConnon; Ronan Mooney, Kevin Traynor, Jack Reid; Thomas Dillon, Brian Dillon; Ian Curran, Paddy Farrelly, Daire Rowe; Luke Halpenny, Cormac Rowe, James Farrelly. Subs: Robbie Farrelly for T Dillon (BC), Sean Clare for J Farrelly.
Most Read Stories