IFC: Carnaross see off Clann challenge
May 24, 2014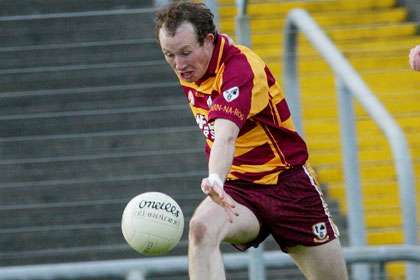 Dermot McGee Carnaross
Carnaross 1-9
Clann na nGael 0-8
Carnaross brought their recent good League form into the Championship with a fully deserved victory over unbeaten Clann na nGael.
After two below-par performances in the opening two games Carnaross produced a much improved display to grab their first win of the campaign. It was the Athboy men who opened the scoring with a point in the first minute but a pointed free from John L McGee levelled matters two minutes later. Clann na nGael took the lead once again but two more pointed frees from McGee put Carnaross in front after a lively opening ten minutes. Three unanswered points from Clann na nGael put them two points in front midway through the half. However, the game then became a very tight affair and this was evident on the scoreboard as there was only one more point scored before the break, a point from John L McGee which left Clann na nGael leading 0-5 to 0-4.
After the restart, the game remained close and both sides exchanged two points each in the opening ten minutes with Brian Comaskey and Dermot McGee registering a point each. Carnaross were now beginning to win most of the individual battles and they were rewarded when Dermot McGee raced through to fire low to the back of the net to put his side two points in front. Carnaross built on this boost and went on to outscore Clann na nGael by 0-3 to 0-1 in the closing quarter with points from John L McGee, Niall McDonnell and Dermot McGee to close out the game. While Carnaross took their chances well up front, a lot of credit goes to their defensive unit who held strong in the closing stages to see off every Clann na nGael attack.
Carnaross: Shane McNiffe; Tomás Plunkett, Eamonn Comaskey, Ian Donoghue; Peter Carpenter, Thomas Nugent, Pierce Fleming; Patrick Nugent, Michael Brogan; John Carpenter, Cillian Comaskey, Shane Casserly; Paul Donoghue, Brian Comaskey (0-1), John L McGee (0-4); Subs: Charles Brogan for John Carpenter; Dermot McGee (1-2) for Patrick Nugent (BC); Niall McDonnell (0-1) for Paul Donoghue; Stephen Flattery for Michael Brogan;
Carnaross got the better of Clann na nGael in this intermediate championship game played in Kells on Saturday evening. This was Clann na nGael's first defeat of the campaign and will be bitterly dissapointed with their performance but will have no compliants with the outcome as Carnaross were the hungrier team. The Athboy/Rathcairn lads had a lot of the ball in the first half but got hard to get scores against a very hardworking Carnaross defence. The sides were level on a couple of occassions on that opening half, and only a point seperated the teams at half time with Clann na nGael leading 0-5 -0-4.
Clann na nGael scores included points from play in that half from Luke Swaine, Graham Geraghty, Gary Woods and Aaron Ennis. The second half was as tight as the first one, but this was a game in which scores were very hard to come by, and a goal was always going to be the deciding factor, and Carnaross got it with about 10 minutes to go. Clann na nGael lost both Jamie Shaw and Anthony Swaine with Black Cards towards the end. Best for the losers were Oran Fitzpatrick, Luke Swaine and Paddy Tiernan. It is still all to play for in this group.
Clann na nGael - 1. Anthony Swaine 2. Carl Kelly 3. Anthony Cully 4.Gavin Browne 5. Luke Swaine (0-1) 6. Oran Fitzpatrick 7. Paddy Tiernan 8.Jamie Shaw 9. Gary Woods (0-1) 10. Damian Tuite (0-1) 11. Aaron Ennis (0-1) 12. Gary Hanley 13. Ciaran Fitzsimons 14. Graham Geraghty (0-1) 15. Caoimhin O'Griofa (0-3). Subs - Ronan McDonnagh for Anthony Cully, Darragh Brogan for Jamie Shaw (Black Card), Darragh O'Griofa for Anthony Swaine (Black Card).
Most Read Stories