SFC: Three point win for Seneschalstown
May 19, 2014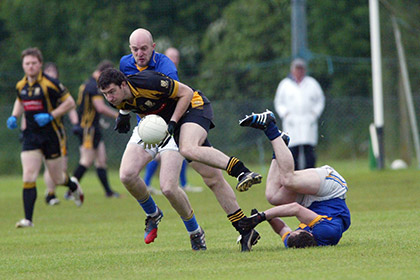 John Crimmins gains possession for Dunshaughlin as Seneschalstown's Damien Sheridan closes in and Paul Carey takes a tumble during the hoganstand.com Meath SFC game at Dunsany.
Hoganstand.com Meath Senior Football Championship Group B Round 3
Seneschalstown 1-11
Dunshaughlin 2-05
On the day when the 2014 inter county championships began in earnest the senior football players from Seneschalstown emerged onto the greasy surface in Dunsany knowing that their championship ambitions for the year could be extinguished should they not manage to defeat Dunshaughlin. Having picked up a solitary point from their two outings to date the pressure was on the men in blue to get something for the game although the same can be said of the players from the town in the south of the county as they were pointless from their two games.
Starting with four changes in personnel and some positional alterations Seneschalstown suffered a blow after only two minutes when corner back Niall McCabe went down injured and had to be carried off on a stretcher. However they were lucky to have the option of regular corner back Gerry Sheridan on the bench to replace him.
Due in no minor way to the lengthy delay while McCabe was being treated the crowd had to wait until the eleventh minute for the opening score to arrive. When it did come it was a score made in the Sheridan household. Brian, starting at centre field, floated a delivery straight down the field where Joe got his fist to the ball to direct it over the bar. Dunshaughlin hit back with a response from play five minutes later before Seneschalstown hit a goal and six points on the bounce.
The first of these came from a thirty metre free from Bryan Clarke after a foul on Joe Sheridan before he added a point from play. Mark Carey, as he has done so often over the years, then wandered up field from his right half back berth to point after good play from the hard working Gary Conlon. Joe Sheridan brought his tally for the day to three points when picking off two in a row. Firstly he scored a marvellous high, curling effort after chipping the ball into his hands after an attack appeared to have broken down. Then in the twenty seventh minute he exchanged a one two with Damien before earning space for himself to shoot by selling his opponent a dummy. Sean Noonan then marked his senior championship debut when pointing off his right boot after some glorious play from the Seneschalstown forwards including a lovely pass from Ciaran Macken to set the chance up.
Then six minutes before the whistle to signal the half time break Dunshaughlin earned themselves a lifeline when veteran Ray Maloney squeezed home a goal from a tight angle. This was followed up with two points from play including one from Meath hurler Caoimhín King.
However the hugely influential Joe Sheridan was to provide the last two scores of the half when helping himself to a quick-fire goal and a point. The goal arrived when he gathered a long range free from Bryan Clarke before rolling the ball to the back of the net. He followed up with another point to leave five points between the teams at the interval.
The scoring rate dropped significantly in the second half with the two sides managing six scores between them over the thirty minutes. Dunshaughlin registered the first of these in the third minute before James Byrne got on the end of an excellent Seneschalstown move to point. Ciaran Macken battled back to dispossess a Dunshaughlin player just inside his own half. After gaining possession he offloaded to Damien Sheridan who delivered a low ball out to the left hand sideline to Bryan Clarke who hand passed to Byrne to point.
Noonan continued to impress on his debut and he set Brian Sheridan up for his first score of the day on thirty seven minutes before Joe Cowley somehow got back to execute a perfectly timed tackle to deny Dunshaughlin an almost certain goal. David Lyons ensured no forward was going to get on the end of a loose ball in the square and booted the ball out of a puddle for a line ball. A couple of minutes later though and Dunshaughlin got the goal they desperately craved. A high speculative ball into the square wasn't dealt with and the dropping ball ricocheted into the back of the net off a Seneschalstown defender. They quickly followed this up with another point from play to leave two between the sides with eight minutes left on the clock.
Bryan Clarke settled the nerves of the Seneschalstown contingent three minutes later when striking a free over the bar following a tackle on Joe Sheridan which in another code would be regarded as a fine tackle but which if Joe Brolly had witnessed it would have had the Derry man working himself into a rage.
This was to be the end of the scoring and when referee Liam O'Brien sounded the final whistle Seneschalstown had managed to emerge victorious by three points. On an evening where victory was essential if aspirations of claiming a fifth Senior Championship are to be harboured they had excellent performances from Brian and Joe Sheridan as well as veteran Ciaran Macken and Niall Groome while corner back Sean McCabe also delivered a fine performance.
Seneschalstown Scorers: Joe Sheridan 1-04, Bryan Clarke 0-03 (0-02 Frees), Mark Carey, Sean Noonan, Brian Sheridan and James Byrne 0-01 each.
Seneschalstown: David Lyons, Niall McCabe, Joe Cowley, Sean McCabe, Mark Carey, Paul Carey, James Byrne, Brian Sheridan, Damien Sheridan, Gary Conlon, Ciaran Macken, Bryan Clarke, Joe Sheridan, Sean Noonan, Niall Groome.
Seneschalstown Substitutions: Gerry Sheridan for N. McCabe (inj), James Meade for G. Conlon, Cormac Noonan for C. Macken, Ross Howard for S. Noonan.
Most Read Stories