IFC: Three out of three for 'Cilles
May 19, 2014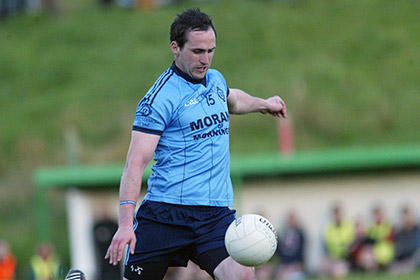 Graham Reilly St Colmcilles
St Colmcilles 1-14
Trim 0-11
St Colmcilles made it 3 wins from as many outings before a good crowd at a well presented Rathkenny.
A strong first half with County man, Graham Reilly starring set the foundations for a good win that sees the Seasiders sit at the top of the table before the Leinster Senior Football Championship ​break
Trim got off to the better start racing into an early one point lead before Reilly got the East Meath men off the mark. Further points from Reilly, Ben Brennan and Cathal Hilliard put the Cilles into a commanding 5 points to 1 lead. Incessant rain left underfoot conditions very greasy and the town team came back very strong. However with Reilly providing a exhibition the Cilles went in 11-5 up at half time
As expected Trim had much the better of the second half opening exchanges with James Toher proving a thorn in the side and very accurate from placed balls. With 15 minutes gone in the second half the scores were delicately poised at 13-9. However the Seasiders took control of proceedings when after great work, Ciaran Kelly brilliantly set up Brian Reidy who cooly finished to the net past the impressive Brendan Murphy to make it 1-13 to 0-9. The tough nature of the game and conditions saw both sides forced into replacements with John McKenna, Donal Meagher, Damien O'Brien and Eoin O'Brien coming in for St Colmcilles
The sides exchanged further scores with Ciaran Kelly tapping over at the end to leave the final score 1-14 to 0-11 to leave St Colmcilles in a strong position to qualify from Group B with 2 rounds to go
Team: M. Magill, K Ward, M Metcalfe, J McDonnell, G McCloskey, I Mullen, K Mullen, E Woods, R O'Grady, R McCloskey, B Brennan, B Reidy, C Hilliard, G Reilly and C Kelly
Used Subs: D O'Brien, J Mc Kenna, D Meagher and E O'Brien
*****
Trim report:
Result - Meath Intermediate Football Championship third round result
Trim 1-11
St Colmcilles 1-14
Trim and St Colmcilles opposed one another in Rathkenny in the third round of the Intermediate Football Championship at a wet Rathkenny on Sunday evening last. The East Meath Side had been undefeated in the previous rounds while Trim, after disposing of Drumbarragh in the first round fell foul to Syddan in the second, thus putting them under pressure to come out with a win. Trim were first to register with an excellent point from Mark McCormack, unusually from his right foot, but five unanswered points were to follow from the Colmcilles. Trim pulled one back in the eighteenth minute when James Cullen found Mark McCormack with a long pass and the corner forward fired over his second point. In the middle of the half Colmcilles landed two points to go five points ahead.
In the eighteenth minute Midfielder Robert Bourke nailed a long pass to James Cullen, Trim's Meath minor star, who raced down the right wing and hit a fine point without breaking stride. Graham Reilly was rampant at this stage and added two more points to the four he had already contributed and these were accompanied by two more from his colleagues. With twenty five minutes of the first half gone and six excellent points from Meath Star Reilly, Trim were on the ropes. Colm Flaherty was moved over on Reilly which partially stemmed his enormous contribution and to their credit the Trim lads gained some composure and pulled back two points in the final minutes of the half. Half time score Trim 0-5, St Colmcilles 0-11.
The resumption after half time saw the Trim lads take the game to Colmcilles with half time substitute Ciaran Joyce making a telling contribution. James Toher pointed a free after two minutes but with wayward shooting they hit three wides before Colmcilles registered two points around the eight minute. James Toher pointed a free in the tenth and was followed by James Cullen hitting his third from play to reduce the deficit to four points. The Trim recovery was then severely dented in the eighteenth minute when the East Meath side goaled to forge seven points in front. James Toher kept Trim in touch with an on target free in the twentieth minute. Both sides failed to score in the ten minutes that followed but in extra time points were traded with Mark McCormack pointing Trim's '45 leaving the final score at Trim 1-11, St Colmcilles 1-14.
Robert Bourke had an excellent game for Trim at mid field. Wing backs David Foley and debutant Cathal Birmingham put in star performances. Behind them the full back line of Shane Downes, Colm Flaherty and centre man Eoin Kelly had solid games. Up front James Cullen and Mark McCormack were the pick of the bunch with both contributing three points.
This second defeat for Trim leaves them with a must win situation for the remaining two games in order for them to qualify for the closing stages on the championship.
The Trim team was: Brendan Murphy, Colm Flaherty, Eoin Kelly, Shane Downes, David Foley, Stephen Farrell, Cathal Birmingham, James Toher, Ciaran O'Rourke, James Cullen, Sean Fitzgerald, Mark McCormack, Owen McGrath, Ronan Fitzsimons.
Subs: Ciaran Joyce, Michael Lowther, Eoin O'Connor, Darryl Phelin, Mark Gilsenan, Conal McGrenna, Colm McGrath, Andrew O'Brien, James Foley, Cian Downes, Shane O'Connor, Paul Munnelly, Richard Murphy, Kevin Nally, Karl Dwyer.
The Trim scorers were: James Cullen 0-3, Mark McCormack 0-3 (one '45), James Toher 0-5 (all frees).
Most Read Stories