SFC: Skryne advance with win over Blackhall
May 17, 2014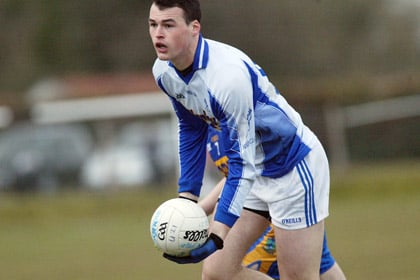 Skryne's Paddy O'Rourke
Skryne 3-13
Blackhall Gaels 1-16
Skryne took both points in this Senior Football Championship clash with Blackhall Gaels which was played in Dunshaughlin on Friday evening. This was a real roller coaster of a game with more twists and turns that an average Irish weather forecast. Games have often been described as "a game of two halves". This would best be described, from a Skryne point of view, as "a game of two ends".
They scored 1 - 4 in the first six minutes and a further 2 - 6 in the final twelve minutes, a total of 3 10. During the remaining forty four minutes they only managed three points. Skryne got off to a blistering start. Harry Rooney won the throw-in and passed to Paddy fox who found Neil Burke who quickly delivered to the in rushing Conor O'Brien. With the goal at his mercy he was unceremoniously tripped and referee Patrick Nelis had no hesitation in awarding a penalty which Paddy O'Rourke sent to the bottom right hand corner.
They should have had a second goal immediately but the ball was turned round the post for a forty five which O'Rourke duly sent over. Mark Battersby and Ronan McCabe got in on the act and Skryne were 1 - 3 to 0 - 0 after only four minutes. Blackhall got their first score, a point from the penalty spot, on six minutes but this was cancelled out by Neil Burk immediately. At this stage it looked like Skryne could finish with a substantial margin between them and their opponents.
However football is rarely like that and the Kilcloon side suddenly realised that the match had already started. Three points in a row left just a goal between them with thirteen minutes gone. Then a very loose pass in the Skryne half forwards gifted the ball to the Blackhall side who, after moving the ball at pace down the field, finished the it to the back of the net.
The scores were now level with a quarter of an hour gone and Skryne were now finding it difficult to get extra scores. To add to their difficulty Mark Battersby, who was giving his marker a torrid time, was red carded after lashing out in response to some over robust tackling. This gave Blackhall a firm advantage and they took it for the rest of the half scoring a further four points to go in at the break 1 - 8 to 1 - 4 ahead.
Neil Burke reduced the arrears after a minute of the second period but this was cancelled out a minute later and added to on thirty three minutes. Ronan McCabe and Burke pulled back two for the Tara men making it a three point game with thirty nine minutes on the clock. Blackhall took control of the game again and increased the lead to five points with twelve minutes left. At this stage many in the crowd were of the opinion that the game was good as over. However the Skryne management had different ideas.
Ian Davis was introduced for Conor O'Brien and Mark Jordan for Neil Burke. Aidan Tuite posted a long range effort. Then Ciaran Lenehan, who had moved up to the half forward line, got on the end of an Ian Davis delivery to fist the ball to the back of the net leaving just one point in it on a score line of Skryne 2 - 8, Blackhall 1 -12. Blackhall stretched this lead again but Ronan McCabe put over another for Skryne. Blackhall made the difference two again with six minutes left but and with fifty five minutes gone Ian Davis sent over a long range free to make it a one point game again.
Skryne now had their confidence back and once again McCabe scored when he levelled it after fifty six minutes Ian Davis put Skryne ahead with three minutes left and a minute later Paddy O'Rourke found himself one on one with the Blackhall goalie and made no mistake making the score 3 - 13 to 1 -15.
Blackhall were not finished yet and threw everything they had into rescuing something from the game. They would have done so too if it was not for the vigilance of the Skryne Goalie Ian Gillett who brought off two superb saves in the dying minutes. One of these he prevented from finding the net in the top corner when he made a full stretch to put it over the bar but prevent the goal.
The match ended with Skryne taking both points on a score line of Skryne 3 - 13, Blackhall Gaels 1 - 15. This was a hard won match but Gordon Geraghty can be proud of his charges in the way they refused to throw in the towel and his young side showed a lot of courage in Dunshaughlin on the night.
Skryne: I.Davis, N. Lenehan, D. Ryan, D. Morley, P. Fox, K. Lenehan (1 -1), S. O'Brien, A. Tuite (1), H. Rooney, C.O'Brien, N. Burke(3), B. Davis, R. McCabe(4), M. Battersby (1), P. O'Rourke (2 - 1 Pen, 45) Subs: I. Davis (47min, 2) for C.O'Brien, M. Jordan (48) for Burke.
Referee Patrick Neils
Most Read Stories