SFC: Donaghmore/Ashbourne make it two from two
April 28, 2014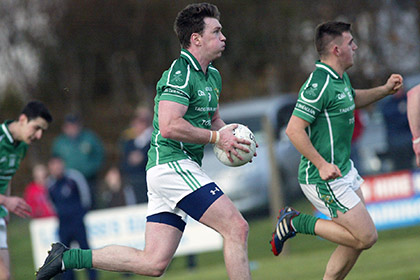 Donaghmore Ashbourne's Eoin Reilly
Donaghmore Ashbourne 1-09
Summerhill 0-08
Donaghmore Ashbourne's senior team recorded their second win of the 2014 championship with a narrow win over current county champions Summerhill in Trim on Saturday.
The win moves Paul Clarke's team to the top of the group table but there is still plenty of football left to be played in this group. In summary Donaghmore Ashbourne worked extremely hard for their victory but Declan Mc Cabe's side will rue the 13 wides they recorded over the hour especially some of the very scoreable missed attempts in the second period.
Summerhill having to field without county star Conor Gillespie may have thought the scales had balanced when Donaghmore Ashbourne's Bryan Menton left the field after two minutes with a dislocated thumb.
Playing with the wind in the opening period Donaghmore Ashbourne's first score came from Tony Morgan on 5 minutes. Summerhill did reply with a point within the same minute. Paul Gilligan restored Donaghmore Ashbourne's lead with a point on 7 minutes but again the Hill drew the sides level with a point on 13 minutes. The second quarter saw Donaghmore Ashbourne have the upper hand with Andrew Tormey pointing on 18 minutes and again a minute later to give Donaghmore Ashbourne a two point lead. As expected the current county champions replied with a brace of points on 21 and 25 minutes to draw the sides level but Donaghmore Ashbourne registered an Eoin Reilly point on 26 minutes and a Ciaran Beirne point on 30 minutes to lead at the interval by 0-06 to 0-04.
Summerhill with the aid of the breeze brought the sides level early in the second half with two points in the 31st and 32nd minute. Andrew Tormey restored Donaghmore Ashbourne's lead with a converted free on 42 minutes. The only goal of the game came in the 42nd minute with Donaghmore Ashbourne turned over possession in the middle third and moved the ball forward in a swift move. Andrew Tormey found Ciaran Ellis at the edge of the square and he flicked the ball into the empty net.
The last quarter was a tight and tough affair with both sides recording two scores apiece. The Donaghmore Ashbourne's scores came from Aidan Hughes on 49 minutes and Eric Callaghan on 60 minutes. Overall it was a good result for Donaghmore Ashbourne but they need to improve if they are to qualify for the quarterfinal stages of the competition. On a negative note the dismissal of Andrew Tormey late on could prove costly later in the competition as he was dismissed after an incident close to the Summerhill dugout (where other players could have received a similar sanction in the event).
Donaghmore Ashbourne: A. Colgan; J. Boland, S. Curran, C. Carton; C. Ellis(1-0), S. Melia, P. Gilligan(0-1) ; E. Reilly(0-1), B. Menton; E. Riordan, S. Byrne, A. Hughes(0-1); C. Beirne(0-1), A. Tormey(0-3) T. Morgan(0-1). Subs: E. Callaghan (0-1) for Menton,
Most Read Stories