SFC: Skryne back on track
April 27, 2014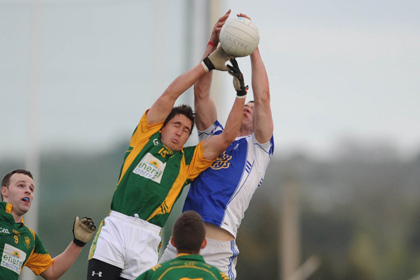 Duleek Bellewstown's Podge Howard and Skryne's Harry Rooney contest the high ball during the hoganstand.com Meath SFC game at Stamullen
Skryne 2 - 11
Duleek Bellewstown 0 - 14
Needing a win, after their loss to Wolfe Tones two weeks ago, Skryne got this year's Senior Championship back on track with a win over neighbours Duleek Bellewstown, in Stamullen on Saturday night.
However, with twenty eight minutes on the clock such an outcome looked very unlikely as Duleek led by nine points to two after they dominated the first half completely. Two late points before half-time gave them a belief in themselves and coupled with whatever words of wisdom were imparted by manager Gordon Geraghty in the dressing room at the break, they were a different team in the second half.
Duleek got the first score of the game after only thirty seconds with a point from play and added a second with two minutes on the clock. Six minutes had elapsed before Skryne troubled the score board keeper when Ian Davis sent over a long range free. Duleek Bellewstown replied with two more points on the tenth and eleventh minute. Paddy O'Rourke got Skryne's second on twelve minutes but in the next ten minutes Duleek Bellewstown scored five points on the trot to leave the score after twenty two minutes Skryne 0 - 2; Duleek Bellewstown 0 - 9. However, as mentioned already, two late scores from Ian Davis and Paddy O'Rourke (45) reduced the deficit to a five point margin before the half time break.
After the break, O'Rourke was again on target with a minute of the second half gone, but this was countered immediately with a point for Duleek Bellewstown. With thirty three minutes on the clock the game came to life, from a Skryne point of view, when wing back Paddy Fox got the ball deep in his own half, and made a surging run through the opposition's defence. He passed the ball to Battersby and received a good return pass before blasting the ball past the helpless Ricky Nolan in the Duleek Bellewstown goals. This left just two points of a deficit which Paddy O'Rourke reduced further on thirty five minutes. Duleek Bellewstown were not about to give up just yet and four points to a single score from Ian Davis restored their four point advantage by the forty second minute.
Skryne however were beginning to dominate the exchanges particularly at midfield where Harry Rooney was in complete command. In defence their backs, particularly Declan Morley and Stephen O'Brien were getting the better of their opponents. A switch in positions saw Ciaran Lenehan move to wing back and this was paying dividends. Aidan Tuite pulled one back with forty four minutes on the clock and substitute Ronan McCabe made it a two point game two minutes later. O'Rourke reduced the deficit to the minimum with ten minutes left to play. Two minutes later after good work from the Skryne forwards, McCabe ran on to a pass and scored Skryne's second goal. In the closing stages Skryne should have had a third goal but a miss-timed pass saw the ball drift harmlessly wide. Duleek Bellewstown surged forward in the final minute in a valiant effort to rescue the game and were unfortunate when a long range effort hit the underside of the bar only to be cleared by corner back Niall Lenehan. From this clearance the ball was worked up-field and with time up Mark Battersby got the insurance point. Full time score Skryne 2 - 11; Duleek Bellewstown 0 - 14.
This win puts all teams in the group on two points except Oldcastle who play Wolfe Tones later today.
Skryne: I. Gillette, N. Lenehan, C. Lenehan, D. Morley, P. Fox (1 - 0), T. McKeown, S. O'Brien, A. Tuite(1), H. Rooney, C. O'Brien, K. Mulvany, B. Davis, I. Davis (3, 1f), P. O'Rourke( 5, 45), M. Battersby (1). Subs M. Jordan for Mulvany (29min), R. McCabe (1 - 1) for I. Davis (47 min), D. McGoldrick for O'Brien (47 min), D. Ryan for McGoldrick (55 min)
SFC Round 2 Duleek/Bellewstown V Skryne
They say goals win games and this was definitely the case in Stamullen on Saturday evening last when Duleek/Bellewstown played Skryne in Round 2 of the Meath SFC. Full credit to the host club St Patricks who provided a P.A. system for team announcements and the national anthem.
Duleek/Bellewstown opened the strongest and were ahead from the throw in with a point from Stephen Nolan after a good run by Podge Howard. A free from the play from Conal McGinley in the 2nd minute settled the east Meath side. Skryne replied soon after with a pointed free.
McGinley then scored 2 of this trade make left footed efforts from play to raise the spirits of the Duleek/Bellewstown team. Points from Darren Heeney and Johnny Flood were followed up with frees from both Heeney and McGinley, putting Duleek/Bellewstown into a 6 point lead with 6 minutes left in the first half. A well taken effort by Johnny Flood pushed that lead to 7 points before points from Skryne, one from a free in the 30th minute cut the lead to 5 points at half time.
In that first half Duleek/Bellewstown played well in all quarters. Ricky Nolan made a couple of superb saves in goals, while Jason Brannigan and Johnny McDonnell marshalled their respective corner forwards very well.
The half back line of Shane Crosby, Brian Moore and David Moore made numerous runs into the forward line and provided much support throughout.
Skryne won the battle at midfield throughout the game but Podge Howard worked tirelessly to pick up breaking ball and was the workhorse in that area of the field for Duleek/Bellewstown.
Cianan Byrne was a constant threat to the Skryne backline when on the ball and won a number of precious frees when fouled in possession.
Half time score: Duleek/Bellewstown 0:09 Skryne 0:04
Duleek/Bellewstown coach Graham Geraghty asked his players for a big effort in the first 10 minutes of the second half as Skryne would raise their game. This they did scoring 1:03 in the first 10 mins of the second half. Duleek/Bellewstown's reply was a pointed free from McGinley and a fine effort from Anthony Burke. The east Meath side had another purple patch between the 44th and 47th minute with points from Johnny Flood (2) and Podge Howard. Kevin Smith, who replaced the unlucky Brian Moore at half time through injury, helped shore up the rearguard during that period of Skryne dominance and another couple of fine saves from Ricky Nolan ensured Duleek/Bellewstown were still in the game going into the last quarter. However, that Johnny Flood point in the 47th minute was the last score of the game for Duleek/Bellewstown. The 4 point lead was reduced by Skryne points in the 21st, 22nd and 25th minute before a mistake in the Duleek/Bellewstown full forward line resulted in a quick build up and attack and a hammer blow goal for Skryne with 2 minutes left on the clock. Skryne pointed again deep in injury time, but by this time the wind was knocked out of the Duleek/Bellewstown's sails.
In a disappointing defeat there were good performances and great team play from Duleek/Bellewstown who now have 4 weeks to prepare for their next SFC encounter.
As already mentioned Ricky Nolan had a fine performance in goals, with Kevin McCann solid throughout at fullback. Podge Howard was the pick around the middle with flashes of good play from Conal McGinley and Johnny Flood when in possession of the ball.
Final score: Duleek/Bellewstown 0:14 Skryne 2:11
Duleek/Bellewstown; Rickey Nolan, John McDonnell, Kevin McCann, Jason Brannigan, Shane Crosby, Brian Moore, David Moore, Mark Collins, Stephen Nolan (0:01), John Flood (0:04), Darren Heeney (0:02, 1 free), Anthony Burke (0:01), Cianan Byrne, Conal McGinley (0:05, 3 frees), Padraig Howard. Subs: Kevin Smith for Brian Moore, Peter Curran for Cianan Byrne
Most Read Stories