IFC: Second defeat for Carnaross
April 26, 2014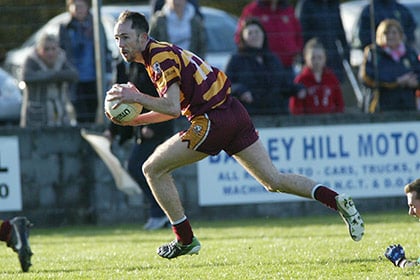 John L McGee Carnaross
Carnaross 1-8
Donaghmore/Ashbourne 0-15
Carnaross suffered their second championship defeat to a well deserving Don/Ashbourne team who led from start to finish.
Despite playing with the strong breeze in the first-half, it was Don/Ashbourne who made the better start with three points in the first eight minutes. It took Carnaross fifteen minutes to get off the mark with a point from John L McGee. Dermot McGee reduced the margin to a point moments later but Don/Ashbourne hit back with three unanswered points to take a four point advantage. Carnaross did finish the half strong and were rewarded with three converted frees from John L McGee in the space of four minutes to leave them trailing 0-6 to 0-5 at half-time.
Don/Ashbourne, now playing with the wind, made a very impressive start to the second-half scoring four points in as many minutes. John L McGee pointed for Carnaross but this proved to be the last score they would get for twenty minutes, during which time Don/Ashbourne continued their dominance adding five more points in a row to take a nine point advantage with five minutes remaining. Going into the closing stages, John L McGee added two more points and Charles Brogan netted from the penalty spot in stoppage time, but these were merely consolation scores as Don/Ashbourne still had a four point cushion when the final whistle sounded.
Carnaross: Shane McNiffe; Tomás Plunkett, Ian Donoghue, Eamonn Comaskey; Peter Carpenter, Patrick Nugent, Liam Brogan; Charles Brogan (1-0), Brian Comaskey; Peter Mullan, Thomas Nugent, Pierce Fleming; Dermot McGee (0-1), John L McGee (0-7), Niall McDonnell; Subs: Stephen Flattery for Peter Mullan; John Carpenter for Liam Brogan; Michael Brogan for Pierce Fleming; Shane Casserly for Niall McDonnell; Paul Donoghue for Stephen Flattery (BC); Pierce Fleming for Tomás Plunkett (BC).
Donaghmore Ashbourne 0-15
Carnaross 1-08
Donaghmore Ashbourne's 2nd team recorded their first victory in the Intermediate championship with a comfortable win over Carnaross in Trim on Saturday evening.
Playing against the breeze in the opening half Donaghmore Ashbourne opened up an early lead with a brace of points from Kevin Fenton and a point from Dylan Brady. Thomas Mc Govern and another Brady point together with a score from full forward Kevin Dwyer gave Donaghmore Ashbourne an interval lead of 0-06 to 0-05.
Playing with the aid of the breeze Donaghmore Ashbourne dominated the half and kept the scoreboard ticking over with some great points. Sam Benville pointed from a free on 31 minutes with Brady getting his third of the afternoon a minute later. Fenton pointed from a free on 33 minutes and again Brady scored from play on 34 minutes to move to double scores. Carnaross did reply with a free on 37 minutes but with Chris Brady and Conor Carey dominating in midfield and the experience of Tadg Kelly and Martin Lynch in defence they were only living off scraps. Donaghmore Ashbourne hit a further 5 unanswered points with Mc Govern getting a brace , Fenton converting a free from an acute angle, Brady and substitute Declan Mulvey all raising the white flag early in the final quarter.
The final three scores of the game when to the North Meath Side with a point from a free on 56 minutes a goal from a converted penalty in injury time and a point from play with the last kick of the game.
Overall Donaghmore Ashbourne were comfortable throughout and will be disappointed with the concession of the late scores. It was a good overall team performance but considering the opposition left to play they will need to be more clinical in the remaining games if they are to progress to the quarter finals.
Donaghmore Ashbourne: J. Hanigan; G. Deery, T. Kelly, JP Casserly; D. Mc Govern, M. Lynch, R. O'Connor; C. Carey, C. Brady; D. Brady(0-5), T. Mc Govern(0-3), S. Benville(0-1)(1f); K. Fenton (0-4)(3f), K. Dwyer(0-1), D. Dowd. Subs: D. Mulvey (0-1)for Carey, I. Byrne for Dowd, J. Mc Carney for O'Connor, D. Dowd for C. Brady
Most Read Stories