IFC: Two from two for 'Cilles"
April 25, 2014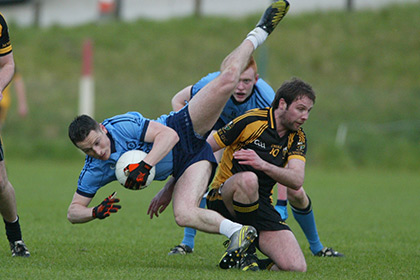 St Colmcille's John McKenna with Nobber's Colin Clarke during the Meath IFC game at Donore.
TO VIEW A SELECTION OF PHOTOGRAPHS FOR THIS GAME CLICK HERE
After their opening round win over Ballinlough, St Colmcilles recorded their second win of the Meath Intermediate Football Championship with a double scores win over Nobber at Donore.
St Colmcilles 0-14
Nobber 0-7 
In a good all round team performance from the Seasiders, a  strong second half showing ultimately put daylight between two evenly matched teams. 
The Cilles got off to a good start with early points from Ciaran Kelly and Ben Brennan before the North Meath men got into their stride with a Niall Farrell pointed free.  Ruairi O'Grady and Cathal Hilliard stretched the lead to 4 points to 1 but Nobber playing against the wind dominated the last ten minutes. 'Cilles' goalkeeper, Darren Magill made some fine stops before Brian Farrell and gavin Farrelly narrowed the gap to a point at the break. 
Nobber made the perfect start to the second half with Farrell again striking to tie up the match.  This seemed to spur St Colmcilles into action and with Ciaran Kelly and Graham Reilly exerting an increasing influence on proceedings the scores followed. Between the 5th and 15th minute Mickey Conlons charges kicked seven points without reply, four from Kelly, Reilly two and one from the boot of Ben Brennan.  Highlight of the second half was an inspirational score from way out from county man Reilly.  Nobber responded and the moving of former county star Farrell to midfield began to pay dividends. The number 14 sent over two points to give the North Meath men hope, Brain Meade added another to narrow the gap to five. But St Colmcilles finished the stronger and scores from Cathal Hilliard and Reilly put the gloss on good night for the East Meath side 
St Colmcilles Team: D Magill, C Ward, M Metcalfe, J McDonnell, G McCloskey, I Mullen, K Mullen, E Woods, R O'Grady 0-1, J McKenna, B Brennan 0-2, B Reidy, C Hilliard 0-2, C Kelly 0-5, G Reilly 0-4  Subs:  M Magill for G McCloskey, R McCloskey for B Reidly , P McGovern for J McDonnell
Nobber: C. O'Reilly C. Halpin B. O'Reilly P. Weldon P. Meade R. Shields N. Farrell 0-1, J. Owens, G. Farrelly 0-1, C. Clarke, G. Weldon, B.Heffernan, S.Meade, B. Farrell 0-4, D. Larkin
Subs
B Meade 0-1, for Halpin, P Fox for Larkin, A O Brien for Clarke 
Referee Cormac Reilly
Most Read Stories