SFC: Blackhall caught by late Dunboyne surge
April 22, 2014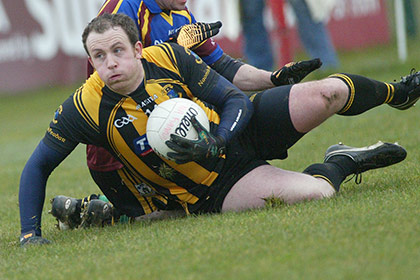 Dunboyne's Ger Robinson
Having led from the first minute of this contest through a converted Tadgh Brosnan free and still leading by two points with six minutes of normal time to play it looked like Blackhall Gaels would pick up their second brace of points in this SFC Round 2 clash. However close neighbours Dunboyne had other ideas and a late surge which yielded four unanswered points meant they picked up their first points of the campaign.
The Gaels started the stronger with Brosnan's free and Alan Nestor had a chance to extend that lead but pulled his penalty wide after five minutes. Another wide followed before Dermot Carty and then Nestor found their range to extend the early Blackhall lead. Dunboyne hit back straight away with two points of their own to leave the minimum in it after nine minutes. Two minutes later Dermot Carty pointed again to leave the score 0-04 to 0-02 at the end of an open first quarter during which Dunboyne's centre forward David Geaney was shown a black card.
Geaney's replacement Ger Robinson got the first of his four points from play after 16 minutes. Brosnan restored the Gaels two points lead before Dunboyne pulled level with two quick points in succession on 21 & 22 minutes. However the Gaels opened up a 2 point lead just before half time with a pointed free from Brosnan and a fine John Kelly effort from play. 7 wides including the penalty as well as a Dermot Carty shot which dropped onto the crossbar left Blackhall Gaels feeling that they should have had a bigger lead going into the break having played with a strong wind.
Within two minutes of the restart Dunboyne had wiped out the Gaels lead, however two more Brosnan free's quickly restored the 2 point gap. 3 Dunboyne wides followed as they struggled to get scores in the board, they did close the gap to the minimum on 46 minutes but Brosnan from play this time after 50 minutes kept them at arms reach.
Then came the Dunboyne charge; points on 54, 57, 58, & 61 minutes closing out the match for them. Blackhall Gaels will be disappointed with the result but can look forward with confidence to the remaining group games after this gritty display came up just short.
Dunboyne scorers: Ger Robinson 0-4, Colin Clarke 0-3, Donal Lenihan & Conor Daly both 0-2 each and Craig Berrigan 0-1
Dunboyne: 1. Andy Markey 2. Jack Scannell 3. Gary Timoney 4. Johnny Meehan 5. Cathal Finn 6. Tommy O'Connor 7. Seamus Lavin 8. David Gallagher 9. Shane McEntee 10. Sean McGarrell 11. David Geaney 12. Craig Berrigan 13. Jason Daly 14. Conor Daly 15. Donal Lenihan.
Subs: Colin Clarke, Damien Sweeney, Ger Robinson & Gerry Gallagher
Blackhall Gaels - T Dalton, D Carty, C McElligot, C Stenson, D Tobin, J Kelly (0-01), S Morris, A Nestor (0-01) T Delaney, N Kelly, T Brosnan (0-06 4f), T Murphy, P O'Brien, D O'Neill, D Carty (0-02). Subs used: D Durkin, P Kelly, J Meyler
Most Read Stories