IFC: Longwood outscore Michael's
April 20, 2014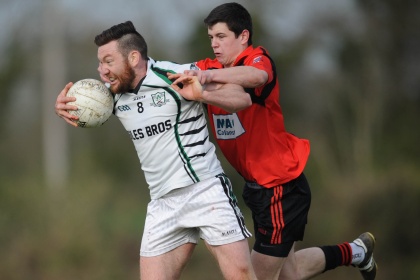 Longwood's Michael Burke with Ronan Lynch St Michaels during the Meath IFC game at Kildalkey
Longwood 0-9
St Michaels 1-3
Longwood got their first win of the campaign on Saturday evening with a fine team performance in this low scoring game.
Longwood played against the breeze in the first half and it was the Carlanstown side that started best with a quick goal from full forward J.B. O'Reilly. The village side replied with the next 4 points through Ryan Moore(3) and Rory Maguire. St Michaels got 2 points in quick succession before the break which left it 1-2 to 0-5 at half time.
In the second half Longwood continued to be defensively excellent and had there attack been more clinical the winning margin could have been a lot more. Ryan Moore and Anthony Healy we're denied great goal scoring opportunities on 2 occasions each. Second Half points from distance by Micky Burke,Rory Maguire and Aaron Ennis along with a great save by Darragh Maguire at the end secured victory for Longwood. Eoin Lynch, Conor Keenan, Albin Markowski, Damien Healy and Aaron Ennis were excellent for the winners.
Longwood - D Maguire,C Lynch,V Byrne,A Markowski, J Stenson, E Lynch, C Keenan, B Maguire, D Healy, M Burke 0-1, R Moore 0-4, A Healy, A Ennis 0-1, K Ennis, R Maguire 0-2. Subs: R Keenan for B Maguire
ST MICHAELS REPORT
Full time....St. Michaels 1-3, Longwood 0-9.
Half time....St. Michaels 1-2, Longwood 0-5.
For the second Saturday on the trot St. Michaels died a death in the second half of an Intermediate championship match, this time in Kildalkey they could only manage one second half point to add to their meagre first half tally of 1-2 after playing with the aid of a stiff breeze.
St. Michaels got off to the best of starts with a well taken goal from J. B. O'Reilly after only 6 minutes, but they failed to build on this early lead registering wide after wide in the following 10 minutes. Meanwhile Longwood were picking off their scores as the opportunities arose and after 16 minutes of play they had sent over what they thought was their third point to leave the sides on level terms, but much to the amazement of the Longwood contingent the umpire signalled wide, there was confusion everywhere until one of the linesman called the referee aside for a word in his ear and the referee Martin Griffin made his way towards goal to consult his umpires who after a brief chat reached for the white flag, 1-0 to 0-3, this decision spurned Longwood on and they were soon in the lead for the first time, St. Michaels levelled matters a minute later through a Ciaran Lynch point, a further point from Longwood on 27 minutes gave them a one point lead which was cancelled out on the stroke of half time with an excellent point from Peter O'Connell.
Longwood registered their 4 second half points in the opening 14 minutes of the second half with St. Michaels only point coming from David Lynch on 40 minutes. St. Michaels will be very disappointed with this result especially with their second half performance considering the amount of possession they held but it was the Longwood defence that engineered this win with their blanket defending. Time and time again the St. Michaels players had to go backwards or sideways and ended up losing possession or shooting from far out as the Longwood defence stood firm. Neither team managed a score in the final 16 minutes of play.
St. Michaels:
Paul McCormack, Jamie Reilly, Paddy Callaghan, Patrick Clarke, Mark Stafford, Sam Briody, Robert Briody, Felim O'Reilly, Jamie Farrelly, Peter O'Connell 0-1, David Lynch 0-1, Ciaran Lynch 0-1, Ronan Lynch, J.B. O'Reilly 1-0, Kevin Cassidy.
Subs: Ronan Cassidy for Paddy Clarke 20 min, Philip Rogers for Sam Briody.
Referee: Martin Griffin.
Report: Pascal Reilly.
Most Read Stories