IFC: Syddan pegged back by Nobber
April 14, 2014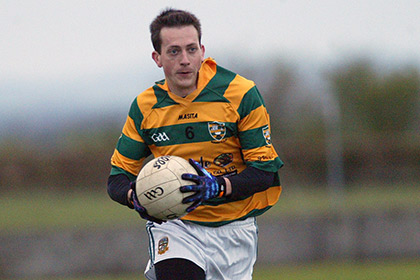 Syddan's Cormac Rowe
SYDDAN 2-7
NOBBER 1-10
Nobber scored the last three points to force a draw with neighbours Syddan in an exciting IFC tie at Drumconrath.
And while both sides will be content with a share of the spoils either team could have snatched victory in the three minutes of added time, after Brian Farrell had drawn the sides level from a free for the final time on 59 minutes.
There was never more than three points between the sides at any stage though Nobber were playing catch-up for almost three quarters of the game.
A goal in the opening minute from Cormac Rowe gave Syddan a dream start but Nobber struck back soon afterwards with wing back Paul Meade finding the net with a low drive.
Midfielder Jamie Owens pointed Nobber ahead, Farrell, with his only score from play, and Gavin Farrelly had further points to leave it 1-3 to 1-0.
However Syddan were back level after Daire Rowe broke free on the right wing and his teasing centre was turned into his own net by Nobber fullback Brian O'Reilly.
Rowe then pointed his side ahead and Syddan eventually led 2-4 to 1-5 at the break.
Both sides notched a brace of points in the early stages of the second half but Syddan only managed a single score in the last 25 minutes of the game, from James Farrelly.
Gordon Weldon and Sean Meade had Nobber points before Farrell shot the equaliser from a close range free.
It ended 14 a side after Stephen Dillon and Jamie Owens were dismissed on receipt of second yellow cards in the closing stages.
SCORERS - Syddan: C Rowe 1-0, B O'Reilly OG, D Rowe 0-2 (1f), B Dillon (f), R Mooney, J Farrelly, I Curran, P Farrelly 0-1 each. Nobber: B Farrell 0-6 (5f), P Meade 1-0, J Owens, G Farrelly, G Weldon, S Meade 0-1 each.
SYDDAN - C Farrelly; B Bashford, B McConnon, M Fedigan; R Mooney, S Dillon, J Reid; B Dillon, K Traynor; L Halpenny, J Farrelly, I Curran; D Rowe, P Farrelly, D Rowe. Subs: F Ross for C Rowe, R Farrelly for J Farrelly.
NOBBER - C O'Reilly; C Halpin, B O'Reilly, P Weldon; P Meade, R Shields, N Farrell; B Meade, J Owens; B Heffernan, G Farrelly, D Shields, S Meade, B Farrell, D Larkin. Subs: G Weldon for D Shields, P Fox for Larkin, C Clarke for B Meade.
REF - Eamonn Barry (Walterstown)
Most Read Stories