IFC: Winning start for Castletown
April 14, 2014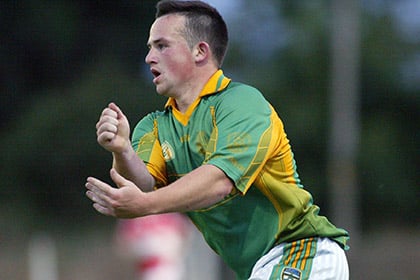 Castletown's Kevin Ross
Castletown 0-17
St Michaels 1-9
First two points scored by St. Michaels from play, Castletown got a free and Declan Cribbin put it over the bar. St. Michael's answered with a point. Castletown's Thomas Smith scored a point from play and Declan Cribbin put their third point over. St. Michael's got a free and it went over the bar. Declan Cribbin for Castletown put another point over. And Barry Smith for Castletown scored the next point. St. Michael's got another point and got the next point with help from Castletown goalie. Kevin Ross for Castletown scored a point from play and Darren Finney put his name on the score sheet with a point. Only wide of the first half for St. Michael's in the 27th min. St.Michael's scored a point from a free and next scored the only goal of the game. Thomas Smith of Castletown scored the last point of the first half but it was St Michaels who led at the beak 1-7 to 0-8
Second half started with a goal chance for Castletown but a good save from St. Michaels goalie.
St.Michaels got the first point of the second half and first ten minutes Castletown took their time to get into game . Kevin Ross put a point over for Castletown. And Kenny Smith put another point over for Castletown. Castletowns James Finnerty and Barry Smith scored point each . St. Michaels missed a number of scoring chances in the second half. Castletown's errard Farrelly, Declan Cribbin, Kevin Ross and Darren Finney each put a point over before St. Michaels scored their second point of the second half. Declan Cribbin scored the last point of the game for Castletown.
Best for the winners were Francis Bellew, Declan Cribbin, Kevin Ross and Paul Smith
Castletown: Paul Smith, Johnny Metry, Gerard Farrelly (0-1), Joseph Carry, Kenneth Smith(0-1), Francis Bellew, Wayne Donegan, Ross Blaney, Robert Hoey, Darren Finney (0-2), Barry Smith (0-2), James Finnerty (0-1), Thomas Smith (0-2), Kevin Ross (0-3), Declan Cribbin (0-5)
ST MICHAELS REPORT
St. Michaels 1-9
Castletown 0-17.
St. Michaels were made to pay dear for not sealing the deal in the 3rd quarter of this local derby in Kilmainhamwood on Saturday evening last. Leading by 3 points after 33 minutes of play and holding Castletown scoreless for the opening 12 minutes of the second half they shot themselves in the foot with wides aplenty, sending 5 wide of the post in that opening period of the second half. 
Both sets of supporters were in a happy mood at the interval after what was a brisk and lively opening half of honest football with some exceptional score taking from both teams and a half that saw the sides on level terms on no fewer than 5 occasions. St. Michaels played with the wind to their backs in the opening half and were first on the scoreboard when Ronan Lynch took a short free to his unmarked brother David who duly popped it over the bar in the 2nd minute. Jamie Farrelly was on hand a minute later to stretch that lead to two points. Castletown earned themselves a free in the 6th minute which they duly converted, and after collecting a perfectly weighted pass from Peter O'Connell, David Lynch set it over the crossbar for his second point of the match to send St. Michaels into a two point lead. Castletown set up another attack from the kick-out and sent over an exceptional effort from play from along the sideline, a minute later they were on level terms for the first time. A Ciaran Lynch free on 9 minutes put his side back in the lead which lasted all of one minute as Castletown drew level again, and they followed up with another point to go one up on 13 minutes. Felim O'Reilly levelled matters once more for St. Michaels on 16 minutes then a minute later a high ball into the square from J.B. O'Reilly was met by the Castletown keepers fist but he misguided it over the crossbar rather than to safety to put St. Michaels back in front again, once more though Castletown hit back and they were on level terms at 0-6 apiece after a converted free on 20 minutes. St. Michaels began to take a grip on midfield where Felim O'Reilly excelled doing some excellent work fielding and distributing good ball and his team mates were always on hand to mop up the breaking ball but they over elaborated at times and allowed Castletown to counter attack and one such instance in the 24 minute allowed Castletown take a one point lead again. Much to the delight of both sets of supporters, this pattern of play continued as another attack by St. Michaels produced a free kick which Ronan Lynch converted to level the match for the 4th time on 26 minutes. Paul Smith in the Castletown goals denied Ronan Lynch a goal when he made a brilliant save earlier in the half but he was given no chance when Peter O'Connell collected at midfield, soloed towards goal and blasted to the back of the net from 15m out to give his side a 3 point cushion on 27 minutes. Castletown made one more attack which resulted in a point in the 29th minute to leave them trailing by two at the interval 1-7 to 0-8. 
The manner in which Peter O'Connell took his opening point of the second half was the impetus his team mates required, they dominated every sector of the field with Felim O'Reilly lording it at midfield, they held Castletown scoreless for the opening 12 minutes but they kept misfiring in front of the posts. Castletown who could do nothing right in that third quarter bided their time and as frustration grew among the St. Michaels players they regained their composure and by the 49th minute they were back on level terms, a minute later they were back in front. Now with the comeback complete they settled and in the following 7 minutes they popped over 4 points without reply. Jamie Farrelly got St. Michaels final point in the 59th minute only to see Castletown restore their 5 point cushion a minute later to seal the victory. Along with the scorers Jamie Reilly, Robbie Briody, Mark Stafford and Kevin Cassidy were others who impressed for St. Michaels.
St. Michaels:
Paul McCormack, Jamie Reilly, Paddy Callaghan, Paddy Clarke, Mark Stafford, Robbie Briody, Sam Briody, Felim O'Reilly 0-1, J.B. O'Reilly 0-1, Peter O'Connell 1-1, Jamie Farrelly 0-2, David Lynch 0-2, Ronan Lynch 0-1, Ciaran Lynch 0-1, Kevin Cassidy.
Sub: Gary Dolan for Ciaran Lynch.
Referee: Pat Clarke.
Report: Pascal Reilly.
Most Read Stories