IFC: Narrow win for Clann na nGael
April 14, 2014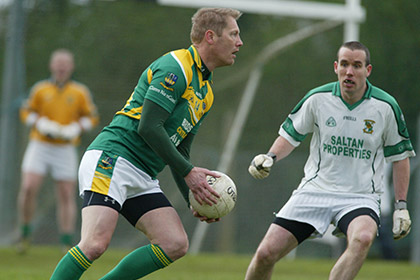 Graham Geraghty gains possession for Clann Na nGael against Donaghmore Ashbourne in the Meath IFC game at Dunsany
Clann Na nGeal 1-07
Dunaghmore Ashbourne 0-08
Clann Na nGael came away from Dunsany with the points in this hard fought championship game played in very blustery conditions against Donaghmore/Ashbourne.
Trailing by a point with ten minutes to go, Anthony Farrell levelled and a brace of points from Caoimhin O'Griofa saw the Athboy/Rathcairn combination over the line.
This was a tough game with no quarter given. Luke Swaine's well taken goal helped Clann Na nGael lead at half time by 1-2 to 0-4. Dunaghmore Ashbourne started the second half very strongly and lead up until the last ten minutes, but Clann Na nGael finished out strongly.
Best for Clann Na nGael were: Anthony Cully, Jamie Shaw and Anthony Farrell.
Darren Kelly for Carl Kelly, Paddy Tiernan for Martin Keogh, Aaron Ennis for Gary Woods, Damien Tuite for Gary Hanley, Gary Woods for Damien Tuite (Black Card)
Clann na Gaels - 1. Anthony Swaine 2. Carl Kelly 3. Anthony Cully 4.Gavin Browne 5. Brian Duffy 6. Oran Fitzpatrick 7. Ciaran Fitzsimons, 8. Jamie Shaw 9. Gary Woods 10. Luke Swaine (1-0) 11. Anthony Farrell (0-1) 12. Caoimhin O'Griofa (0-5) 13. Gary Hanley 14. Graham Geraghty (0-1) 15. Martin Keogh
Donaghmore Ashbourne yield to Gaels pressure
Date: 13th April 2014
Venue: Dunsany
Full Time: Donaghmore Ashbourne 0-08 Clann na nGael 1-07
Half Time: Donaghmore Ashbourne 0-04 Clann na nGael 1-02
Although heading into this game as bookies underdogs Donaghmore Ashbourne's second string made the 2013 beaten finalist work all the way to the final whistle before they could claim the opening 2 points on offer in Dunsany. If Donaghmore Ashbourne had converted their three opening half goal chances it could have been a different outcome.
Points from David Dowd and Thomas Mc Govern gave Donaghmore Ashbourne an early two point lead and they could have been further ahead but two goal attempts from Kevin Fenton were saved by the Clann na nGael keeper. The Athboy's opening score came on 12 minutes to reduce the deficit to a single point. Donaghmore Ashbourne did have another goal chance but failed to convert before Darragh Mc Govern pointed on 21 minutes and Iarlaith O Donnell extended the lead on 23 minutes.
The Clann na nGael goal came on 24 minutes when Donaghmore Ashbourne lost possession in their own defence and were made to pay the price and this drew the sides level. Clann na nGael took the lead for the first time with a converted point on 27 minutes to leave the half time score at Donaghmore Ashbourne 0-04 Clann na nGael 1-02.
The second half was another close affair with little between the teams on the scoreboard front. Sam Benville drew the sides level with a well taken point on 31 minutes and although Clann na nGael replied with a free on 34 minutes a good solo effort from O'Donnell on 36 minutes restored parity on the score board. A Sam Benville free on 39 minutes regained the lead for Donaghmore Ashbourne and although Clann na nGael levelled on 41 minutes Declan Mulvey restored the lead for the Moors with what was to be Donaghmore Ashbourne's last score of the game on 42 minutes.
The final period of the game saw Clann na nGael take control of the midfield area and they applied a lot of pressure on the Donaghmore Ashbourne defence particularly with the breaking ball. Clann na nGael had a number of wides before eventually drawing level with a point from play on 55 minutes. Two converted frees on 58 and 61 minutes pushed Clann na nGael into the lead again and allowed them to take the opening points on offer.
Donaghmore Ashbourne: J. Hanigan; G. Deery, T. Kelly, JP Casserly; T. Mc Govern (0-1), M. Lynch, D. Mc Govern (0-1); I. O'Donnell (0-2), C. Brady; D. Brady, K. Dwyer, K. Fenton; S. Benville(0-2) (1f), D. Mulvey (0-1), D. Dowd (0-1)
Subs: R. O'Connor for Brady.
Most Read Stories