IFC: Excellent start tor Ratoath
April 14, 2014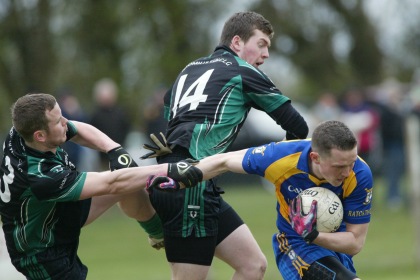 Hold on there. Ratoath's Conor McGill gains possession against St Ultans in the IFC game at Walterstown
Ráth Tó 4-13
St Ultans 2-7
Ratoath got their championship campaign off to an excellent start with a 12 point win over St Ultan's in this Sunday afternoon fixture played in cold, blustery but dry conditions in Walterstown.
It was Ratoath who got off to a dream start and were a goal and 2 points up after 5 minutes- the goal coming from a Conor Rooney finish after a well worked move.
St Ultan's though weren't to be overawed and soon found their rhythm and raised a green flag themselves after 10 minutes . The Bohermeen men continued to remain competitive and were only a point in arrears when Bryan MacMahon struck Ratoath's second goal in the 20 minutes. Further points from Joey Wallace and Bobby O'Brien gave Eamon Barry's charges a 6 point cushion at the break. 2-6 to 1-3.
The second half began with MacMahon and Wallace gaining further scores but was cancelled out by another goal from St Ultan's .
Another couple of scores gave the team from Bohermeen hope only to be rocked by a goal this time from wing back Brian O'Connor in the 12 minute.This proved a turning point as from then on it was one way traffic with MacMahon notching a fourth goal 10 minutes from the end finishing the game as a contest. Best for Ratoath were Bryan MacMahon, Joey Wallace, Brian Power, Conor McGill and Paul Flaherty
Foireann Ráth Tó: Colm O'Riordan, Paul Flaherty,Daragh McGill,Paddy Quinn,Brian O'Connor( 1-0),Stephen O'Brien (0-1), Gavin Quigley, Brian Power,Conor McGill,Emmet Boyle(0-1),Bryan MacMahon( 2-3),Conor Rooney(1-1),Joey Wallace(0-4),Gareth Rooney (0-2),Bobby O'Brien (0-1) Fir Ionad: Eoghan MacMahon for Conor Rooney, Brian Daly for Stephen O'Brien( cárta dubh)
*****
St. Ultans report:
Intermediate Championship 1st round in Walterstown
St Ultans 2-7
Ratoath 4-13
St Ultans opened their championship campaign with a defeat against championship favourites Ratoath,St Ultans had to play without talisman Cian Rennicks who was ruled out of the game with a virus which brought Darren Costello into the starting lineup
Ratoath got off to a dream start with 1-2 in the first 5mins and it looked like a long afternoon for the Ultans defence however a Ciaran Rogers goal and points from Mark Allen and a brace from Ronan Breslin gave renewed hope to the men in black and green as after 22mins St Ultans trailed by a single point 1-3 to 1-4
Ratoath finished the half the strongest and another goal and couple of points left it 1-3 to 2-6 at the interval
Conor Smyth flicked a long ball to the net and quickly followed with a point to leave it 2-4 to 2-9 after 40mins and that was as good as it got for St Ultans as they were out scored by 0-3 to 2-4 over the next 20 minutes with 3 Breslin frees all they could muster
St Ultans received a blow on 53mins with a red card for their captain Paul Murray which will rule him out of their 2nd round match on Sunday in Kells vs Clann na Gael where they will hope to get 2 points on the board
Best for St Ultans were Ronan Galligan,Kevin Galligan,Allen and Breslin
St Ultans team
Robert Daly,Ciaran Timmons,Darren Mallon,Jason Bennett,Ronan Galligan,Declan Galligan,Gearoid Rennicks,Paul Murray,Kevin Galligan,Emmet Costello,Mark Allen(0-1),Darren Costello,Ronan Breslin(0-5),Conor Smyth(1-1),Ciaran Rogers(1-0)
Subs
Robert Duffy for Emmet Costello 30mins
Sean o Hoibheard for Darren Costello 47mins
Most Read Stories