SFC: Goals net win for Wolfe Tones over Skryne
April 13, 2014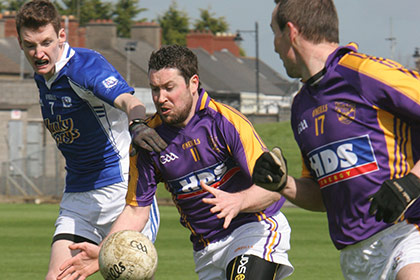 Wolfe Tones Cian Ward with Stephen O'Brien Skryne during the hoganstand.com Meath SFC game at Pairc Tailteann
Goals proved decisive as Wolfe Tones overcame numerical disadvantage to see off Skryne in this SFC Group A opener at Pairc Tailteann early on Sunday afternoon.
Wolfe Tones 3-8
Skryne 0-10
Wolfe Tones achieved this feat despite losing defender Mark Coleman to a red card just before half-time with the prospect of playing against a significant wind from the resumption.
Cian Ward served a reminder of his facility for goals when netting the decisive score in the 48th minute at the old swimming pool end. Eanna Harrington provided the assist to leave the board at the opposite end of the ground reading 3-6 to 0-7.
Eight minutes earlier the Wolfe Tones number 11 provided the assist for his younger brother Fiachra to net with aplomb and put a five-point buffer between themselves and a disappointing Skryne side.
That said Wolfe Tones' David Nolan was the busier of the two 'keepers and his 46th minute save from Mark Battersby's close range effort prevented Skryne from trimming the deficit to just two points.
Cian Ward's second goal flatlined matters and the final minutes saw some niggly incidents that resulted in the issuing of a flurry of yellow cards that had no impact on the outcome.
Skyrne were five points off the pace at the break before three points in a seven minute spell cut the gap to just two points and revive the hopes of the team in royal blue jerseys. Ian Davis' point was the pick of those scores as it completed a fine build-up.
That was as close as Skryne got to Wolfe Tones. The Tara men weren't helped by a tally of 11 wides to their opponents' six. Seven of the eventual losers' scores came in the second-half.
Despite playing against the wind, Skryne bossed matters early on, but had just one point, a Paddy O'Rourke free, to their credit for their efforts in the opening ten minutes.
That score came from a 45 in the ninth minute after David Nolan saved well from Brian Davis.
Following Cian Ward's 12th leveller from a free, the 'Tones set the tempo adding a further 1-3 without reply in the 12 minutes. Wolfe Tones' scoring talisman's effort from play was the pick of those efforts.
Fiachra Ward's incisive run from the stand side towards the town goal created the opening for the opening three-pointer. When Eanna Harrington netted it was 1-4 to 0-1 after 24 minutes.
Skryne outscored Wolfe Tones by 0-2 to 0-1 in the run-up to half-time with O'Rourke getting their second point, from a 28th minute free.
Full-back Stephen Sheppard guided the ball over the bar from distance for final score of the half for the team in mauve and gold who then had Mark Coleman dismissed.
Skryne's cause wasn't helped by the loss of full-back Ciaran Lenihan, who limped off after 28 minutes. His replacement Ronan McCabe, appeared to be deployed as the extra man thereafter.
Brian Davis pointed for Skryne who trailed by 0-3 to 1-5 at the break with strong hopes of improving matters in the second-half. The Wards' goals dictated otherwise.
Wolfe Tones - David Nolan; Aodan McKeown, Stephen Sheppard (0-1), David Coleman; Niall O'Reilly, Shane Glynn, Mark Coleman; Stephen Sheppard, Alan Callaghan (0-1); Cillian O'Brien, Cian Ward (1-4, 0-3fs), Eanna Harrington (1-0); Ciaran McLoughlin (0-1), Fiachra Ward (1-1), Bruagh O Fionnagain. Sub - Paul Byrne for O'Brien (37).
Skryne - Ian Gillette; Niall Lenihan, Ciaran Lenihan, Declan Morley; David McGoldrick, Tom McKenna, Stephen O'Brien; Aidan Tuite, Harry Rooney (0-1); Paddy Fox, Paddy O'Rourke (0-1, 45) Ian Davis (0-3, 2fs); Kevin Mulvany (0-1), Brian Davis (0-2), Mark Battersby (0-2). Sub - Ronan McCabe for Ciaran Lenihan (28).
Subs - Martin Griffin (Simonstown)
******
Skyrne report:
Tones Overcome Skryne
The ability of Wolfe Tones to get goals coupled with Skryne's difficulty in the same department was the main difference between these two teams in the first round of this years senior championship.
The game had an early throw-in at Páirc Táilteann on Sunday and playing into a strong wind in the first half Skryne looked to have the better of their opponents in the first twenty minutes or so. Non-the-less they still fell behind by four points to one in this period.
Paddy O'Rourke scored from a 45 on eight minutes while Cian Ward (3) and Alan Calaghan scored for the Oristown side. With twenty five minutes on the clock the game saw its first goal. A Tones attack was broken up but the ball was retrieved close to the corner. Skryne thought they should have had a free for over holding, however the ball was neatly flicked by Cillian O'Brien to Eanna Harrington who scored from close in. Skryne lost their full backCiaran Lenehan in this attack and this had a huge bearing on the remainder of the game. While they scored two more points before the break , Cian Ward put over another to make the half time score Skryne 0 - 3, Wolfe Tones 1 - 5.
Skryne however were not out of it yet and in the first six minutes of the second period they scored three points from Ian Davis (2) and Brian Davis to make it a two point game. However, with forty minutes on the clock a long ball into the Tones full forward line saw Fiachra Ward with a one-on-one with Thomas McKeown and he found the back of the net. Brian Davis posted a point for Skryne but this was quickly cancelled out by Cian Ward and then not to be outdone by his younger brother Ward put another ball in the Skryne net leaving the score at Skryne 0 - 7 Wolfe Tones 3 - 6.
Skryne posted three more points from Ian Davis, Kevin Mulvany and Mark Battersby, but Ciaran McLoughlin and Eanna Harrington also scored for the opposition to leave the final score at Skryne 0 - 10 Wolfe Tones 3 - 8.
Skryne: I.Gillett, N. Lenehan, C. Lenehan, D, Morley, D. McGoldrick, T, McKeown, S. O' Brien, A. Tuite, H. Rooney (1), P. Fox, P. O'Rourke (2, 45 &F), I. Davis (2, 1f)), K. Mulvany (1), B. Davis (2), M. Battersby(2). Subs : R. McCabe for Lenehan (25)
Wolfe Tones - D. Nolan; A. McKeown, S. Sheppard (0-1), D. Coleman; N. O'Reilly, S. Glynn, M. Coleman; S. Sheppard, A. Callaghan (1); C. O'Brien, C. Ward (1-4, 0-3fs), E. Harrington (1-0); C. McLoughlin (1), F. Ward (1-1), B. O Fionnagain. Sub: P. Byrne for O'Brien (37).
Most Read Stories