SFC: O'Mahonys outscore Seneschalstown
April 12, 2014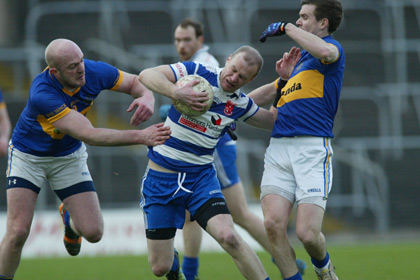 Niall McKeigue Navan O'Mahonys under pressure from Seneschalstown's Damien Sheridan and Bryan Clarke during the hoganstand.com Meath SFC game at Pairc Tailteann.
Navan O'Mahonys finished with 15 points to spare over neighbours Seneschalstown in this hoganstand.com SFC Group B opening round fixture at Pairc Tailteann on Saturday night.
Navan O'Mahonys 3-14
Seneschalstown 0-8
A scoring burst that yielded 1-4 without reply in the seven minutes leading up to half-time left wind-assisted O'Mahonys with an 11-point interval advantage over Seneschalstown.
The task of erasing that deficit proved to be beyond Seneschalstown though they might got closer to the opponents.
Joe Sheridan pulled a point back for Seneschalstown within 20 seconds of the resumption but David Nelson's men responded 1-3 without reply in seven third quarter minutes to lead by 3-12 to 0-4 with just over two thirds of the game gone.
Stephen Bray completed O'Mahonys goal tally in the 41st minute. By the end he shared scoring honours (1-2) with Shane Gillespie who scored 0-5 from play. David Bray contributed 1-1, matched by Jake Regan's 0-4.
By the end seven different O'Mahonys' men were on the scoresheet including two members of the half-back line. Five different Seneschalstown players got off the mark including corner-back and team captain James Byrne.
Damien Sheridan senior's men outscored O'Mahonys by 0-4 to 0-2 in the final third of the hour but the outcome was never in doubt. The complexion of the final scoreline might have been enhanced from Seneschalstown's perspective had they capitalized on the goal chances that fell their way.
Robert Ruddy's goal attempt was turned out for a 45 by Kevin Reilly with Bryan Clarke landing the subsequent kick while Joe Sheridan was narrowly wide with two goal efforts. As the light dimmed and the tempo dropped so too did the scoring rate.
Despite having a strong wind at their backs in the first-half, O'Mahonys managed just three points in the opening quarter with Gary O'Brien, Jake Regan (free) and David Bray registering.
But for a double save by Seneschalstown 'keeper David Lyons from Kevin Reilly and Regan (at the expense of a fruitless 45) O'Mahonys might have goaled in the ninth minute.
A specultative Joe Sheridan effort from an acute angle appeared to glance off across the O'Mahonys crossbar and wide. Robert Ruddy opened the Seneschalstown account in the 17th minute.
Seneschalstown were the more wasteful side in the earlier stage but as the half wore on O'Mahonys overtook them in the wide count reaching half-time with six to their opponents four.
O'Mahonys' opening goal arrived in the 19th minute from an expertly taken Paddy Smyth penalty following a foul on Shane Crosby by Seneschalstown 'keeper David Lyons.
Seconds later Shane Gillespie left six in it, 1-4 to 0-1, before Brian Sheridan and Bryan Clarke in quick succession pulled points back for Seneschalstown.
In the remaining eight minutes of the half, O'Mahonys doubled their tally with David Bray ending a fine move with a brilliantly taken 29th minute goal. It was left to Crosby to complete the scoring before the break at which point the board read 2-8 to 0-3.
Navan O'Mahonys - Marcas Brennan; Stephen O'Toole, Niall McKeigue, Stephen MacGabhann; James O'Reilly, Shane Crosby (0-1), Gary O'Brien (0-1); Kevin Reilly, Darragh Maguire; Ruairi O Coileain, Stephen Bray (1-2, 0-1f), Paddy Smyth (1-0 pen); Shane Gillespie (0-5), Jake Regan (0-4, 2fs), David Bray (1-1).
Seneschalstown - David Lyons; Colin Gleeson, Andrew Collins, James Byrne (0-1); Mark Carey, Joe Cowley, Niall McCabe; Robert Ruddy (0-1), Damien Sheridan; James Meade, Bryan Clarke (0-3, 1 45), Gary Conlon; Niall Lyons, Joe Sheridan (0-1), Brian Sheridan (0-2). Subs - Ciaran Macken for McCabe (21), Ross Howard for Conlon (38).
Referee - David Coldrick (Blackhall Gaels)
****
Seneschalstown report:
Hoganstand.com Meath Senior Football Championship Group B Round 1
Seneschalstown 0-08
Navan O'Mahonys 3-14
Seneschalstown emerged onto the immaculate playing surface in Páirc Tailteann for their First Round clash with Navan O'Mahonys resplendent in their new jerseys which went back to the traditional club colours but what followed over the sixty two minutes of football was far from the traditional clashes between the clubs as Navan O'Mahonys ran riot.
O'Mahonys were quick out of the blocks and registered the first three points of the game with two coming from play and one from a free and in truth the damage over the opening fifteen minutes could have been much worse as David Lyons had pulled off a magnificent double save after nine minutes and the resultant forty five was kicked wide by Jake Regan.
It took until the sixteenth minute before Seneschalstown troubled the scoreboard when midfielder Robert Ruddy kicked a fine point after some patient build up play from the forwards, with wing back Niall McCabe also involved.
O'Mahonys immediately hit back when after Seneschalstown conceded a penalty wing forward Paddy Smyth stepped up and rolled the ball into the bottom right hand corner after sending Lyons the wrong way. After another point from play for the Navan men Brian Sheridan opened his account after being set up by his brother Joe. This was quickly followed up by another from play when Bryan Clarke registered Seneschalstown's third and final point of the half after twenty two minutes.
From there until the interval it was all one way traffic as O'Mahonys with the aid of a stiff breeze really cut loose as they rattled off a goal and four points in six minutes. The pace, power and fitness they displayed over the opening half really was most impressive as they pulled away with the goal coming from Meath senior David Bray.
At half time the score read Navan O'Mahonys 2-08 Seneschalstown 0-03 and what had been a tough challenge at the start now resembled Mt. Everest.
To the credit of the Seneschalstown players they started the second half in better fashion and had a point on the board through full forward Joe Sheridan after sixteen seconds. Next they created a glorious goal opportunity when attacking half back Mark Carey got in behind the O'Mahonys defence but goalkeeper Mark Brennan showed his worth to the town sides fortunes when he pulled off an excellent save.
This reprieve sparked the forwards of the favourites into life as they registered the next five scores with all coming from play, courtesy of three pointed efforts from corner forward Shane Gillespie and an excellently taken goal and a point from 2007 All Star Stephen Bray.
At this point had it been a boxing match the towel would probably have been thrown in but that is most definitely not in the Seneschalstown DNA and they picked off the next two points when Clarke and Brian Sheridan both scored from play.
The men in blue and white scored another before Robert Ruddy had a rasping effort for goal tipped wide following an intervention from county captain Kevin Reilly. Clarke stood up to kick the resultant forty five and sent the ball sailing over the bar.
The last two scores of the game were then shared between the O'Mahonys full forward and the Seneschalstown corner back and captain when Jake Regan notched another and James Byrne having moved forward got Seneschalstown's eight and final point of the game.
Over the past number of years Seneschalstown have often struggled in group games before managing to qualify for the knockout stages and supporters will be hoping that the next match against close neighbours Walterstown in Páirc Tailteann on Saturday April 26th at 20:00 will serve up a more positive outcome.
Seneschalstown Scorers: Bryan Clarke 0-03 (0-01 '45), Brian Sheridan 0-02, Robert Ruddy 0-01, Joe Sheridan 0-01, James Byrne 0-01.
Seneschalstown: David Lyons, Colin Gleeson, Andrew Collins, James Byrne (c), Mark Carey, Joe Cowley, Niall McCabe, Robert Ruddy, Damien Sheridan, Gary Conlon, Bryan Clarke, James Meade, Niall Lyons, Joe Sheridan, Brian Sheridan.
Seneschalstown Substitutions: Ciaran Macken for N. Lyons, Ross Howard for J. Meade.
Navan O'Mahonys - Marcas Brennan; Stephen O'Toole, Niall McKeigue, Stephen MacGabhann; James O'Reilly, Shane Crosby (0-1), Gary O'Brien (0-1); Kevin Reilly, Darragh Maguire; Ruairi O Coileain, Stephen Bray (1-2, 0-1f), Paddy Smyth (1-0 pen); Shane Gillespie (0-5), Jake Regan (0-4, 2fs), David Bray (1-1).
Referee: David Coldrick (Blackhall Gaels)
Most Read Stories